Oh yeah, it's here…..October 1, 2012….
Cartoon courtesy of yours truly. I have mad skillz.
I assume you are all here for the deliciousness that is this….
While I prefer to carve pumpkins rather than eat them, this (and pumpkin pie) are major exceptions. Truth be told, I'm allergic to pumpkin in large quantities, but I had to make this fudge! It literally beckoned to be made. I told my husband about it a while back, and I think he's glad this post is finally over….teehee.
My goal in all my creations is to make something that is as healthy as possible, without sacrificing taste, and, while this is quite difficult to accomplish with something like fudge, I believe I've done it!
I have to tell you that because pumpkin naturally has no fat, these babies are not quite as rich as their chocolate counterparts, but they are still deeeee-licious! This fudge has all the health benefits of pumpkin without all of the usual processed sugar and overabundance of fat.
One of the ingredients I use is homemade vegan condensed milk (recipe below), but feel free to use your own store-bought or homemade version. Just use the same amount!
VEGAN CONDENSED MILK
Adapted from this site
14 oz. can light coconut milk (you can obviously use full-fat here as well to add more richness)
2 T. barley malt (honey, brown rice syrup, or maple syrup would also work)
6 drops liquid stevia
1/2 t. vanilla
dash salt (remember, salt enhances sweetness, so don't skip it!)
Pour the milk into a saucepan, and bring it to a boil. Whisk in the sweetener, salt, and stevia. Lower the heat, and simmer the mixture until it reduces by about half (about 45 minutes to an hour). Stir in the vanilla last. Allow to cool before using.
5-Ingredient PUMPKIN FUDGE!!
Ingredients
12 T. canned pumpkin puree
⅛-1/4 t. salt (for pumpkin reduction)
2-4 T. coconut oil, melted (I was able to make it work with only 2, but it doesn't keep as well out of the freezer)
2 T. coconut sugar, ground to a powder in a coffee grinder
1 t. pie spice
8 T. condensed milk (recipe above)
scant ½ t. salt
Instructions
Though the recipe calls for 12 tablespoons of pumpkin, the first crucial step is to cook the 12 tablespoons plus ⅛-1/4 teaspoon of salt down to half of that amount (or 6 tablespoons).
Do this by bringing the mix to a low simmer in a saucepan. It takes about 20-30 minutes to reduce. Pumpkin is very low fat and has a high water content. This reduction concentrates the pumpkin more (by evaporating the water), allowing for a denser, more fudge-like result!
Mix the reduced (and cooled) pumpkin (you should have about 6 tablespoons) with the coconut oil.
Add the rest and combine thoroughly.
Pour into a small-ish dish (I use one by Pyrex that's 7 in. x 5 in.) and freeze until firm.
This should be kept frozen to maintain shape.
Notes
The nutrition facts are based on using 4 tablespoons of coconut oil. Weight Watchers points (new system): 3
Nutrition Information
Serving size:
12
Calories:
93
Fat:
5.7 g
Saturated fat:
4.6 g
Unsaturated fat:
1.1 g
Trans fat:
0g
Carbohydrates:
10.3 g
Sugar:
8.9 g
Sodium:
169 mg
Protein:
1.2 g
Cholesterol:
4 mg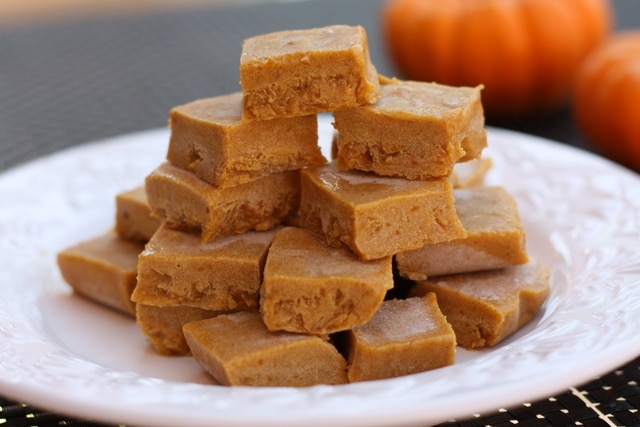 Happy October.
What's your favorite way to enjoy pumpkin?
Is there any recipe you'd like to see 'healthified'?
I'm always on the lookout for healthy cookies and pancakes!
Shared with: Fat Tuesday, Slightly Indulgent Tuesday, Allergy Free Wednesday, Real Food Wednesday, Healthy 2day Wednesdays, Gluten-free Wednesdays, Whole Food Wednesday, The Pennywise Platter, Keep It Real Thursday, Gluten-free Fridays, Fresh Bites Friday, Fight Back Friday, Healthy Vegan Fridays, Wellness Weekend, Wheat Free Wednesday
Tagged: Coconut, Fudge, Gluten-free, Halloween, Healthy, Low sugar, No-bake, Pumpkin, Vegan