Oh yeah, it's here…..October 1, 2012….
Cartoon courtesy of yours truly.
I assume you are all here for the deliciousness that is this….
While I prefer to carve pumpkins rather than eat them, this (and pumpkin pie) are major exceptions. Truth be told, I'm allergic to pumpkin in large quantities, but I had to make this fudge! It literally beckoned to be made. I told my husband about it a while back, and I think he's glad this post is finally over.
My goal in all my creations is to make something that is as healthy as possible, without sacrificing taste, and, while this is quite difficult to accomplish with something like fudge, I believe I've done it!
I have to tell you that because pumpkin naturally has no fat, these babies are not quite as rich as their chocolate counterparts, but they are still deeeee-licious! This fudge has all the health benefits of pumpkin without all of the usual processed sugar and overabundance of fat.
5-Ingredient PUMPKIN FUDGE!!
Ingredients
1 c. pumpkin puree (I've also used butternut squash puree with great results!)
4 T. coconut oil, melted
6 Medjool dates
1 t. pie spice
¼ t. sea salt
1-2 T. water
Instructions
Process the dates until a paste forms.
Add in the remaining ingredients and process until well combined.
Only add water as needed to make it spreadable.
Scrape the batter into a small glass dish (I used a 7 x 5 inch Pyrex dish).
Freeze until hardened.
Cut and enjoy!
Notes
Weight Watchers points (new system): 2
Nutrition Information
Serving size:
12
Calories:
58
Fat:
4.6 g
Saturated fat:
4 g
Unsaturated fat:
0.6 g
Trans fat:
0 g
Carbohydrates:
4.9 g
Sugar:
3.3 g
Sodium:
40 mg
Fiber:
0.9 g
Protein:
0.3 g
Cholesterol:
0 mg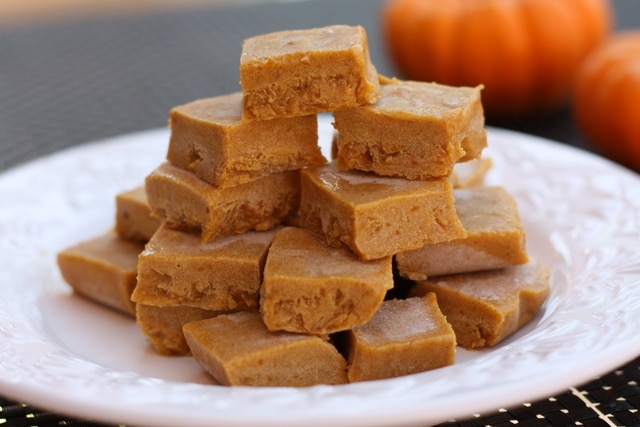 This treat is best kept and enjoyed frozen!
Happy October.
What's your favorite way to enjoy pumpkin?
Shared with: Fat Tuesday, Slightly Indulgent Tuesday, Allergy Free Wednesday, Real Food Wednesday, Healthy 2day Wednesdays, Gluten-free Wednesdays, Whole Food Wednesday, The Pennywise Platter, Keep It Real Thursday, Gluten-free Fridays, Fresh Bites Friday, Fight Back Friday, Healthy Vegan Fridays, Wellness Weekend, Wheat Free Wednesday
Tagged: Coconut, Fudge, Gluten-free, Halloween, Healthy, Low sugar, No-bake, Pumpkin, Vegan