Hey guys! I hope everyone had a great weekend and a happy Halloween! My husband and I dressed up as militant zombies, while our daughters, Jade and Natalie, were a ballerina and a princess, respectively. Here are a few pictures from our night…
….looking at their daddy…
….he made one mean-looking dude!…
…my creepy 'I'm going to eat your brains' face….
My husband and I both had on camo cargos with black Doc Marten boots, which I used to wear all the time in high school….because they were cool then…like me. Not.
Ok, onto the food!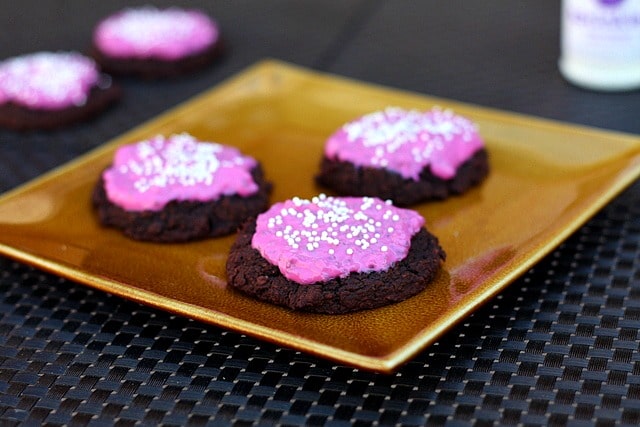 I can't tell you how many cupcakes/muffins I've made over the years, where all I've eaten is the top…that slightly crispy rim and the dense, flavorful center. It was perhaps Elaine from Seinfeld that pioneered the idea back in 1997 when she declared that she liked only the tops of muffins. It didn't take long for muffin tops to begin appearing on store shelves!
These are a bit unconventional in the ingredients, but trust me, it all works, and you will love the chocolatey richness! Topped with a yogurt frosting and some white sprinkles (those are the only ones without food coloring :-)), the healthy ingredients in these make for a great snack, dessert, or even breakfast!!
CHOCOLATE RED VELVET MUFFIN TOPS
1/4 c. beet pulp, from juicing or finely grate 1/4 c. of beet (reserve some juice for the frosting)
2-3 T. applesauce or banana puree (start with 2 T.)
1/2 c. white cannellini beans (or you could use red beans to enhance the effect of the red velvet!)
3 T. cocoa powder
2 T. oats
1 T. coconut sugar or sucanat (or another natural granulated sugar) You could also use 15 drops of liquid stevia and eliminate this.
3 T. honey or another liquid sweetener
1 T. coconut oil
1/4 t. salt
1/2 t. baking soda
1/2 t. vanilla extract
1/4 t. almond extract
Preheat your oven to 350 degrees. Process the beet pulp, applesauce/banana, and beans first until a smooth mix is formed. Add in the cocoa powder and oats and mix until combined and the oats look like they've blended in. Add in the remaining ingredients. 2 tablespoons of applesauce seemed to be enough moisture for me, but if you find your mix dry, just add a bit more. The batter should be fairly thick.
Line a cookie sheet with parchment paper, and dollop spoonfuls of dough onto the sheet. I made 7 large tops with this dough, but you could definitely make them a smaller size. Bake them for 25-32 minutes….when they are done, the tops will be fairly firm to the touch. Remove and cool for maximum flavor and enjoyment (also so your frosting doesn't run all over).
YOGURT FROSTING
1/4 c. plain yogurt (almond, coconut, or soy yogurt would work if you're vegan)
1 T. powdered sugar (make your own by whirring some coconut sugar in a coffee grinder)
1/2 t. vanilla extract
1 t. chia seeds
1-2 t. beet juice, for color
Mix all and place in the fridge for 20 minutes or so to allow it to thicken.
Top with some sprinkles (if you like), and enjoy!
This is my first time working with beans in a recipe, and I was pleasantly surprised by the results! The beans add a richness that works well when it comes to making cake-like treats. They also provide a source of protein and fiber. Yay beans!
Have you ever tried beans in a dessert?
Do you have a strange way of eating a particular food?
I never knew it until someone pointed it out, but I eat my apples by starting at the top by the stem. According to some around me, I am quite strange in this regard… :-/
Shared with: Fat Tuesday, Slightly Indulgent Tuesday, Gluten-Free Wednesday, Allergy Free Wednesday, Wheat-Free Wednesday, Allergy Friendly Friday, Healthy Vegan Friday, Wellness Weekend