Last week, I discovered that I was the recipient of the Liebster Award thanks to Amanda at Pickles and Honey. This thrilled me to pieces considering I was reading and admiring her blog before ever beginning my own. Some of her cool recipes include Juicer Pulp Mini Muffins, Sweet Potato Donuts, and her Homemade Peppermint Patties, which is what brought me to her blog initially.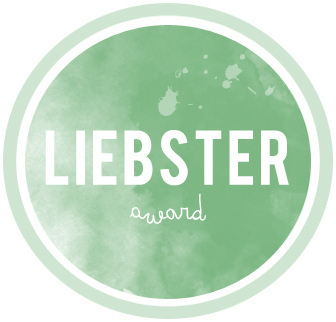 For this particular award, I am to do the following:
Write 11 random facts about myself.
Answer the 11 questions given by the blogger who nominated me.
Create 11 new questions.
Nominate 11 bloggers and mention them in the post.
Thank the blogger who nominated you.
Like Amanda, I'm going to spare you 11 facts and direct you to this post for your first 6 facts about me and just include 5 more in today's post.
Oy, here we go!
7. I used to play the flute.
8. I was an avid ballet dancer up until college age.
9. I have one brother who is ten years older than me.
10. My high school friend co-starred on All My Children.
11. I love crossword puzzles.
Phew! Ok, now to answer Amanda's questions, which are:
Do you prefer the city or the suburbs? Suburbs! I grew up in a big city and now crave the small town life.
What book are you currently reading? Or if you're not reading one at the moment, what's next on your list? I'm about to read The Zuni Cafe Cookbook. I hear every recipe is bomb.

Cardio or strength training? Strength training! I tried running for a while, but all I did was get skinny. My hubby likes a booty. 🙂

What place would you most like to visit? I wouldn't mind seeing Washington D.C.

Favorite kind of cookie? Don't even tell me you don't like cookies. Haha, I'm an oatmeal raisin girl.

If money didn't matter, how would you spend your days? Cooking, baking, reading cookbooks, watching cooking shows….I'm a bit obsessed.

Do you prefer bigger social settings, or more intimate get-togethers? I hate big social scenes and am very shy. I do much better one-on-one with people.

Coffee or tea, or both? Neither.

What's one of your goals for 2013? To become more open emotionally. Yup, I'm that guy….and I do mean guy.

Do you have a favorite blog post that you've written? I'm not sure about a post, but my favorite recipe to date is this one.

What's the best part of a typical day for you? 10pm at night when the kids are in bed, and my husband and I can curl up together on the couch together and watch 'Cheers'.

My nominations:
Each of these bloggers has recently inspired me in one way or another with their recipes or the information they post.
Now for the fun part…my questions!
What is your favorite blog to read?
What is a cooking pet peeve of yours?
What is your favorite healthy dessert recipe?
What is one food you can't live without?
What is your favorite plug-in for your blog?
What celebrity do you most resemble?
What celebrity do you wish you most resembled?
Do you swear?
Favorite recipe on your own blog?
Cats or dogs?
If you had to change your blog name, what would you change it to?
Thank you so much Amanda!
Stop by Wednesday for the commencement of DetoX-mas…a month of sugar-free recipes to help you
(and me) clean up our diets a bit from the sugar coma that was December. 🙂
Happy New Year everyone!