Hello all! Welcome back to Firefighter Friday!
A lot of the firemen my husband works with are on the paleo diet, so I'll be incorporating more of these type of recipes into my Friday posts….beginning with today's delicious cookies….
….these babies are not only gluten-free and grain-free, but they are SUGAR-FREE!….
…I actually didn't know if this recipe would work structurally, technically, aesthetically, or palatably….but it did….
3-Ingredient Sugar-Free Peanut Butter Cookies
Ingredients
½ c. cold peanut butter (I used salted), I find that crunchy works best, but creamy works as well (to make these paleo, use almond butter)
4 T. mashed banana, DON'T use any more or they won't bake correctly
⅛-1/4 t. nutmeg, freshly grated (I love nutmeg, so I use the higher amount)
splash vanilla, optional
⅛ t. salt (a bit more if you used unsalted peanut or almond butter)
Instructions
Preheat the oven to 340 degrees.
Mix all of the ingredients together until combined.
Be aware that the higher amount of banana will make the cookie a bit chewier (but sweeter), while the lower amount will give the cookie more crispy edges.
Put spoonfuls of batter down (I get about 10 cookies) on an oiled cookie sheet.
Bake for approximately 11 minutes (cookies should be firm to the touch).
Let them cool for 5-10 minutes before removing them from the cookie sheet (this gives them time to set).
Enjoy!
Notes
Weight Watchers points (using the new system): 2
Nutrition Information
Serving size:
10
Calories:
81
Fat:
6.5 g
Saturated fat:
1.4 g
Unsaturated fat:
0
Trans fat:
0
Carbohydrates:
3.7 g
Sugar:
1.8 g
Sodium:
90 mg
Fiber:
0.9 g
Protein:
3.3 g
Cholesterol:
0
Please note the new recipe format….all of the nutritional information (as well as Weight Watchers points) is located at the bottom of the recipe box.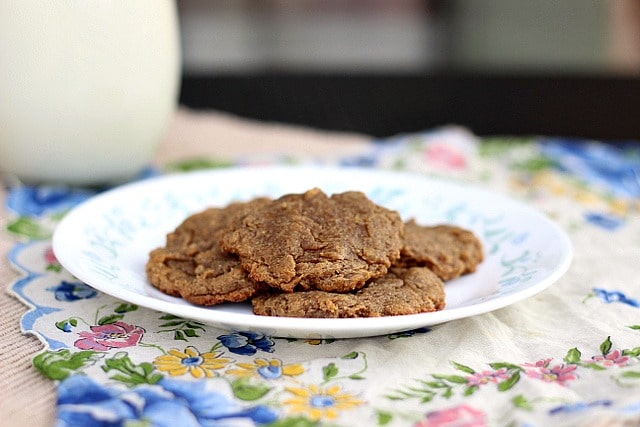 These really are a healthy and tasty way to get a cookie fix, but please be aware that they are NOT the sweetest cookie. If you'd like to add a touch more sweetness, you can add a bit of stevia to the batter.
The nutmeg is a delicious addition that compliments the flavor nicely!….and these are suitable for all tastes including vegan, gluten-free, candida-friendly, grain-free, and paleo (if using the almond butter).
I hope you all are enjoying reading (and possibly trying) these recipes as much as I'm enjoying making and posting them.
Have a happy weekend!
Shared with: Allergy Free Wednesday, Wheat-Free Wednesday, Gluten-Free Friday