Ok, so you're probably wondering what in the world today's post is about. To explain a bit, I often put ice in my smoothies. Lately, I've been wanting to try freezing a high water content vegetable with a mild taste to replace the ice with and up my veggie content. Enter my high water content friends, zucchini and cucumber….
….these boys work just like ice cubes in that they help create a cold, thick treat.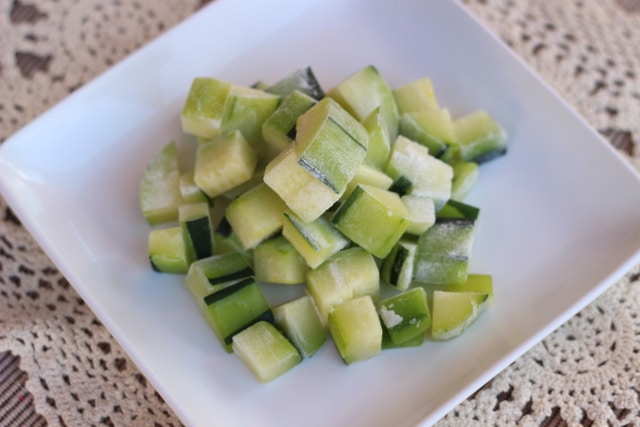 All you do to make them is peel the veggies, dice them, pop them into a Tupperware, and freeze them! They add volume and nutrition without adding calories!…and they're delicious in today's breakfast shake…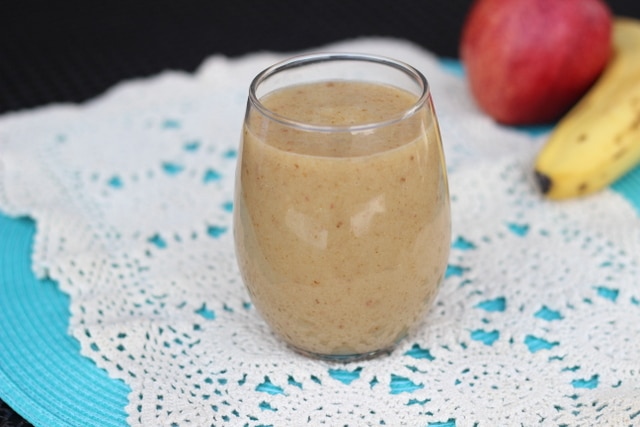 ….this shake is a great way to start the day, as it has fruit, vegetables, and whole grains…..
…and it's super easy!

Sugar-Free Breakfast Shakes with Veggie Ice Cubes
Recipe type:
Breakfast/Snack
Ingredients
1 banana
1 apple, cored
1 pear, cored
½-2/3 c. orange juice
2 T. raisins (or 2 dates)
½ c. oatmeal (cooked oats)
¼ c. frozen zucchini or cucumber cubes or a handful of ice cubes
a few dashes of cinnamon
Instructions
Pour ½ cup orange juice into the blender.
Add in the remaining ingredients.
Blend everything together until smooth.
Add in a few extra splashes of orange juice, if needed, to create your ideal consistency.
Notes
The nutrition data are based on using ⅔ cup orange juice and raisins. Weight Watchers points (using the new system): 8
Nutrition Information
Serving size:
2
Calories:
295
Fat:
1.8 g
Saturated fat:
0 g
Unsaturated fat:
1.8 g
Trans fat:
0 g
Carbohydrates:
69.8 g
Sugar:
38.3 g
Sodium:
6 mg
Fiber:
8.9 g
Protein:
4.6
Cholesterol:
0 mg
All of the fruit along with the raisins makes it sweet enough for me (especially in the morning), but feel free to add another date or tablespoon of raisins if you like it sweeter!
What's your favorite smoothie to have in the morning?
Shared with: Whole Foods Wednesday , Healthy 2day, Healthy Vegan Friday