As a kid, I used to love cold cereal…I still do!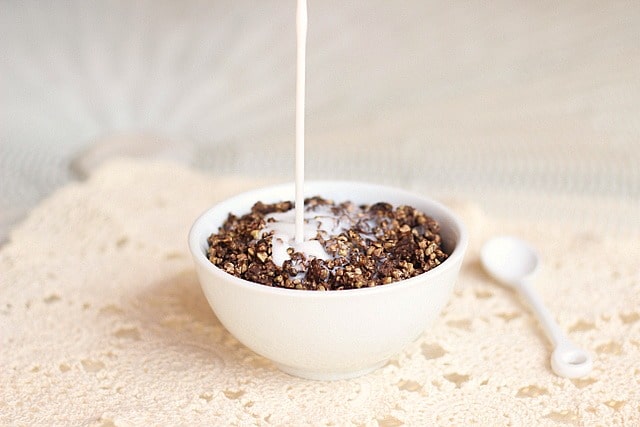 Cheerios, Rice Krispies, Just Right, Raisin Bran….these were regulars in our pantry. Since I've been older, however, I can't even rationalize eating the 'healthy' knock-offs of these classics, much less the aforementioned due to the typical abundance of preservatives, additives, 'natural flavors', and obscene amounts of sugar.
As always, when I find myself in this situation, I make my own healthy version!
Buckwheat served as the perfect proxy in this recipe. After being soaked and combined with just a few other ingredients, a delicious, crispy, chocolaty, perfectly sweetened cereal was born!
Though this recipe requires some time to come together, most of it is hands-off….
….and did I mention, it still creates that signature chocolate milk?….
This is the best way to get a cold cereal fix AND it can be happily enjoyed by all diet types (vegan, paleo, gluten-free, grain-free).
What's your favorite cold cereal?
I would have to say Raisin Bran! I love anything with raisins. My husband loves Cinnamon Toast Crunch, so that may be up next for a makeover.
Shared with: Make Your Own Monday, Natural Living Monday, 5 Ingredient Monday, Slightly Indulgent Tuesday, Fat Tuesday, Allergy-Free Wednesday, Gluten-Free Wednesday, Healthy 2day, Wheat-Free Wednesday, Real Food Wednesday, Gluten-Free Friday, Wellness Weekend, Healthy Vegan Friday
Tagged: Cereal, Chocolate, Dairy-free, Gluten-free, Grain-free, Healthy, Paleo, Soy-free, Vegan