As a kid, I used to love cold cereal…I still do!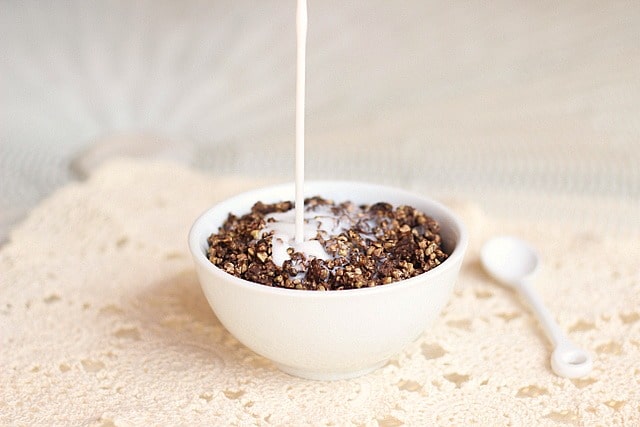 Cheerios, Rice Krispies, Just Right, Raisin Bran….these were regulars in our pantry. Since I've been older, however, I can't even rationalize eating the 'healthy' knock-offs of these classics, much less the aforementioned due to the typical abundance of preservatives, additives, 'natural flavors', and obscene amounts of sugar.
As always, when I find myself in this situation, I make my own healthy version!
Buckwheat served as the perfect proxy in this recipe. After being soaked and combined with just a few other ingredients, a delicious, crispy, chocolaty, perfectly sweetened cereal was born!

Healthy Cocoa Crispies Cereal
Ingredients
1 c. raw buckwheat groats
3 T. cocoa powder
5 T. maple syrup
½ t. sea salt
1 t.vanilla
Instructions
Place buckwheat groats in a bowl and cover them with purified water (about 1-2 inches above the groats).
Let them soak overnight.
Preheat the oven to 200 degrees F.
Drain and rinse the groats.
Pat them dry with paper towels as best as you can (gets a tad messy).
Mix them with the remaining ingredients until well combined.
Pour the mix onto a parchment paper-lined cookie sheet. Make sure to spread them out into an even layer.
Place the pan into the oven, and bake the cereal for three hours.
Remove the pan and break the crispies into pieces. You will have to kind of peel the layer off of the parchment paper, but it will come off easily.
Bake the cereal for another 75 minutes (one hour and 15 minutes).
Remove the pan and let the cereal cool (it will crisp as it cools).
Serve over yogurt or with milk.
Notes
Weight Watchers points (new system): 5
Nutrition Information
Serving size:
4
Calories:
191
Fat:
1.5 g
Saturated fat:
0.5 g
Unsaturated fat:
1 g
Trans fat:
0 g
Carbohydrates:
43.7 g
Sugar:
18.8 g
Sodium:
241 mg
Fiber:
4.2 g
Protein:
4.5 g
Cholesterol:
0 mg
Though this recipe requires some time to come together, most of it is hands-off…. 😀
….and did I mention, it still creates that signature chocolate milk?….
This is the best way to get a cold cereal fix AND it can be happily enjoyed by all diet types (vegan, paleo, gluten-free, grain-free).
What's your favorite cold cereal?
I would have to say Raisin Bran! I love anything with raisins. My husband loves Cinnamon Toast Crunch, so that may be up next for a makeover. 😀
Shared with: Make Your Own Monday, Natural Living Monday, 5 Ingredient Monday, Slightly Indulgent Tuesday, Fat Tuesday, Allergy-Free Wednesday, Gluten-Free Wednesday, Healthy 2day, Wheat-Free Wednesday, Real Food Wednesday, Gluten-Free Friday, Wellness Weekend, Healthy Vegan Friday