A great pizza sauce recipe has eluded me for years.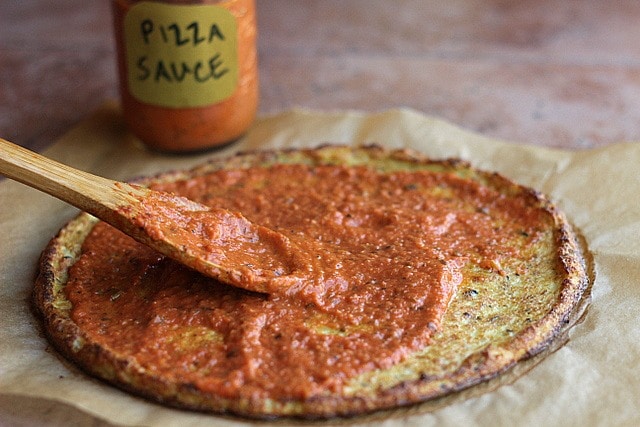 I grew up with a dad that often made his own dough and sauce, so I'm a bit of a pizza snob.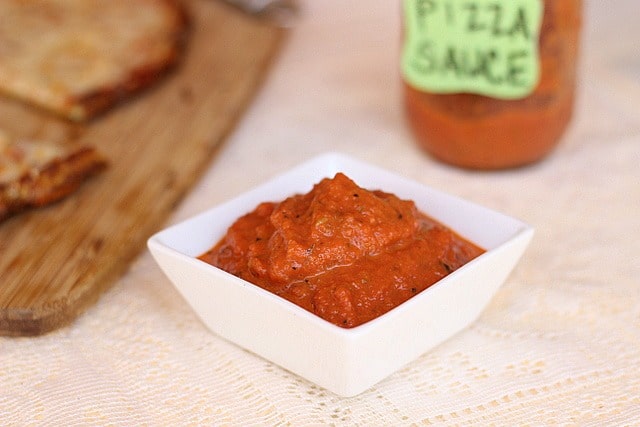 I swear I've been through dozens of recipes, but I could never seem to find the right balance of sweetness, tang, and spice….until now. This sauce has the exact combination of spices and flavor that perfectly compliment any Italian pie, and we use it on every. Single. Pizza.

Healthy Homemade Pizza Sauce
Ingredients
3 c. tomato puree
2 T. extra virgin olive oil
1 T. garlic, minced
1 t. dried oregano
1 t. dried basil
½ t. dried thyme
1 t. fennel seeds
scant ½ t. salt
1½ t. honey or maple syrup
¼ t. red pepper flakes
1 t. red wine vinegar
Instructions
Heat the oil in a deep pan.
Add the garlic, and saute just until fragrant (about 30 seconds).
Add in the rest of the ingredients (except for the vinegar).
Bring to a bubble, and lower the heat to a simmer.
Cook for 20 minutes (it will thicken and reduce during this time).
Remove from heat, and stir in the vinegar.
Use as desired!
Notes
Nutrition facts are based on using coconut sugar. Weight Watchers points (new system): 6
Nutrition Information
Serving size:
2
Calories:
230
Fat:
14.3 g
Saturated fat:
2 g
Unsaturated fat:
12.3 g
Trans fat:
0 g
Carbohydrates:
22.8 g
Sugar:
13.4 g
Sodium:
1192 mg
Fiber:
4.5 g
Protein:
4.1 g
Cholesterol:
0 mg
Bubbling away….
…blending with my immersion stick…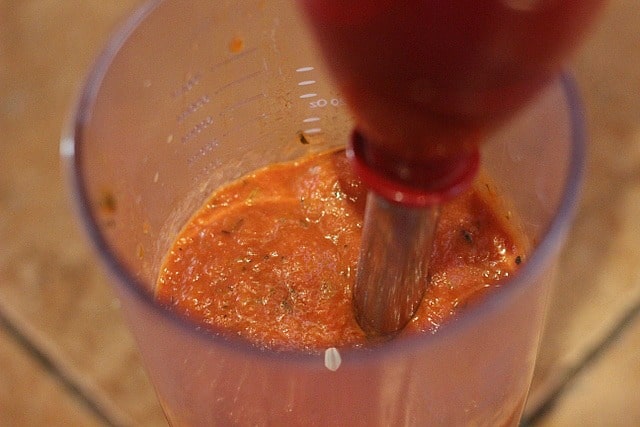 …and the finished product…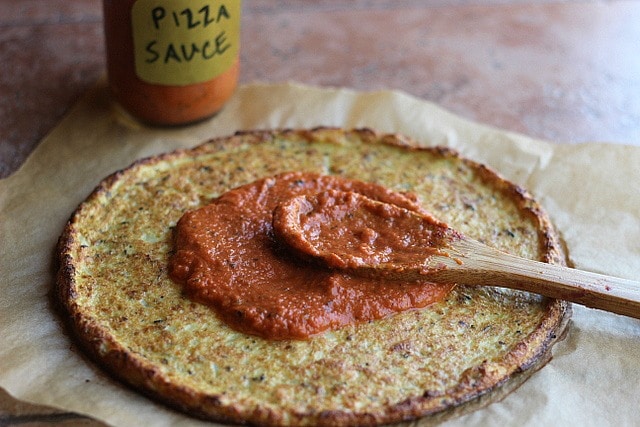 …this sauce is so tasty, I even dip my pizza into it…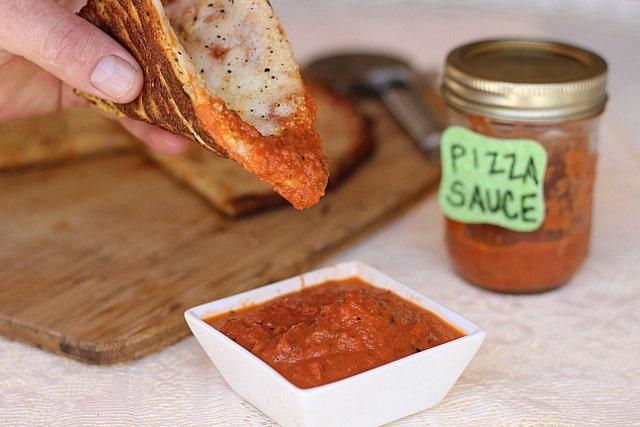 …thank you Mr. Goslin for your helping hands with this shoot.
The pizza you're looking at is my cheese-free version of the popular Cauliflower Pizza Crust…I'll have that one up on Monday for those of you that were asking about it.
If you can't wait till Monday, give my Zucchini Pizza Crust a go!
What's your favorite way to top your pizza?
I enjoy A LOT of veggies on mine. Mushrooms, red onion, green pepper, kalamata olives, and some fresh basil when it comes out.
Shared with: Wellness Weekend