You may or may not know about my recent sunflower seed butter obsession.
This stuff is dee-licious! With my recently discovered allergy to almonds (and overuse of peanut butter), I've had to switch up my nut butters a bit, and sunflower seed butter has been the spread of choice.
My goal here was to at least make a paleo and a vegan version, but I actually found three ways to bake these that would appeal to different tastes and diets. The only variation among the three is the egg/egg replacer that I use.
Flourless Sunbutter Cookies (3 Ways)
Ingredients
PALEO VERSION:
1 c. sunflower seed butter
1 egg, lightly beaten
¼ t. sea salt
1 t. baking soda
4 T. maple syrup
1 t. vanilla extract
16 drops liquid stevia
VEGAN/PALEO VERSION:
same as above except use 4 T. applesauce instead of the egg
VEGAN VERSION:
same as above except use a chickpea 'egg', which is 4 T. chickpea flour mixed with 4 T. water in a bowl and set aside for just a couple of minutes
Instructions
Preheat the oven to 350 degrees.
In a bowl, mix all ingredients (sunflower seed butter, maple syrup, stevia, vanilla, salt, baking soda, and egg or egg replacer) until everything is smooth and well combined.
Line a cookie sheet with parchment paper.
Drop tablespoonfuls of batter onto the sheet (I got about 12 good-sized cookies).
Bake 11-12 minutes until lightly browned.
Remove, and allow the cookies to sit on the cookie sheet to cool for 5-10 minutes.
Notes
The nutrition numbers contain all three versions. The first number is the paleo version, the second number is the applesauce version, and the third number is the vegan version. Weight Watchers points (new system): 4 (for all three versions)
Nutrition Information
Serving size:
1 cookie
Calories:
147/144/157
Fat:
10.5/10.2/10.4 g
Saturated fat:
1.2/1.1/1.1 g
Unsaturated fat:
9.3/9.1/9.3 g
Trans fat:
0/0/0 g
Carbohydrates:
10.4/10.9/12.9 g
Sugar:
4/4.5/4.5 g
Sodium:
260/255/256 mg
Fiber:
0/00.7 g
Protein:
4.7/4.2/5 g
Cholesterol:
14/0/0 mg
Each version is delicious!! The paleo version is soft and thick, while the applesauce version is chewy and thin. The chickpea version (my personal favorite) is a beautiful blend of the other two.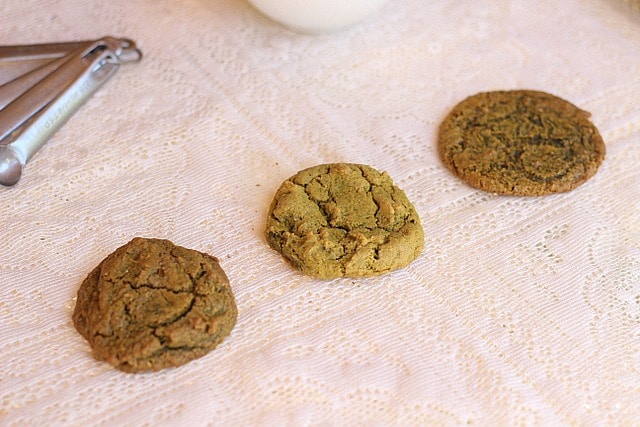 (Above, from left to right…chicken egg version, chickpea 'egg' version, applesauce version.)
The chickpea 'egg' is so fantastic! It holds the cookie together just as well as the chicken egg.
I actually tried these with a flax 'egg', and they fell apart.
The applesauce version, while very tasty and my husband's favorite, is the most fragile of the three, so be gentle.
Don't be alarmed by the blue-green color! The sunflower seed butter reacts to the baking soda, creating this interesting hue…the taste is unaffected though.
If you don't like or don't use sunflower seed butter, these also work well with peanut butter.
Have you ever tried sunflower seed butter? What's your take on it?
I started off with Trader Joe's brand, but wasn't crazy about the plastic jar or the added sugar, so it was nice to stumble across this brand, which is in glass and has no added sweeteners. My oldest daughter and I just love it!
Shared with: Make Your Own Monday, Natural Living Monday, Slightly Indulgent Tuesday, Allergy-Free Wednesday, Gluten-Free Wednesday, Gluten-Free Friday, Whole Foods Wednesday, Real Food Wednesday, Healthy 2day
Tagged: Almond Butter, Cookies, Dairy-free, Egg-Free, Gluten-free, Grain-free, Healthy, Paleo, Peanut butter, Soy-free, Sunbutter, Vegan, Vegetarian