These bars have been a long time in the making.
One summer, I set out to perfect and 'healthify' the Drumstick…you know, that creamy, delicious confection sold at every gas station in the nation?
My first focus was the cone. I came up with a decent enough recipe, but I couldn't get the shape to hold well enough to sustain the weight of the ice cream.
That seeming impossibility left me a bit creatively impotent, so the idea got put on the back burner.
When this year rolled around, I began craving the classic treat all over again. This time, however, I decided to concentrate on the ice cream component and make it into a pop-type dessert.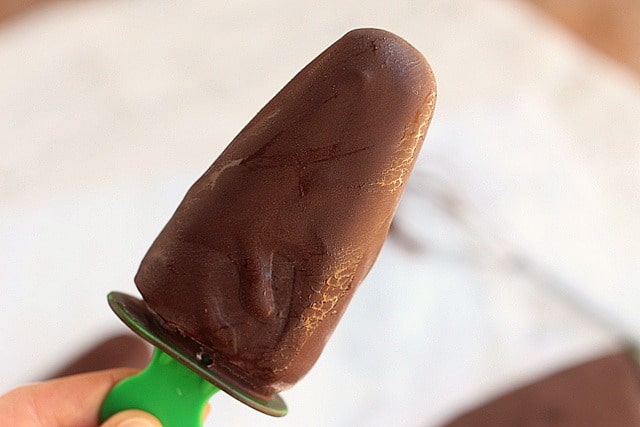 This idea has worked out better for me, as I'm in a stage of life where quick and easy recipes are a necessity. With three little kids, a dog to tend to, a house to clean, gym time, sauna time, husband time, etcetera, there's not a lot of time left to play in the kitchen anymore!
Aside from the freeze time, these bars are a quick blend and pour, in addition to the ten minutes or so for the chocolate coating.
In all honesty here, if you don't like hemp seeds, you might not like these. I made them to specifically to fit everyone's allergies here, which are many!
For me, these are crave-able, which is what I always want when I create a recipe…something I actually want to make again and again.
The crunch of that chocolate shell really tugs at some nostalgic memory from childhood, making a great proxy for the unhealthy, sugar-laden original!

Allergy-Friendly Chocolate-Covered Vanilla Ice Cream Bars
Ingredients
ICE CREAM:
1 c. dairy-free milk, I use homemade coconut milk or homemade hemp milk
½ c. hemp seeds
1 T. raw honey or maple syrup
2 t. vanilla extract
2 T. oil (I use either coconut or grapeseed oil)
dash stevia or ½-1 tablespoon more honey, to taste
CHOCOLATE SHELL:
½ c. coconut oil
½ c. + 1 T. cocoa powder
2 T. maple syrup
1 t. vanilla
dash sea salt
Instructions
Blend all the ingredients for the ice cream component until smooth and well combined.
Pour into pop molds and freeze until solid.
Line a pan or large platter with wax paper and put it in the freezer.
Mix the chocolate shell ingredients (I use a tall, skinny glass, so that dipping and coating is easier).
Dip the frozen pops into the chocolate, coating them all over.
Place the pops onto the cold platter.
Once all are covered, set the platter into the freezer in to harden the shell.
Recoat, if desired (I do!).
Freeze again until solid.
Enjoy!
Notes
Nutrition facts based on using unsweetened almond milk, almonds (hemp seeds would not pull up on Calorie Count), one tablespoon raw honey, and coconut oil. WW SmartPoints: 15
Nutrition Information
Serving size:
⅙ of recipe
Calories:
300
Fat:
28.3 g
Saturated fat:
20.6 g
Unsaturated fat:
7.7 g
Trans fat:
0 g
Carbohydrates:
14.1 g
Sugar:
7.6 g
Sodium:
72 mg
Fiber:
3.6 g
Protein:
3.3 g
Cholesterol:
0 mg
Notes:
Here is a link to my homemade coconut milk, which I use in this recipe. Any milk will work though!
These are the pop molds I use.
What is your favorite frozen treat?
Shared with: Allergy-Free Thursday, Healthy Vegan Friday