Delicious, whole grain gingersnaps that are lower in sugar, easy to make, and quick to bake!
Gather 'round you friends of miiiine, we're wilderness girls and it's cookie tiiiiiiiime…
I can't help it, seems like every time I go to make cookies, the Troop Beverly Hills soundtrack starts mentally blasting.
I looooove me some Phyllis Nefler!
As a kid, I was focused on the girls, but as an adult, Phyllis is the one I find myself relating to.
She's peppy, she's fashionable, she loves her daughter, and she knows how to do the Freddy.
Well, I've got one out of four of those covered. 😉
I've been making these particular gingersnaps for quite a while now, slowly lowering the sugar over the years as my taste has adjusted.
This recipe started out with eight tablespoons of sugar. I remember when I thought I was a star for getting it down to six. Now with the recipe at just two tablespoons, I feel pretty good.
The thing here is, with less sugar, the cookies get less 'snappy', resulting in a cookie with crisp edges and a softer middle, which may or may not appeal to some of you.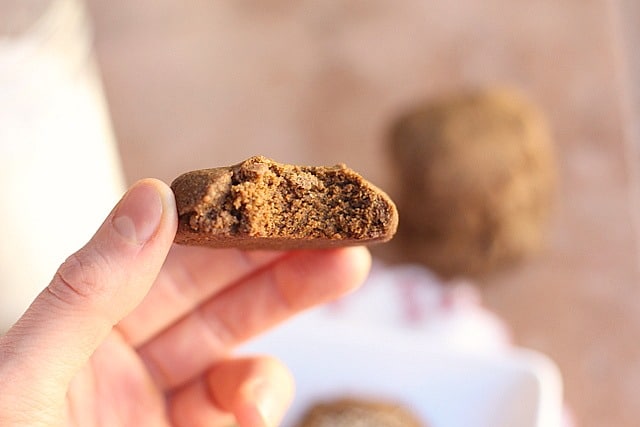 These boast the ideal combination of ginger and cinnamon, and the hint of cloves adds an extra sumpin' sumpin'!
The amount of sweetness is perfect for our family, but if you desire more, you can roll them in sugar prior to baking or add some frosting once they've cooled.
However you like your gingersnaps, I hope you enjoy this recipe if you try it!
Healthy Whole Grain Gingersnaps
---
Yields 10 cookies
Ingredients
1 c. whole spelt or wheat flour
1 t. baking soda
1 1/2 t. ginger (dried)
1/2 t. cinnamon
1/8 t. cloves (powder)
1/8 t. sea salt
2 T. coconut sugar
5 T. grapeseed or (melted) coconut oil
2 T. water
2 T. molasses
1/2 t. vanilla extract
Instructions
Preheat the oven to 350 degrees.
In a medium bowl, beat the oil with the coconut sugar 30-60 seconds.
Add in the molasses, water, and vanilla.
Beat until smooth and creamy.
Stir the dry ingredients (flour, baking soda, spices, salt) together in a small bowl.
Add the dry mix to the molasses mixture.
Stir until well combined.
Pinch off pieces of dough and roll into balls.
OPTIONAL: Roll the balls in sugar.
Place balls onto a parchment paper-lined baking sheet.
Flatten each ball a bit with your first three fingers.
Bake 10 minutes.
Cool.
Enjoy!
Notes
Calories: 123 Fat: 7 g Carbs: 14.4 g Sugar: 4.7 g Protein: 1.7 g WW SmartPoints: 4 Nutrition facts are based on using spelt flour, regular sugar, and grapeseed oil.
http://www.oatmealwithafork.com/2016/12/09/healthy-whole-grain-gingersnaps/
Notes:
As I said above, you can roll these in sugar before baking for added sweetness.
Top these with a healthy frosting if you like.
These cookies will crisp up as they cool.
What is your favorite holiday cookie?