Sorry for being so MIA lately, our life here has been jam-packed with busy-ness!
Thanksgiving, birthdays, kindergarten performances, and family visits have all seemed to hit at once, and I'm just trying to keep my cool. I'm hoping to get back to normal posting after the holidays are over.
Since this blog is something of a pseudo-journal for me and something I hope all my kids will look back on one day, I'd like to take a minute to chronicle some of our recent life events before amazing you with some healthy deliciousness...
Sammy boy has been quite mobile lately, which has been both a blessing and a hazard...
Barely six months old, our handsome fellow has been scootin' around the house for a solid month now! It's great to see him have a bit more personal freedom, but we are definitely having to keep a close eye on small objects, as everything is finding its way into his facehole.
This big-eyed beauty turned four on Wednesday, and she's slowly, but surely, finding her way in the world. P.s. that cake back there is my Grain-Free Strawberry Shortcake recipe, minus strawberries, plus coconut whipped cream frosting and spah-rinkles galore! It's a constant request around here for birthdays.
Little Miss Jadie had her first kindergarten performance recently, complete with speaking lines and all! She's usually so shy, but my husband and I really saw her come out of her shell a bit for this. I literally teared up like some weepy, estrogenic woman...sheesh!
Now that I've hit you in the face with all of that, let's move on to some healthy Christmas decadence!
I've rounded up ten of my favorite Christmas-y, holiday-ish treats that I hope gives you a few ideas over the next couple of weeks!
1. Raw Peppermint Bark Brownies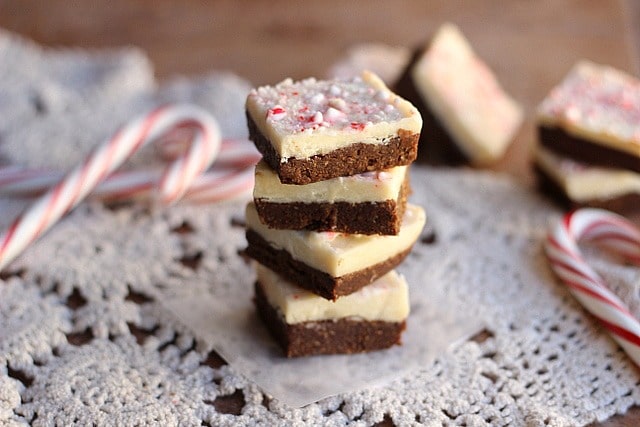 One of my absolute favorite treats, this delicious bars combine a raw brownie bottom layer with a crisp and minty topping. There's a reason these are numero uno on the list!
"Can I refill your eggnog for you? Get you something to eat? Drive you out to the middle of nowhere and leave you for dead?" I can't drink eggnog without thinking of the comical exchange between Clark Griswold and cousin Eddie in Christmas Vacation, and trust me, this is one eggnog you'll want to refill!
A reader told me recently how great these were for making gingerbread houses! They're also free of gluten and nuts, as well as being vegan for various diet types.
4. Fudgy Flourless Chocolate Mint Cookies

Man, I love these cookies! Chocolate and mint is my all-time favorite combo, and these fruit-sweetened spheres are an easy, healthy dessert for those of you who are grain-free.
I've been making this for me and my husband for almost ten years, so for a recipe to stand that test of time is pretty significant! It's thick, it's creamy, it's everything you could ever want in a hot chocolate...(psssst, and it's healthy!).
Another house favorite, these bars taste like pumpkin pie WITHOUT the sugar or crust!
7. 4-Ingredient Peppermint Bark

I've been making this like crazy since me and the girls love it! It's so easy and such a refreshing, low sugar treat to enjoy after a meal!
8. Wholesome Gingerbread (GF, Nut-Free)
Soft, delicious, and perfectly spiced, this low sugar gingerbread recipe is a crowd-pleaser!
Even though Thanksgiving has passed, I often make pumpkin pie for Christmas as well. I love, love, love this egg-free recipe, especially when paired with my 5-Ingredient No-Roll Pie Crust.
10. Healthier Than Grandma's Apple Crumble

I love how plentiful apples are this time of year, so I always take advantage of the season and make a delicious, nut-free crumble! I recently tried this recipe without any of the sugar and still enjoyed it, especially when topped with a dollop of stevia-sweetened whipped cream.
Weekend motivation!