Christmas is coming, how joyful it will be!....especially if you make something heeeaalllllthy.
Every year it's the same succession of events....Halloween, too much candy...Thanksgiving, too much stuffing...Christmas, too much fruitcake...January, weight loss and gym ads galore!
Change the pattern and just eat healthy treats, avoiding grandma's seven layer 'magic' bars (the only magic there will end up on your thighs)...oh, and here are some ideas. 🙂
1. Raw Peppermint Bark Brownies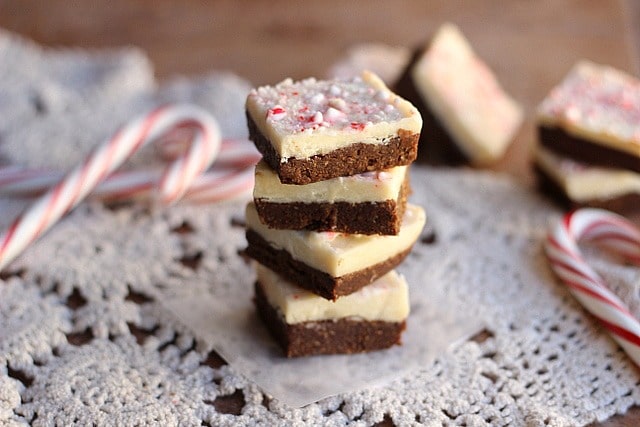 A tried and true favorite, these minty, chocolat-y delights boast a soft, chewy brownie layer under a crisp peppermint shell, and the best part...there's NO baking needed!
Though cinnamon rolls are typically reserved for breakfast, these raw bars are perfect any time of the day! A raw spiced bottom layer topped with a healthy 'frosting' and a caramel tahini drizzle make these not only delicious, but pretty to look at!
Oh, the decadence! This pie would be a true crowd-pleaser with its beautiful layers of green and chocolate, and the ingredients suit nearly any diet type, including gluten-free, vegan, and paleo.
4. Fudgy Flourless Chocolate Mint Cookies
My latest culinary wonder, these flourless chocolate mint cookies are made simply with walnuts, dates, and cocoa powder (and they have a fudgy texture worth writing home about!).
Christmas just wouldn't be Christmas without the decorating of sugar cookies, and these soft treats are no exception!
These clock in at under 100 calories each, leaving more room for you to smother them in this Low Carb Sugar-Free Frosting!
6. Raw Mint Chocolate Chip Ice Cream Sundaes
Have I mentioned my affinity for chocolate and mint? Well, I may have a little food crush there.
These sundaes are a perfect way to give guests their own individual treats, and they're full of healthy ingredients to boot!
7. Double Layer Peppermint Bark
I don't know about you, but peppermint bark just screams Christmas for me!
With just a few healthy ingredients, you can make your own!...sans copious amounts of sugar. 🙂
8. Raw Mint Chocolate Bon-Bons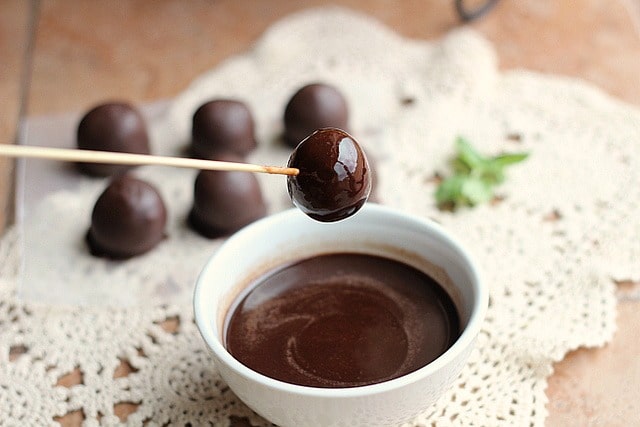 Yes, yes, more minty chocolate bliss! These soft, raw treats are covered with a fresh coat of homemade chocolate and are just begging to be rolled in some crushed candy canes!
9. Healthier Honey/Stevia Marshmallows
S'mores and hot chocolate are not complete without the addition of some soft, vanilla marshmallows, in my humble opinion.
This healthier version combines honey with stevia for a lower calorie, lower sugar treat that is clean enough to eat as a snack!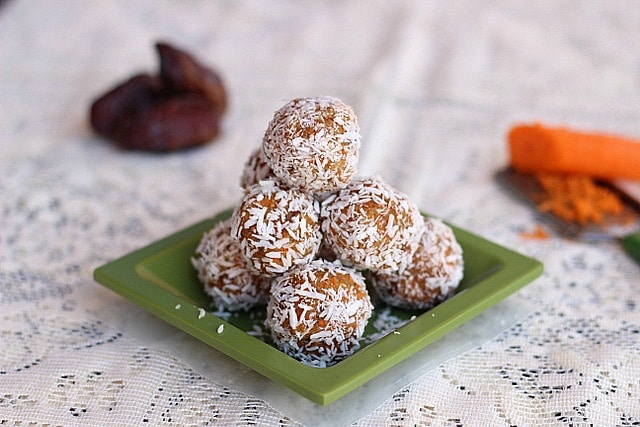 Though I made these for an Easter treat, the 'sno-ball' aspect of these seemed appropriate for this time of year as well...and they're delicious!
Fruit-sweetened, low in carbs and calories, AND you get a vegetable serving out of them! Hurray for carrots!
What are your favorite holiday treats?