I do so love cookies, and with so many recipes for them on the blog, I thought it would be nice to be reminded of all of the deliciousness I've created over the past two years.
1. Paleo Chocolate Chip Cookies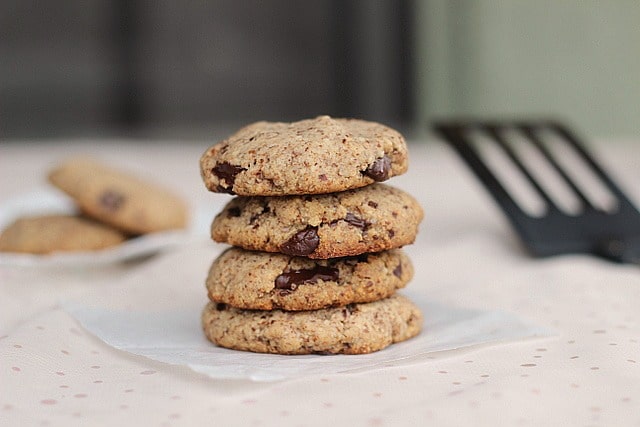 This continues to be one of my most popular recipes and for good reason! The almond meal base creates a butter-y mouthfeel, and the recipe doesn't require a ton of sugar.
2. Crazy Good Chocolate Chip Cookies
I made these treats after I became allergic to almonds, and they don't disappoint!
3. Fudgy Double Dark Chocolate Black Bean Cookies
My hubby loves the bean-based confections for their high protein. I love them for their rich and fudgy texture. These remind me of the packaged Grandma's cookies that you can pick up at any gas station (only these are good for you!).
4. Fat-Free Chewy Oatmeal Raisin Cookies
I had totally forgotten about this recipe until creating this round-up, but these chewy treats are a sight for sore eyes. Oatmeal raisin is my favorite!
These crispy bears can be made into any shape you desire, including squares to use for healthy s'mores.
Love these! Chocolate and mint can do no wrong!
7. Chickpea Flour Chocolate Chip Cookies
Don't tell the others, but this is my favorite cookie recipe right now! I'm so happy that many of you seem to be enjoying them as well!
8. 82 Calorie Oatmeal Snickerdoodles
With a delicious cinnamon-sugar coating, these spiced treats are always a welcome sight!
9. 3-Ingredient Sugar-Free Peanut Butter Cookies
One of my earlier treats, I was on a sugar-free kick when I created this little ditty.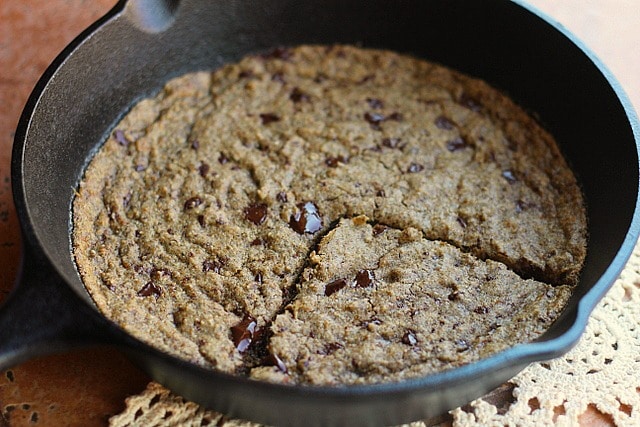 I didn't do this recipe justice with either pictures or the name (I think the moniker 'pizookie' confuses and intimidates those looking for an easy cookie recipe), but this big-as-your-face cookie is delicious! We enjoy eating it with a huge dollop of coconut whipped cream.
The tahini-based icing sets the flavor off nicely in this oat-y treat!
Originally created for Christmas, these low in sugar delights could conform to any holiday of the year. Simply adjust the frosting color and decorations as needed! (This Low Carb Vanilla Frosting is my fave.)
13. One Bowl Peanut Butter Oatmeal Chocolate Chip Cookies
With no added oil and less than five grams of sugar per cookie, these are healthy enough for breakfast! Sub banana for the applesauce if you prefer.
14. Raw Chocolate Chip Cookies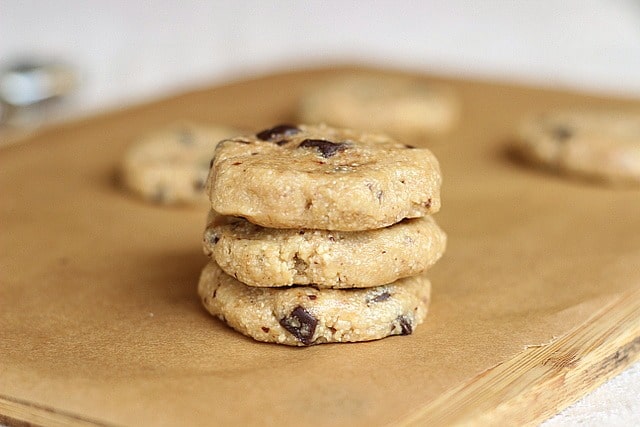 An easy, raw treat to throw together in minutes to satisfy your sweet tooth!
What's your favorite cookie recipe (feel free to include links!)?