Homemade Chocolate Buckwheat Granola - A delicious way to enjoy granola, oat-free! This crunchy cereal reminds me of a healthy Cocoa Krispies.
Cheerios, Rice Krispies, Just Right, and Raisin Bran were all regulars in my childhood pantry.
Since I've been older, however, I can't rationalize eating any of the aforementioned due to the abundance of preservatives and obscene amounts of sugar.
Per usual, when I find myself in this situation, I make my own healthy version!
What are buckwheat groats?
Instead of oats, we're using groats!
Buckwheat groats, that is.
Buckwheat groats come from a plant that is related to rhubarb and are actually considered seeds, for classification purposes, NOT a grain.
Though they are named 'buckwheat', they are gluten-free and not related to wheat in the slightest.
Buckwheat is also a complete protein with all 9 essential amino acids.
Its fibers and proteins also lend themselves to making fluffy and delicious baked goods!
How to make chocolate buckwheat granola
Ingredients
Recipe steps
Preparing the buckwheat groats and mixing together the granola ingredients.
FAQs
Can you use toasted buckwheat?
Toasted buckwheat groats and raw buckwheat groats are very different in taste. I personally don't like the taste of toasted buckwheat in any form. The
raw groats
are what you need for this recipe.
Can I bake this recipe at a higher temperature?
While you may be tempted to crank the oven to 350, I find that low and slow is the best way to go. Some readers have had success baking it in half the time by upping the temperature to 250, but I wouldn't go higher than that.
How long does it keep?
In general, granola can keep for six months, and this can be extended by freezing it. We typically consume this granola within a month.
Can I lower the sugar and/or use stevia?
In this recipe, the maple syrup plays a role in holding the recipe together, but I have lowered the amount to four tablespoons successfully.
Can I use a dehydrator?
I don't personally own a dehydrator, but I believe it would work. It will probably take a bit longer though.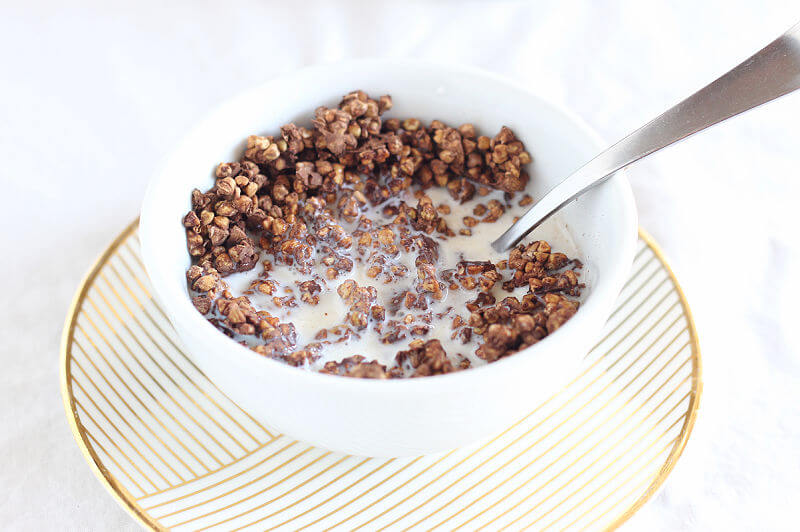 Buckwheat served as the perfect proxy in this recipe.
This is the best way to get a cold cereal fix, AND it can be happily enjoyed by many different diet types.
Other buckwheat recipes you might enjoy
Sugar-Free Apple Banana Buckwheat Muffins
Chocolate Chip Buckwheat Muffins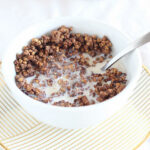 Print Recipe
Homemade Chocolate Buckwheat Granola
An easy, oat-free way to enjoy granola. Made with raw buckwheat groats and a few other common ingredients.
Ingredients
1

cup

raw buckwheat groats

3

Tablespoons

cocoa powder

5

Tablespoons

maple syrup

½

teaspoon

sea salt

1

teaspoon

vanilla
Instructions
Place buckwheat groats in a bowl and cover them with purified water (about 1-2 inches above the groats).

Let them soak overnight.

Preheat the oven to 200 degrees F.

Drain and rinse the groats.

Pat them dry with paper towels as best as you can (this can get a tad messy).

Mix them with the remaining ingredients until well combined.

Pour the mix onto a parchment paper-lined cookie sheet. Make sure to spread them out into an even layer.

Place the pan into the oven, and bake the cereal for three hours.

Remove the pan and break the granola into pieces. You will have to kind of peel the layer off of the parchment paper, but it will come off easily.

Bake the cereal for another 65-75 minutes.

Remove the pan and let the cereal cool (it will crisp as it cools).
Notes
Weight Watchers points: 7
Nutrition
Calories:
178
kcal
|
Carbohydrates:
40.3
g
|
Protein:
4.5
g
|
Fat:
1.5
g
|
Fiber:
2.2
g
|
Sugar:
15.9
g
If you have a chance to try this recipe, please leave a star rating and a comment below letting me know how you liked it!