I was inspired to write this post after recently thinking of all the 'tricks' I've used in lowering my own sugar intake. This isn't one of those 'fluffy' posts that are really generalized, but rather, these are things that I myself implement on a daily basis in my own life.
I believe that all of these tips will help anyone to gradually 'retrain' their sweet tooth, as they've worked for everyone in our family, including my two little girls.
After about four months of practicing these methods, we can all eat 'treats' with little to no sweetener, and be completely satisfied, and our bodies and minds are MUCH better off for it!
If there was one thing that everyone in the world could do for themselves, no matter what diet type, I think it is retrain their sweet teeth!
1. Your Best Tolerated Sweetener
The first thing I did in my quest to lower my overall sugar intake was to determine which natural sweetener agreed with me the best.
This will be different for everyone, as we are all different in what we tolerate.
I basically went off of how I felt after consuming each type, including maple syrup, dates, coconut sugar, honey, and sucanat or unprocessed sugar.
Was I tired within an hour or so? Was I itching? Was I moody? Did my energy wane? Did I have any other aches or pains to speak of?
These were all questions I asked myself, and because I know my own body fairly well, I was able to determine that the sweetener that agrees with me the best is raw honey.
This is now my go-to sweetener for pretty much all treats, with coconut sugar and maple syrup second and third, respectively.
2. To Stevia or Not…
Stevia seems to be a bit controversial, in that it has been linked to infertility. You can read a relevant study here.
While I do think that an abundance of anything, particularly a zero calorie sweetener, can be problematic, each person has to weigh the pros and cons for him or herself.
For me, stevia is helpful in my particular quest to lower my overall sugar intake.
I generally use it in combination with another natural sweetener (usually raw honey), and I don't overdo it.
A sprinkle here or there doesn't bother me personally. I've used it for years and never noticed a difference with my periods or ability to conceive.
A word of caution, however, from me to you: Buy a stevia with NO additives!
This means, NO 'natural flavors', maltodextrin, weird 'fibers', or anything else. Buy 100% powdered stevia extract, such as this.

The studies I've come across on stevia have never specified which brands they're testing, and I personally am very suspect of the above additives in connection with any negative effects.
I have NEVER tolerated a stevia that contained any of the above. I ALWAYS notice a negative reaction. Trust me, there is a reason that certain 'beefed up' brands taste better than others.
The brands I trust most (and who are all free of additives) include the NOW brand, the 365 brand from Whole Foods, and the Trader Joe's brand.
If you are so inclined, you can also find stevia in its raw, green-colored form, which is a bit more 'earthy' in taste, but less processed than its white counterparts.
3. Flavor Enhancers
An important part of making treats sugar-free is how you flavor them.
What flavors do you enjoy? For me, I love cinnamon, pie spice, and vanilla, so I pretty much double or triple those additions whenever I am making a low sugar or sugar-free treat.
It is important to flavor your treats accordingly or they will lack in satisfaction.
This bean cookie is one of my go-to 'sweet tooth-satiaters', and, as you can see, it does not lack in the vanilla department!
4. Beans, beans the magical fruit…
Are you onboard with beans in desserts yet? You should be!
They not only take the place of flour and add a rich, creamy texture, but they also add a considerable amount of protein, which is important for blood sugar stabilization.
I find them to be particularly suitable for sugar-free desserts, as in the above cookie slice recipe, as well as these Chocolate Chip Chickpea Cookies.
Their starch content adds a slight natural sweetness to treats that I really enjoy, and the taste pairs very well with stevia and some of the aforementioned flavor enhancers.
5. Coconut
Coconut is another awesome option when making lower sugar treats, having multiple health and taste properties.
It is naturally sweet on its own, so adding it to recipes in the form of milk (I use my Homemade Coconut Milk for pretty much everything!), butter, oil, flour, or just as a grated accoutrement will add a subtle level of sweetness that is incomparable to anything else.
Coconut is also great if you're lowering your sugar intake for candida purposes, as it contains caprylic acid, a fatty element that has potent antifungal capabilities.
I love the flavor coconut butter adds to my Carob Oat Truffles!
Coconut butter mixed with coconut milk and a little vanilla also makes an great icing/frosting for muffins or cake-y textured foods, such as these Pumpkin Pie Bars.
6. Unsweetened Chocolate
This is a great little trick.
When I make a recipe calling for chocolate chips, I typically use a combination of chopped dark chocolate (70% or higher) and chopped unsweetened chocolate, which is totally sugar-free.
That way, I get the mouthfeel of chocolate, along with some sweetness from the 70% bar. This has been one of my favorite ways to 'have my chocolate and eat it too', if you will. My Chocolate Chip Pumpkin Bars make great use of this tip!
FYI, Trader Joe's sells the cheapest unsweetened chocolate bar I have found at only $1.99 per four-ounce bar.
7. Carob
Carob can be pretty polarizing, I know. People seem to either love it or hate it. I'm sure you can guess, I personally love it.
Though it doesn't taste like chocolate, its color and texture make it a great 'fake-out' for the typically bitter bean, and it's sweeter in nature, not requiring copious amounts of added sugar to make it palatable.
Try it out in the form of this delicious, Flourless Cake or these Sugar-Free Candies and see for yourself!
8. Applesauce
Applesauce not only makes a great low-calorie fat replacement, but it also adds dimension and sweetness to lower sugar treats.
My best tip for this is to replace the liquid sweetener in recipes for an equal amount of applesauce.
For example, if a recipe calls for 1/4 cup of honey, I would use one tablespoon of honey and three tablespoons of applesauce to create a dessert much lower in sugar.
Sometimes, you can even go without any added sweetener, usually in the case of muffins or bread, if you have an ample amount of applesauce. These Apple Pie-Spiced Muffins are a great example!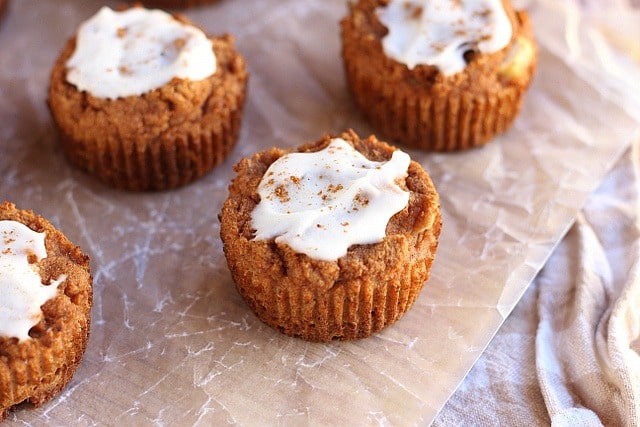 9. Garlic
This isn't so much a tip for creating sugar-free treats as it is a recovery method for post-consumption. I thought it was applicable here though, so I'm including it!
Basically, the idea here is to combat the negative effects of sugar immediately after eating it.
My husband and I have been implementing this trick for years, and we both find it extremely helpful.
What we do is simply swallow a whole, minced clove of raw garlic after eating any type of sweet treat.
I have noticed it particularly helps combat symptoms of fatigue, and raw garlic is known, in general, to help withcandida, among other ailments, so it's just a good thing to take all-around.
Hopefully, this is a bit helpful for some of you and gives you an idea or two of how to retrain your own sweet tooth!
Do you have any sugar-related tips or tricks to share?
Shared with: Healthy Vegan Friday, Allergy-Free Wednesday