My daughter, Jade, began kindergarten this year!
It has been nice for everyone involved: Jade gets to interact with other kids and learn (she is such a little sponge right now!), Natalie is able to discover a bit about herself, sans big sister, Sammy and Natalie are able to bond a bit, and mommy and daddy have some quiet(er) time in the morning/early afternoon.
Jade came into the world mirroring many of my own allergies, except she has had it far worse.
With symptoms like itching and eczema, it has been a battle for me to precisely determine exactly what foods she reacts to.
Her main allergies include any nuts, wheat, milk, bananas, and melons.
She is an anomaly in that (like me), she tolerates certain cheeses, but not cow's milk, and she can eat spelt fairly well, but not wheat.
I thought today, in lieu of my normal What I Ate Wednesday, it might be interesting to get a peek at what I feed her daily!
Breakfast
My daughter loves toast, but up until recently, I was hard-pressed to find a recipe that she tolerated, and I haven't mastered the gluten-free sandwich bread as of yet.
We came upon Food For Life's rice bread at Trader Joe's, and, thankfully, she has done great with it!
Though it contains xanthan gum, an ingredient I personally don't tolerate, she loves it, so until I come up with a better recipe, this is a worthwhile purchase.
She loves this with a drizzle of either olive oil or honey.
I also typically give her a variation of my Life-Changing Green Drink, but I add in a couple of pears for a bit more body and sweetness. I also use spinach as her dark greens component, as it blends the best and lends the best overall texture for her palate.
Snacks
After Jade comes home from school, both of my girls have 'snack time', where they receive a plate of goodies to munch on to hold them over until dinner...
Fruit, homemade crackers, Tahini-Free Hummus, string cheese, chopped chicken breast, raisins, rice cakes with pumpkin seed butter, and coconut oil potato chips are all among some of the foods I may give them.
Lunch
My daughter's class has 'Pizza Wednesday' at school, where all of the kids get a personal pizza from Pizza Hut. With Jade's allergies, she has to bring her own lunch every day and is not able to participate.
While you'd think this would ignite a crying jag, Jade handles it surprisingly well. It's actually mommy that is nearly brought to tears at the thought of her being left out.
To compensate, I often make her pizza for dinner, usually on Sunday nights.
Crusts made out of both quinoa and coconut flour are her favorites, but I recently tried socca as a pizza crust, and that was a hit as well!
Dinner
My daughter's absolute favorite dinner is my Tomato-Free Chili...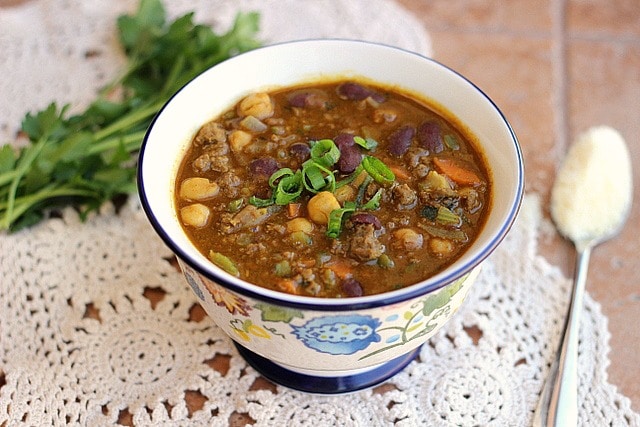 I think she would eat this for every lunch and dinner if allowed!
Another favorite with Jade that I make weekly is my Spaghetti Squash Lasagna...
I love how many vegetables she gets with this recipe! I top it with a lactose-free yogurt cheese and Kalamata olives, both of which she loves!
Dessert
Life wouldn't be complete without a sweet treat, even for a five-year-old...
Raw carob hemp seed cakes with minty avocado frosting (all honey-sweetened), Pumpkin Seed Flour Cookie Dough Bites, and raw sugar-free carob and hemp seed butter candies are all among Jade's favorites!
Despite her allergy trouble, Jade is growing into such a wonderful girl! She's more conscientious about health than she would have been without her struggles, so for that positive slant, I'm grateful.
Do you have kids with allergies? What are some of their favorite meals?