Lately, I've been realizing how important the little things in life are.
It's not a new car or a bigger house that really make my life, but rather it's having a low histamine day (you allergy sufferers know what I mean), squeezing out juuuuuust enough conditioner to get you by until the next trip to the store, or turning on the TV and finding that Shark Tank just began (Shark Tank hoo haha!).
These are the simple things that make up a good day, and for some reason, I'm just starting to really take note of it.
It would seem that many days are set up to make us really dig deep and see what we're made of, but appreciating the small moments can make such a difference.
This recipe, for example, made my day this week.
I had another Easter treat scheduled for Monday, but the photo session for it ended up flopping due to a technical error on my part. No big deal, but it still put me in a surly mood because I ended up with nothing to post!
These butter cups, on the other hand, came together beautifully and truly taste just how I wanted!
This fact is mirrored by the fact that the hubs could not stop food-gasming over the taste, which is totally delicious and so sinful.
The addition of oat flour gives some body to the filling, while using coconut sugar lends a granulated mouth-feel to each bite that pleasantly adds to the texture.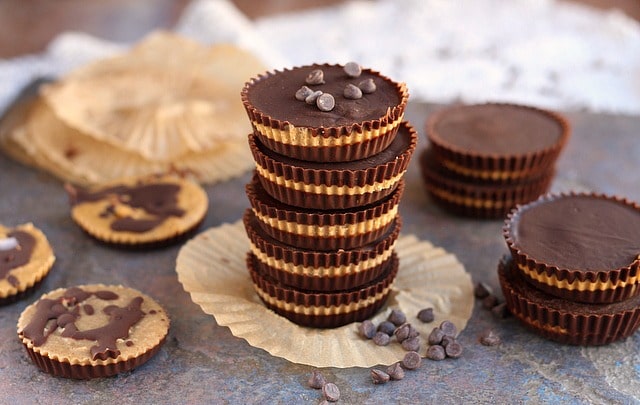 Simply deemed 'butter cups' instead of peanut, cashew, or the like, because you can really use whatever nut or seed butter you like/tolerate!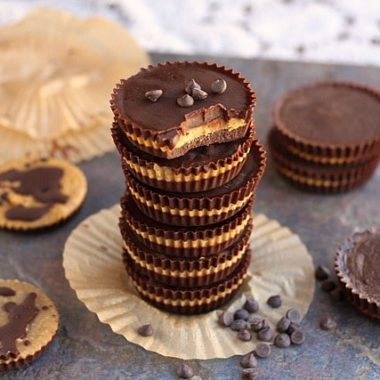 Print Recipe
Adaptable Chocolate Butter Cups (Vegan)
Delicious raw chocolate cups that you can fill with any nut or seed butter you tolerate!

Servings:
12
large butter cups
Ingredients
CHOCOLATE:

½

c

. coconut oil

, melted

½

c

. cocoa powder

¼

c

. maple syrup

dash sea salt

BUTTER FILLING:

6

T

. nut or seed butter of your choice

(we love the stone ground raw pecan butter from Vivapura or peanut butter best!)

2

T

. coconut oil

, melted

2

T

. + 2 t. oat flour

(I grind my own flour using Country Choice Organic Oats)

2

T

. coconut sugar

½

t

. vanilla extract

dash sea salt

(if nut or seed butter is unsalted)
Instructions
Mix together the ingredients for the chocolate.

Pour a small amount of the chocolate into each of 12 paper muffin cups (just enough to coat the bottom).

Freeze until hardened (5-10 minutes).

Meanwhile, mix together the ingredients for the butter filling until well combined.

Evenly distribute the butter filling atop the chocolate in the 12 cups.

At this point, you can freeze the filling for another 5-10 minutes or (if you're antsy like me) evenly distribute the remaining chocolate directly atop the butter filling.

Freeze until chocolate is solid (10-15 minutes).

Enjoy!
Notes
Nutrition facts are based on using peanut butter in the filling. WW points (new system): 5
Nutrition
Calories:
184
kcal
|
Carbohydrates:
11.3
g
|
Protein:
2.8
g
|
Fat:
15.9
g
|
Saturated Fat:
11
g
|
Polyunsaturated Fat:
4.9
g
|
Sodium:
58
mg
|
Fiber:
1.6
g
|
Sugar:
7.4
g
Speaking of nut and seed butters, can we talk about that for a second?...
Anyone else suffer from the excessive procurement of these creamy wonders? I have just about every nut and seed butter in my fridge that you can imagine, with the exception of almond because I'm allergic.
As I was making these, I thought the line-up of my stash was worthy of documenting. 🙂
As I mentioned in a previous post, Vivapura kindly sent me a few products to sample, not the least of which was their raw pecan butter.
This is my hubby's absolute favorite butter cup pairing, and it is definitely a product I would recommend trying at least once in your life!
What is your favorite nut or seed butter?