Happy 'What I Ate Wednesday' everyone! Thank you Jenn for starting this popular shenanigan!
As most of you know, this month is about snacking, (which I do plenty of) but I also wanted to mention my love for an item you all may or may not be familiar with called apple cider vinegar (ACV for short).
I do so love this stuff! It is so versatile, and it is effective at whatever task it's given. My top five of its many uses include:
1. Hair rinse. Add 1/4 cup ACV to about 2 cups water and boom! Conditioning agent and enhanced shine! I usually wash my hair with shampoo, douse it with the ACV mix, then condition it to remove the smell. I always notice a difference! I wouldn't use it more than a couple of times per week because it might begin to do the opposite…it is an acid, after all!
2. Digestive aid. Many times if I eat something that doesn't agree with me and I get bloated, I take about 1 tablespoon ACV, dilute it in a glass of water and drink it. Within 30 minutes, I feel a difference. If not, I just repeat. Some days I'll sip water laced with ACV throughout a day, and I notice an overall betterment of digestion.
3. Salad dressing. I looooooooove it in homemade salad dressing (this recipe is the cat's PJs)! It has a delicious tang, and it's helping you digest your food!
4. It makes buttermilk! In my opinion, you don't ever need to blow money on buttermilk, as you can make it yourself with your choice of milk and 1 tablespoon of acid, such as ACV. Just mix the two ingredients and let it sit for about 10 minutes until curdled.
5. Facial toner. A few nights a week, I use straight, undiluted ACV on my face before I go to bed. I swear, I wake up to fresh, soft skin every time! It tingles a bit when you put it on, so some people say to mix it with water. I personally don't, but use your best judgment with your skin type.
Now for some snacks! Would you believe a girl with the blog name 'Oatmeal With A Fork' eats oatmeal for a snack? Chocolate brownie oatmeal, to be exact? Yup!
I've also been loving my homemade protein bars….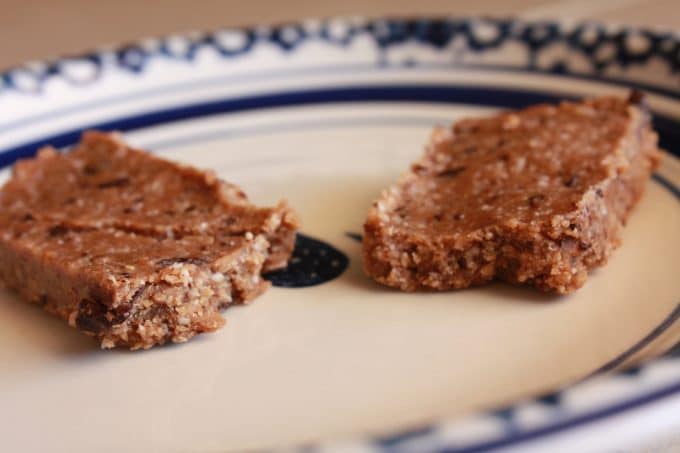 My snacks don't vary a whole lot…I tend to go for fruit (namely apples and pears), cheese, and smoothies. I've been in a chocolate mood, as far as smoothies go lately! Into the blender goes about 1 cup of milk, 1 1/2 frozen bananas, a scoop of rice protein, a handful of spinach, a giant glob of this:
….and a heaping spoonful of this:
I'll also add some stevia and vanilla for sweetness and flavor. The cocoa has really been making it for me lately!
And now for the winner of the cookbook giveaway….
Congratulations to commenter number 4, Jill Conyers!!
Please email me at ljgoslin27@gmail.com with your address information, and I'll send it out to you!
Thank you to everyone who participated!
Have you ever used apple cider vinegar? If so, what for?
More recipes you might enjoy