Crispy, crunchy, easy to make sugar-free crackers that you can customize to fit your allergies, dietary needs, and taste!
This is a play on a recipe I already have on the blog, but I really wanted to give it a bit more attention!
My kids love crackers, and with the school year upon us, I thought giving more insight into a recipe this easy and this versatile might be helpful.
My kids' lunches typically consist of a few things, including:
The main entree – Usually leftovers from a previous night consisting of a protein and starch (i.e. Chicken and Rice, Chili, etc.).
Fruits and/or veggies – Carrot sticks, cucumber slices, celery, apple chunks, pear, grapes, and berries are all well-tolerated.
A sweet treat – See Friday's post for some favorites!
Something crunchy – Chips, crackers, pretzels are all welcome and expected, lol.
My kids often come home with some leftover food, but I never want them to be hungry, so I kind of overdo it!
While I often buy the chips, crackers, and pretzels, sometimes I get highly annoyed at paying four dollars for four ounces of 'clean' crackers! Don't even get me started on trying to buy them gluten-free…highway robbery.
The price, along with long lists of sometimes questionable ingredients, are the main reasons I've begun making my own crackers, and the kids love them!
I have a base recipe that I've been playing with for years now, and these are just a few of my favorite variations:
All brown rice flour, as in the original recipe
Half brown rice flour, half chickpea flour
All chickpea flour
All spelt, kamut, or whole wheat flour (not gluten-free, obviously)
Half kamut flour, half millet flour
All buckwheat flour (I grind my flour in a coffee grinder using these raw groats)
There are myriad combinations, and they all work! The biggest difference I've noticed is that some flours need a bit more water, buckwheat in particular.
I also vary the spices I add; my favorites include:
Turmeric
Cumin
Smoked paprika
Braggs Sprinkle (this is a great blend of various herbs and spices)
Curry powder
Seeds (sesame, sunflower, pumpkin, poppy)
I usually add about 1/8 – 1/4 teaspoon of one of the above. If using seeds, I sprinkle them on top of the dough after rolling it out and before baking.
Here are some of my favorite combos…
The possibilities are truly endless!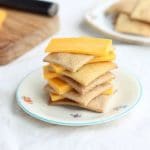 Print Recipe
Any Flour Yeast-Free, Sugar-Free Crackers
Allergy-friendly crackers that are easy to make and far more economical than store-bought.

Ingredients
1

cup

flour

(wheat, spelt, rice, millet, chickpea, buckwheat all work!)

1/2

tsp

sea salt

2

Tbsp

oil

(olive, grapeseed, avocado, coconut all work)

5-8

Tbsp

water

(as needed)

1/8-1/4

tsp

seasonings

(curry, turmeric, paprika, cumin, etc.)
Instructions
Preheat the oven to 400 degrees.


Mix the flour with the salt and any seasonings you're using.


Stir in the oil until mixture looks a bit 'pebbly' in texture.


Stir in the water until the dough is moistened and begins to form a ball. It should not be sticky to the touch. If it becomes sticky, knead in a bit more flour.


Place the dough ball between a sheet of parchment paper and a sheet of wax paper.


Roll out the dough to about 1/8 inch in thickness, with the wax paper on top and the parchment on bottom.


Peel away the wax paper and transfer the parchment (with the cracker dough still on top) to a baking sheet (rimless, if possible) or pizza stone.


Use a pizza cutter to create your desired cracker shapes and use your fork to poke a couple of holes, if desired.


If using seeds, sprinkle them on top and lightly push them into the dough with the rolling pin.


Bake the crackers for 16-25 minutes until golden (see Notes).


Cool, break apart, and enjoy!

Notes
Nutrition facts based on using wheat flour and olive oil. WW SmartPoints: 1
Nutrition
Calories:
23
kcal
|
Carbohydrates:
3.2
g
|
Protein:
0.4
g
|
Fat:
1
g
|
Fiber:
0.1
g
Adapted from my Faux Artisan Crackers
Notes:
Bake time can vary from flour to flour, hence the range. Check them at around 16 minutes and begin plating the outermost crackers (which are the ones that will bake/brown fastest). Then, replace the pan to let the others bake until golden and crispy (another 5-10 minutes).
I find that using a rimless baking sheet or pizza stone works best for baking!