Homemade Pizza Dough Without Yeast - This delicious whole grain pizza crust is made without yeast or oil! A surprising ingredient helps keep the dough soft and chewy.
Who wants pizza?!
Made without oil or yeast, this is my absolute favorite whole grain crust to make, and the crew here enjoys it too!
It's soft and chewy, and it comes together super quick. No waiting around for the yeast to bloom or the dough to rise.
What can I use instead of yeast in pizza dough?
Because of various health issues, I limit my yeast intake, and have created this delicious alternative using baking powder!
A good ratio of baking powder to flour can create a crust that is very similar to one with yeast.
In this crust, the addition of a surprising ingredient (applesauce!) also lends itself to a soft and chewy texture.
How to make pizza without yeast
Ingredients needed
Recipe steps
Mix together the dry ingredients, then add in the applesauce and water and knead the dough.
Roll out the dough, pre-bake the crust, then top the crust before the final bake.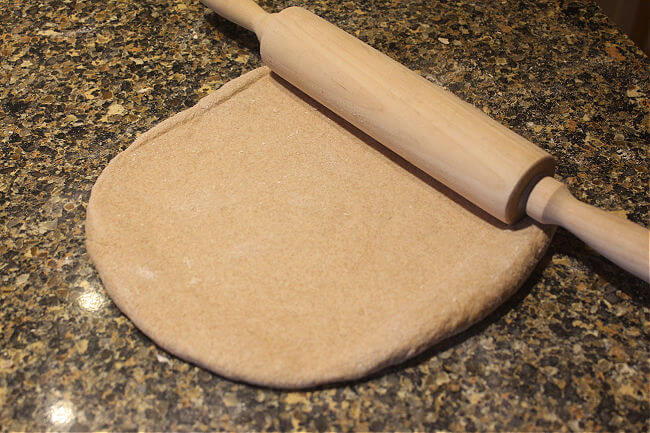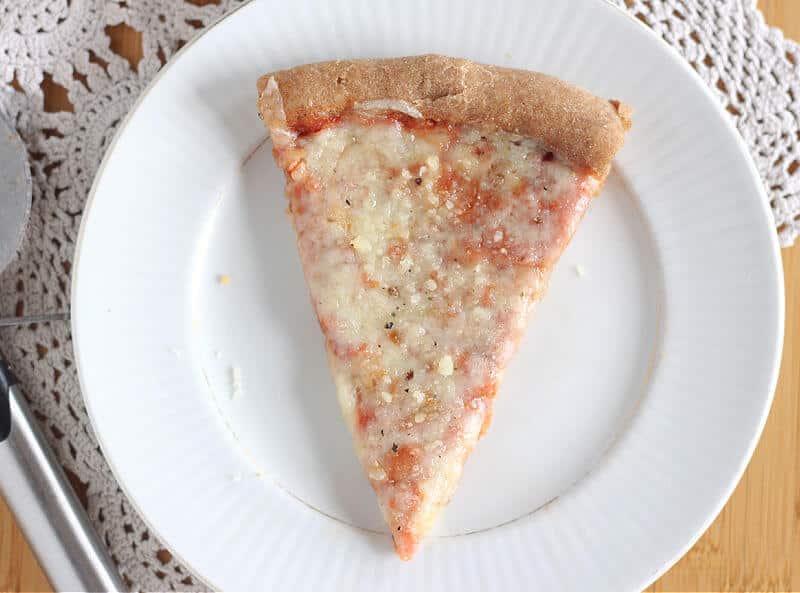 Personally, I'm a fan of making the crust a bit thicker, adding on healthy spoonfuls of my Homemade Pizza Sauce, tons of veggies, and a light sprinkle of raw cheddar.
The kids will even eat their vegetables this way, much to my astonishment!
FAQs
Can I make this gluten-free?
I've not tried using a gluten-free flour for this, so I can't say for sure. Please see below for some wonderful gluten-free alternatives!
Is there a substitute for the applesauce?
The applesauce is what makes this crust soft and chewy, so I wouldn't sub it out. See my recipe for how to make
Instant Pot Applesauce
, and keep it on hand for other recipes or eating!
Is it worth making your own pizza dough?
Yes, totally! You get to control what goes into the dough and avoid ingredients like sugar or preservatives that can be in store-bought crusts.
What is the best cheese to use on pizza?
Recipe notes
This is my favorite spelt flour to use (no affiliation).
Tips and tricks
It can be tricky to find the right consistency with homemade pizza dough if you're a beginner, so here are a few tips!
Add in the water slowly, beginning with 2/3 cup. Add one tablespoon at a time until you can begin to knead the dough without any sticking to your hands.
If you do add too much water and the dough sticks to your hands, slowly add in more flour.
The sweet spot is having the dough be moist enough that it is soft and pliable, but does NOT stick to your hands.
Looking for a good gluten-free crust? Try one of these!
Print Recipe
Homemade Pizza Dough Without Yeast
This delicious whole grain pizza crust is made without yeast or oil! A surprising ingredient helps keep the dough soft and chewy.
Ingredients
2 ½

cups

spelt flour

about 185 grams

1

Tablespoon

baking powder

1

teaspoon

sea salt

½

cup

unsweetened applesauce

⅔ - 1

cup

warm water
Instructions
Mix the flour, baking powder, and salt in a large bowl.

Stir in the applesauce until the mixture looks pebbly.

Add in the water slowly, until the dough comes together. It should be neither too dry nor too sticky to the touch.

Knead until the dough is a smooth ball, about 2-3 minutes.

Cover the dough with the same bowl you used to mix the ingredients, letting it sit while your oven warms and you begin your topping prep.

Preheat the oven to 400 degrees.

After 10 minutes, divide the dough into two balls (don't knead it), and roll out each ball to fit your pizza pan.

Pre-bake the crusts for four minutes.

Remove the crusts, top with sauce, veggies, and/or cheese, and bake for 8-10 more minutes (I put one on the top rack and one on the bottom rack, bake for six minutes, then switch them around) or until toppings are baked through.

Remove, cool, slice, and enjoy!
Nutrition
Calories:
68
kcal
|
Carbohydrates:
14.9
g
|
Protein:
2.6
g
|
Fat:
0.4
g
|
Fiber:
2.4
g
|
Sugar:
0.9
g
---
If you have a chance to try this recipe, please leave a star rating and a comment below letting me know how you liked it!
Shared with: Full Plate Thursday, Inspire Me Monday, Fiesta Friday