They say that the pictures on food blogs should tell a story.
I say, the pictures should make you want to eat the food!
However, in the spirit of the game, let's take a look at what my story would show...
Every recipe starts in one of my many notebooks.
While I'm normally a super-organized person, I have notebooks upon notebooks of scribbled writings and random recipe jots that are almost illegible to myself, much less anyone else.
Inspiration for something will literally hit me at the most inopportune times, and I'll grab whatever pen and paper are closest to get the idea down before it's lost forever.
Once I begin preparing the food for an OWAF photog sesh, I always acquire at least one furry kitchen companion...
Truth be told, whenever I even walk towards the kitchen, Gus is there waiting to 'help' with any crumb droppage.
I typically don't take many pictures of the actual ingredients, frankly because it doesn't interest me to do so.
While food can be beautiful, when I'm searching for a recipe, I want to see pictures of the end product more than anything else. Do the brownies look gooey? Does the bread look fluffy? The cocoa powder and flour that go into a recipe don't tend to curl my toes too much, so I guess that is reflected here. I can definitely appreciate a good-looking piece of produce though...
What you don't see (and probably don't want to) is the final, horrible clean-up...
Depending on how many tries a recipe goes through in a day, my kitchen can be a disaster area! I think my husband actually plans his naps around this time to avoid having to wash a dish. Booooo to you, R. 😉
The mess for these muffins, though, is totally worth it.
They're soft and moist and infused with flavors of upcoming Fall...
I made these with the intention that they'd be enjoyed as snacks or even treats, and they've definitely come in handy! So handy, in fact, I've made four batches (two double batches) in the last two weeks!
They are jam-packed with grated zucchini and apple cubes, making them particularly healthy, and they don't shy away from a handful of chopped walnuts either, if you're so inclined. 🙂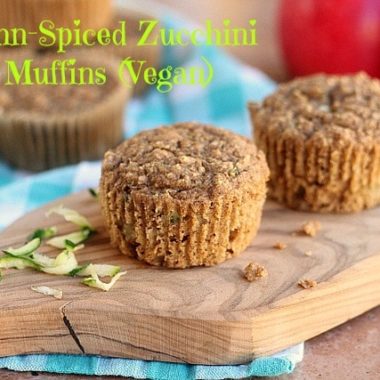 Print Recipe
Autumn-Spiced Zucchini Apple Muffins (Vegan)
Ingredients
½

c.

spelt flour

2

T.

oat bran

¼

t.

sea salt

¼

t.

baking soda

½

t.

baking powder

¾

t.

cinnamon

½

c.

applesauce

2

T.

dairy-free milk

2

T.

oil

I've used olive, grapeseed, and coconut with great results

2

T.

maple syrup

½

t.

vanilla

½

c.

grated zucchini

¼

c.

apple

chopped into small cubes

2

T.

chopped walnuts

optional
Instructions
Preheat the oven to 350 degrees.

Mix the dry ingredients together (flour, bran, salt, baking soda, baking powder, cinnamon).

Mix the wet ingredients together (applesauce, milk, oil, vanilla, zucchini, apple, and walnuts, if using).

Mix everything together gently just until everything is moistened.

Divide the mixture into seven paper muffin cups.

Bake 23-25 minutes.

Cool and enjoy!
Notes
Nutrition facts are based on using unsweetened almond milk, olive oil, and no walnuts. WW points (new system): 3
Nutrition
Serving:
1
|
Sodium:
132
mg
|
Sugar:
6.1
g
|
Fiber:
1.7
g
|
Calories:
101
kcal
|
Polyunsaturated Fat:
2.8
g
|
Saturated Fat:
0.6
g
|
Fat:
4.4
g
|
Protein:
1.8
g
|
Carbohydrates:
14.8
g
You should really get a gander of me taking the pictures too.
I'm literally laying at an awkward angle on our kitchen counter with my face pressed against the only decently lit window we have, and it's not uncommon that I curse this fact.
Upon concluding a pain-inducing picture fest, I have to be watchful of kitchen gnomes...it seems there's always a big-eyed variety waiting to nab a sample of the food model...
What occurs in your kitchen when you're cooking/baking?