Happy Monday everyone!
I hope everyone had a happy Thanksgiving! These glamorous babies had a great time spending Thanksgiving with my husband's family this year. Here are a few shots from our time there....
Upper right is my hubby, and the upper left is his reluctant-to-be-photographed-and-hold-a-baby brother. 🙂 Both Jade and Natalie got the opportunity to meet cousins and play with puppies! I don't really have any friends with kids, so it's definitely becoming important that I integrate them both with other kids, especially as they get older. You'd think I would have snapped a few good pics of the food, but, alas, I did not. Bad food blogger, yes. Let me tell you they had quite the spread! Turkey, cornbread stuffing, mashed sweet potatoes, roasted acorn squash, homemade cranberry sauce, and pie galore!
After the sweets I've been gorging myself on, I figured today would be a good time for a light and healthy snack!
Brussels sprouts are the perfect vegetable to be made into a chip. The cup shape of each leaf is ideal for such a recipe. I entertained the idea of making kale chips, but I'm always looking to do something a bit different. Kale is something that I can eat raw, while Brussels sprouts are something I absolutely have to roast in order to consume! What better way to disguise it than as a delicious BBQ 'chip'?!
BAKED BBQ BRUSSELS SPROUTS CHIPS
1 T. grapeseed oil
1/2 t. paprika
1/8 t. chili powder
1/8 t. cumin
1/8 t. onion powder
1/8 t. garlic powder
1/8 t. dry mustard
pinch cayenne pepper
1/4 t. salt
3/4 t. maple syrup
about 20 medium-sized Brussels sprouts
Preheat the oven to 310 degrees. Cut the stem off the bottom of each sprout. Starting from the bottom, peel leaves off of each sprout, trying to keep them intact so that they resemble chips. Do this until you reach the core and can't peel any more off.
Wash and thoroughly dry the leaves.
Mix the oil and the spices together like so....
Toss the leaves in this mixture, rubbing the mixture onto each leaf (you really have to use your hands for this). Place the leaves onto a parchment-lined baking sheet...
.....bake them for about 20-30 minutes. After about 20 minutes, check on them. The outer leaves usually crisp up the fastest, so you may want to remove some of the ones that are done, and move the inner ones to the outer edges. They will crisp up a bit more upon cooling, but for the most part, they should feel crispy and be browned....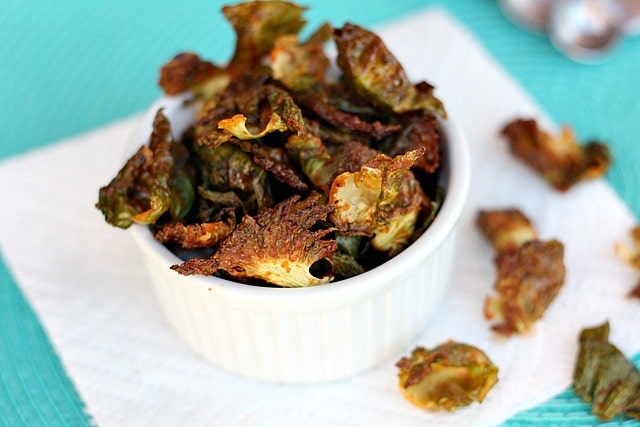 These are so good! The spice blend is spot-on, and you'll never be able to tell it's a Brussels sprout! I may have eaten them all... :-)...
What's the weirdest thing you've done with a vegetable?
I think the strangest recipes I've tried were beet chips (yum!) and carrot fries (ick!).