This homemade low sugar granola is my family's favorite quick and easy recipe! Made with just four basic ingredients, it is easy, cost effective, and healthy. Nut-free.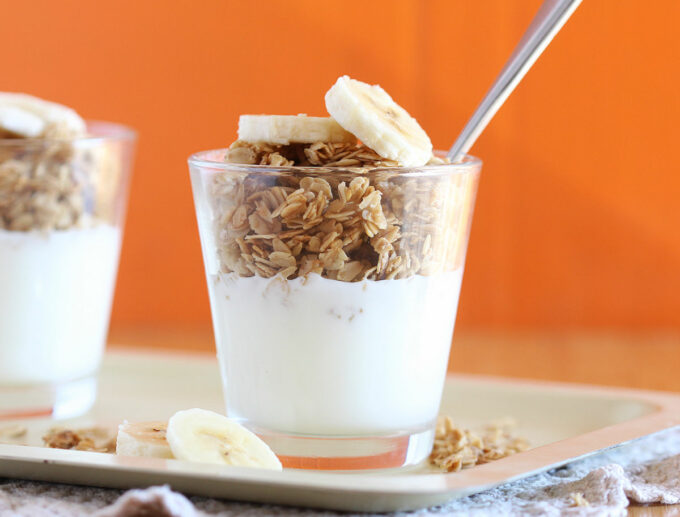 For a while now, I've wanted to create a quick and easy granola recipe. One that I could stir together in under five minutes and be eating in under 30.
A recipe that would accommodate everyone's allergies and that didn't boast the amount of sugar in a cupcake!
This is that granola recipe!
My kids all love granola (who doesn't??). They eat it by the handful, with milk, in parfaits...it truly is a crowd-pleaser!
It adds a great crunch to yogurt and smoothies, and it's full of fiber, making it a less expensive way to fill anyone up.
Granola ingredients
Oats - Rolled oats make the best granola; I've never attempted to use quick oats, but my feeling is it might be mushier in texture. If you're gluten-free, these are my favorite oats (which are also the only ones I've found that are free of glyphosate!).
Sea salt - This brings out all the flavors without making it too salty.
Melted butter or oil - My favorite fats to use are butter and coconut oil, though I've used many others as well. See the FAQs below for the ones I've tried. My feeling is that any liquid fat would work, as long as you enjoy the taste.
Maple syrup - This is the best sweetener for granola, in my opinion. Honey can work, but a really runny honey is needed or there is some difficulty in coating and mixing the oats.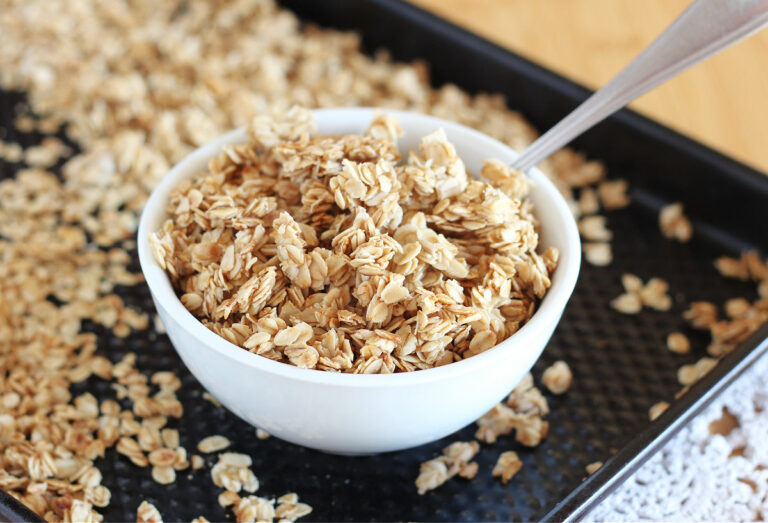 How to make low sugar granola
For a complete tutorial, see my video below the recipe.
Begin by mixing the oats and salt in a large bowl. If you find you enjoy this recipe after trying it, it's easily doubled or tripled to have more on hand!
Stir in the butter or oil and maple syrup.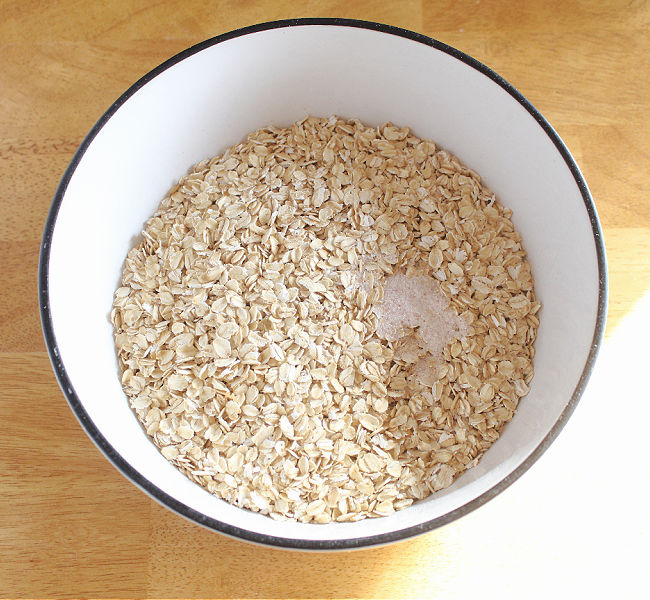 Be sure to mix the ingredients thoroughly to coat the oats.
Spread the oats on to a large baking sheet.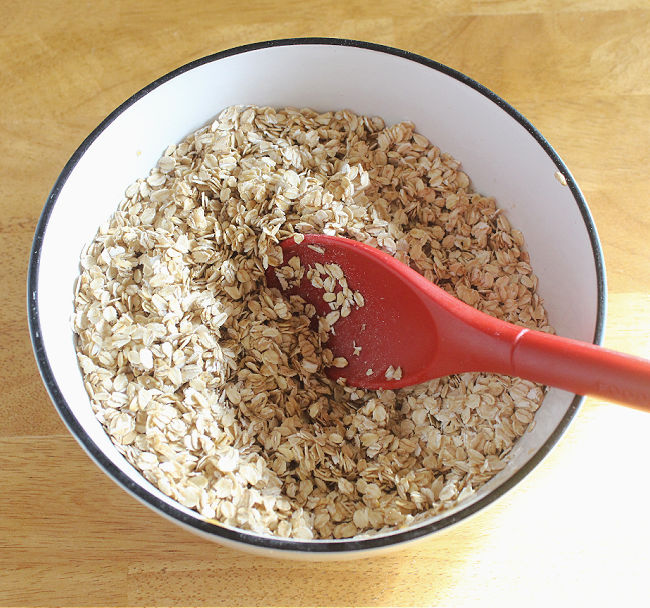 Optional mix-ins
Though I set out to make this a very basic granola, free of additions, I'd still like to mention a few add-ins we enjoy!
Cinnamon and/or pie spice
Vanilla extract
Chocolate chips
Dried fruit
Coconut flakes
FAQs
Which fat works best?
This recipe works with a variety of oils and fats, including butter, ghee, coconut oil, grapeseed oil, olive oil, and avocado oil. We enjoy butter and coconut oil best. When the kids make it, they use grapeseed oil, as it is already in liquid form and easier for them to pour.
How sweet is this granola?
The sweetness I add to this recipe is just enough to please kids, yet be reasonable for adults. Basically, it's 1 1/2 tablespoons of sweetener to one cup of oats.
Can I increase the temperature to bake the granola faster?
Please heed my advice when I say no! I've done this a number of times, only to ruin the final product in some way. There's something about keeping the oven at 325 that really allows the granola to be the best tasting it can be!
How long does granola bake for?
While it might seem like cranking the oven temperature will bake your granola faster, you'll just end up disappointed like I have so many times. The trick, I've found, is lower and slower. The granola's color should be light golden brown. You may even think it's not done, but it will continue to crisp up when out of the oven.
My biggest tip is to follow the baking instructions carefully. Don't raise the oven temperature, be sure to set a timer and check on it periodically, especially towards the end of the baking time.
Trust me, it can go from light golden to brown and burnt real quick!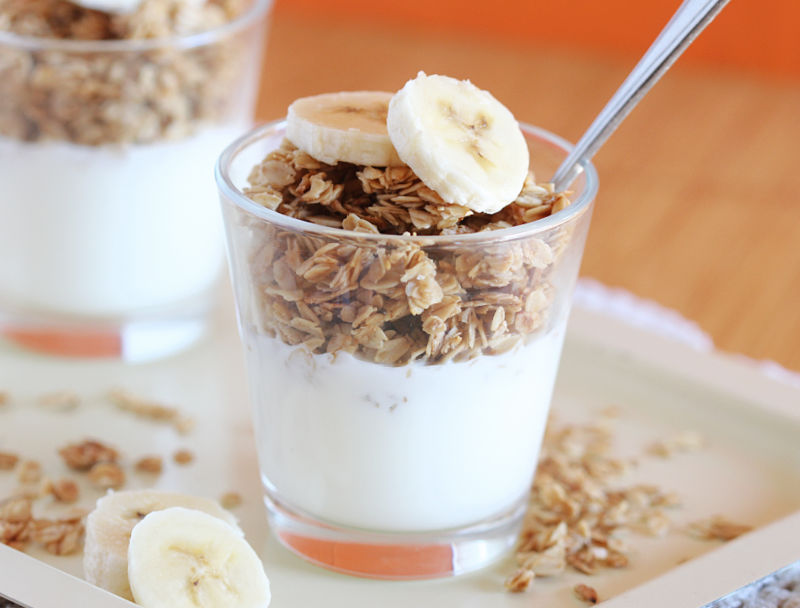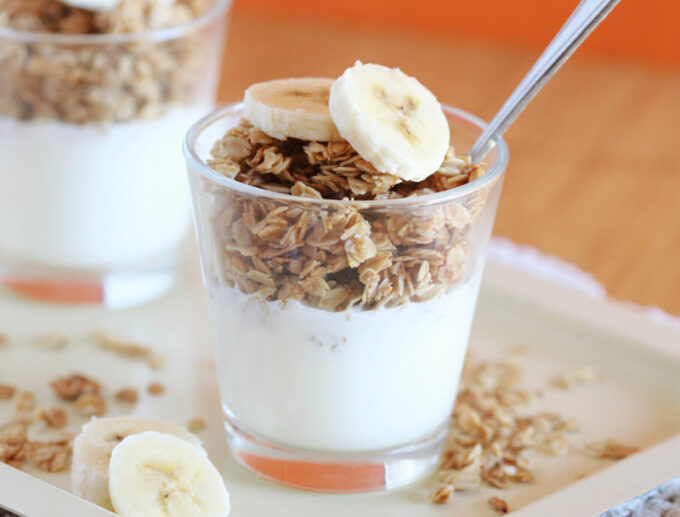 If you love granola, check out some these fun variations!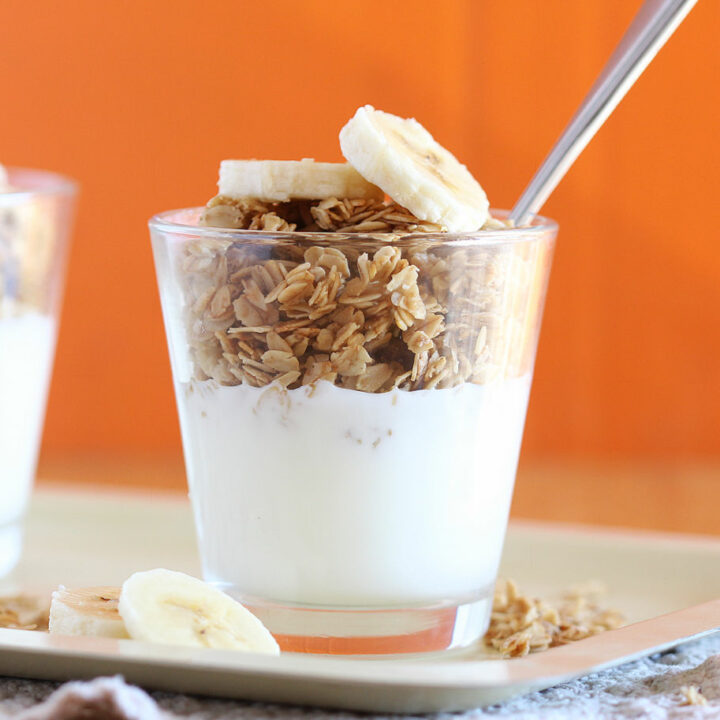 Print Recipe
Homemade Low Sugar Granola
This quick and easy granola recipe is made with only four basic ingredients, making it both easy and cost effective. Low in sugar and nut-free!
Ingredients
2

cups

rolled oats

¼

teaspoon

sea salt

3

Tablespoons

coconut oil or butter (melted)

see FAQs above

3

Tablespoons

maple syrup
Instructions
Preheat the oven to 325 degrees.

Mix the oats and salt in a large bowl.

Stir in the oil and syrup until all the oats are evenly coated.

Spread the mixture onto a large baking pan.

Bake for 18-20 minutes or until lightly golden.

Cool a bit before serving.
Video
Notes
Nutrition facts based on using butter.
WW Points: 5
Nutrition
Calories:
135
kcal
|
Carbohydrates:
18.9
g
|
Protein:
2.7
g
|
Fat:
5.7
g
|
Fiber:
2.1
g
|
Sugar:
4.7
g
---
If you have a chance to try this recipe, please leave a star rating and a comment below letting me know how you liked it!