Names are extremely important to me.
The names I've given both my kids and my pets are not chosen at random or on a spontaneous whim, but rather, they have each been given considerable thought and pondering.
My oldest daughter, for example, was named for the moniker my own mother nearly gave me, while my youngest was named for one of my favorite film stars, Natalie Wood.
Our shih-tzu, Gus, earned his title thanks to the chubby Cinderella mouse that always made me giggle as a child.
My own name has a rather dull narrative, in that my mom allowed my older brother to choose it. He injudiciously chose to call me Laura after his favorite soap opera character, which my mom lengthened to Lauren.
I've never really cared for my name. I remember an incorrigible boy in grade school rhymed it with 'boring', as in 'Lauren borin'' for a truly memorable moment in my life. His name, ironically, is one we are considering for our current unborn child, should it happen to be a boy (finding out this month!!).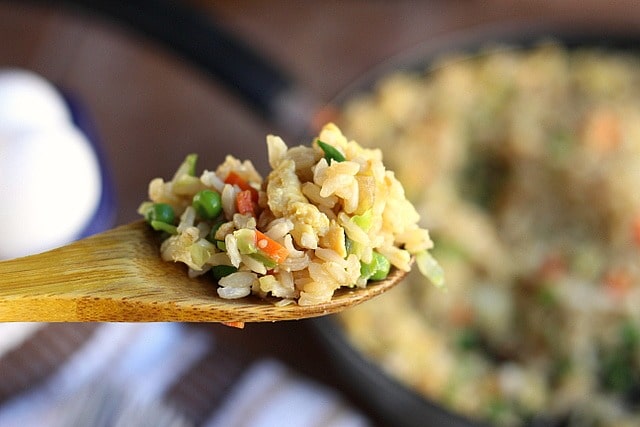 Whenever I go to name a recipe, I try not to be too misleading or exaggerated, but some dishes, like this one, are just so deserving of the title 'best' and 'better than'.
Fried rice has been a favorite of mine since I was little. My parents used to get take-out from a nearby Chinese food restaurant at least twice a month, and pretty much the only two boxes I cared about housed the chow mein and the fried rice. Carb city, baby.
As an adult, I don't venture much into the world of food beyond my kitchen and our favorite Mexican restaurant, so fried rice has been a recipe I've been working on for a while now.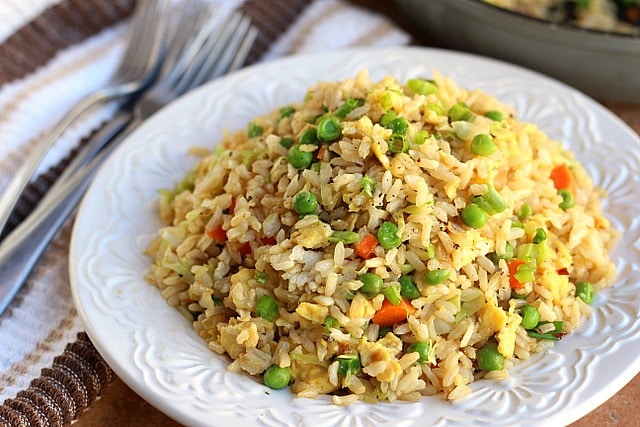 I wanted to be sure to have it taste as authentic as I remember, but, obviously, still be healthy!
After various trials and errors of finding just the right combination of flavors, you're going to be surprised at how easy this recipe actually is.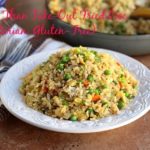 Print Recipe
Better Than Take-Out Fried Rice
Ingredients
1 ½

c.

long-grain brown rice

uncooked

3

T.

neutral-tasting oil

such as grapeseed, divided

½

yellow onion

about 3/4 cup, chopped

4

eggs

½

t.

toasted sesame oil

½

t.

soy sauce or tamari

2

small carrots

peeled and chopped

½

c.

green peas

2

c.

green cabbage

lightly packed, shredded fine

5

scallions

chopped

¼

t.

red pepper flakes

optional

2-3

T.

soy sauce or tamari

salt and pepper

to taste
Instructions
Cook your rice according to package directions.

Chill the rice for 6-8 hours or overnight (I often cook the rice in the morning then chill it all day in the fridge to have for dinner).

Heat one tablespoon of oil in a large, non-stick skillet.

Add in the onion along with a sprinkle of salt and saute 6-8 minutes until lightly browned.

Remove the onion and set aside on a small plate.

Lightly beat the eggs with the sesame oil and 1/2 teaspoon of soy sauce.

Add another tablespoon of oil to the same skillet.

Pour the egg mix into the pan and cook over medium low heat until done (1-2 minutes).

Remove the eggs and place on a separate plate.

Add the last tablespoon of oil to the pan.

Add in the carrots, peas, and a sprinkle of salt and saute for 1-2 minutes.

Add in the cabbage and red pepper flakes (if using) and cook until cabbage softens, 1-2 minutes.

Add back the onion, along with the chilled rice, scallions, and eggs.

Heat the mix through until the rice is warmed.

Stir in two tablespoons of soy sauce and taste to see if more is desired (I like three tablespoons).

Season with salt and pepper, if needed.

Enjoy!
Notes
Nutrition facts are based on using grapeseed oil, red pepper flakes, and three tablespoons of soy sauce. WW points (new system): 8
Nutrition
Serving:
1
|
Calories:
290
kcal
|
Carbohydrates:
40.4
g
|
Protein:
8.7
g
|
Fat:
11.2
g
|
Saturated Fat:
1.6
g
|
Polyunsaturated Fat:
9.6
g
|
Cholesterol:
109
mg
|
Sodium:
535
mg
|
Fiber:
4.2
g
|
Sugar:
3.3
g
Notes:
To make this soy-free, try using coconut aminos.
Where's the garlic? Where's the ginger? Some of you may be asking yourselves the same questions about ingredients that I considered and ultimately eliminated, for this recipe truly needs neither.
All of this is my own opinion, but I encourage you to try it and see for yourself! You won't (hopefully) be disappointed. 🙂
Do you have an interesting story about your name?