This yummy almond butter buckwheat cake with chocolate chips makes a quick and healthy treat for one!

FOR THE LOVE OF BUCKWHEAT
Buckwheat seems to be gaining traction among healthy eaters.
The thing is, buckwheat ground from raw groats and pre-ground flour actually taste different, the raw version being superior.
I'll occasionally use the pre-ground stuff for pancakes and in combination with other flours, but when I'm making recipes like cookies and cakes, I grind my own from the raw groats.
I first became aware of buckwheat back about 10-ish years ago. I suffered in my late teens and early twenties with all sorts of hormonal issues, including hirsutism and cystic acne. Buckwheat, I read, was good for eliminating the 'bad' testosterone associated with both, so I started incorporating it into my diet.
Initially, I wasn't the biggest fan of it. One of the first recipes I tried was for a raw buckwheat porridge, and I couldn't get around the texture.
Once I started grinding the groats into flour and using the flour in baked goods, I really dug it! It's a real treat paired with brown rice flour, as in these Berry Muffins.
LET THEM EAT (BUCKWHEAT) CAKE
For this recipe, I wanted to create a vanilla cake of sorts, as my previous Chocolate Buckwheat Cake seemed very popular.
In lieu of oil or butter, I've added in some raw almond butter, and in the tradition of keeping things lower in added sweeteners, I've used a combination of unsweetened applesauce, a little honey, and vanilla.
Personally, I didn't need to add any stevia to compensate for sweetness, but you can taste the batter and add a little if you like.
I like to use a combination of chopped sweetened and unsweetened chocolate for the top. I recently purchased this unsweetened bar and really enjoy the taste! Some brands can be almost intolerably bitter.
I like to top my cake off with some yogurt (Nancy's grass-fed plain is my favorite at the moment), and a good sprinkle of cinny. 🙂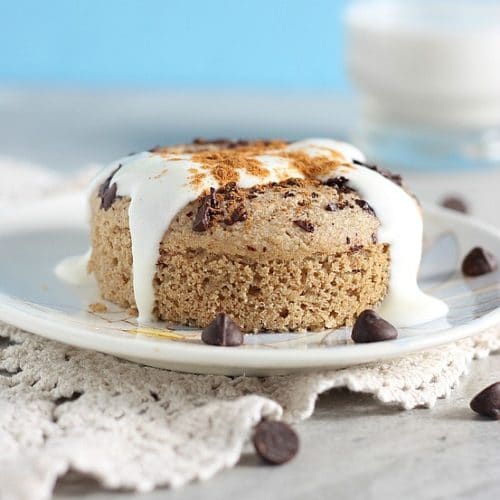 Print Recipe
Almond Butter Buckwheat Cake for One
This healthy cake is made with buckwheat flour, almond butter, applesauce, honey, and as many chocolate chips as you like!

Ingredients
3

Tbsp

buckwheat flour

(made from raw groats)

good dash

sea salt

¼

tsp

baking powder

1

Tbsp

almond butter

1

Tbsp

applesauce

1

tsp

honey (or maple syrup)

½

tsp

vanilla extract

2

Tbsp

milk of your choice

1-2

Tbsp

chopped chocolate or chocolate chips
Instructions
Preheat the oven to 350 degrees.


Mix together the flour, salt, and baking powder in a small bow.


Add in the rest (save the chocolate for the top), and stir until well combined.


Pour the batter into a well-oiled 6-8 ounce ramekin.


Top with chocolate.


Bake 14-18 minutes or until springy to the touch. As with any cake, don't overbake or your cake will be dry.


Cool and enjoy!

Notes
Nutrition facts based on using honey, unsweetened almond milk, and one tablespoon of chocolate chips. WW SmartPoints: 10
Nutrition
Calories:
270
kcal
|
Carbohydrates:
33.7
g
|
Protein:
7.2
g
|
Fat:
13.3
g
|
Fiber:
4.6
g
|
Sugar:
14.3
g
Notes:
These are the groats I use to make my buckwheat flour.
I use my Homemade Coconut Milk in this recipe.
Some of the items I use in this recipe include: