This buckwheat flour flatbread is made of three simple ingredients, and it can be made with myriad sweet toppings of your choice!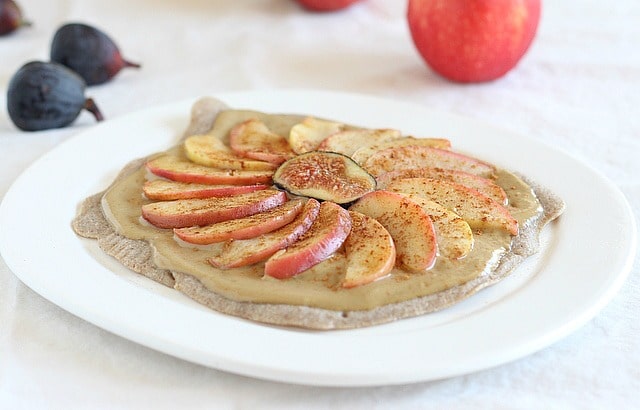 Well, my doctor appointment didn't go so well.
She was fine, but a few things irked me. Namely, she wasn't the best listener, which is at the top of my 'traits good doctors should have' list.
I'm forging ahead with a few blood tests and possible IV session, but I'm not the most optimistic about a continued relationship.
Today's recipe is one I make about once a week. I've hesitated to post it because it's a bit different, and frankly, I didn't know if it would appeal to anyone but me. Sometimes, though, those recipes are the best kind!
I love knowing what other people actually make for themselves, not what they think others will like. My mom, for instance, is an interesting subject, as she hates to cook/bake. She's always after the most simple and uncomplicated recipes.
One of her dinner favorites is chicken noodle soup, but she does it in a unique way. She'll buy a roasted chicken for the meat, boil a pot of water with a few veggies and spices, and cook the noodles separate. Then, when the veggies have steeped for a bit and the noodles are done, she'll cut the cooked chicken and add it, along with the pasta, to the pot.
I'll often call her just to hear what she's been eating lately! I get such a kick out of it.
I've made this dessert flatbread a few times now and really like it!
It came about in an attempt to make myself a totally sugar-free snack that still somehow satisfied the need for something treat-like, lol.
I'd seen recipes for dessert pizzas floating around for years, and while this isn't exactly that, the concept inspired me.
First, I made an easy flatbread made simply with buckwheat flour, salt, and water. Then, I stirred together some Sunbutter, homemade coconut milk, and stevia for a 'frosting'. Finally, I sautéed a sliced apple in a bit of coconut oil for the topping.
Sprinkle with cinnamon, and you've got yourself a delicious (albeit, interesting) little snack!
The main recipe is for the flatbread, which you can top with any number of combinations (the above is just my go-to). I made my husband's with a smear of Nancy's cream cheese, some sliced fresh figs, and a drizzle of honey. I'm dreaming of peanut butter and chocolate chips next!
Print Recipe
3-Ingredient Buckwheat Flatbread
This simple flatbread recipe is made with buckwheat flour, salt, and water - it is a great vehicle for myriad combinations!

Ingredients
¼

cup

buckwheat flour

couple

dashes

sea salt

4-5

Tbsp

water
Instructions
Preheat the oven to 350 degrees.


Stir together the flour and salt.


Add in four tablespoons of water and mix until well combined.


Stir in another 1/2-1 tablespoon of water, as needed for a pourable, yet thick, consistency.


Spread some olive or coconut oil onto a parchment paper-lined baking sheet.


Pour the batter atop the oil and spread it into a circle shape.


Bake five minutes.


Bake five more minutes.


Top as desired (see below recipe box).

Notes
Nutrition facts do not include oil or toppings. WW SmartPoints: 3
Nutrition
Calories:
101
kcal
|
Carbohydrates:
21.2
g
|
Protein:
3.8
g
|
Fat:
0.9
g
|
Fiber:
3
g
|
Sugar:
0.8
g
Notes:
I like to make my own buckwheat flour by grinding these raw groats with my Nutribullet flat blade.
For a bit richer option, I've used homemade coconut milk in place of the water.
Add in a dash of cinnamon or pie spice for extra flavor; alternatively, you can add in some savory spices, like garlic and/or rosemary and serve it with soup.
For my Sunbutter frosting, I use this recipe, replacing peanut butter with Sunbutter.
These Gooey Apples make a delicious topping!
These are some of the items I use in this recipe:
Recipe Steps:
Mixing the dry ingredients...
The batter...
Pour onto an oiled sheet...
Post-bake...
Top with Sunbutter frosting...