Soft and airy chocolate cake for one, made with gluten-free buckwheat flour - NO oil or butter!
This should really be called Jade's Favorite Cake, because she's who I make this for more than anyone.
I have to tell you a little bit about my oldest, who turns NINE in a few months!
I got pregnant with her at a time when I had been having abnormal periods for years and really didn't think kids were in the cards for me. The sad realization was fine, but a bit depressing, nonetheless.
I discovered I was pregnant during a very allergic stage in my life and believe I passed on a lot of those same sensitivities on to Jade.
As a baby, her eczema would be so bad that she'd scratch until she bled. It was heartbreaking for me, and I've carried a lot of guilt about it over the years.
Each year, however, she seems to get better. She's been able to eat more foods than ever this summer, which elates me! I love knowing how much nutrition she's been able to pack in.
Though she's successfully ate whole wheat and spelt without any trouble, buckwheat flour is still a mainstay in her diet.
She loves the flavor, and it's the most agreeable flour I give her....henceforth!...I created for her this buckwheat flour chocolate cake.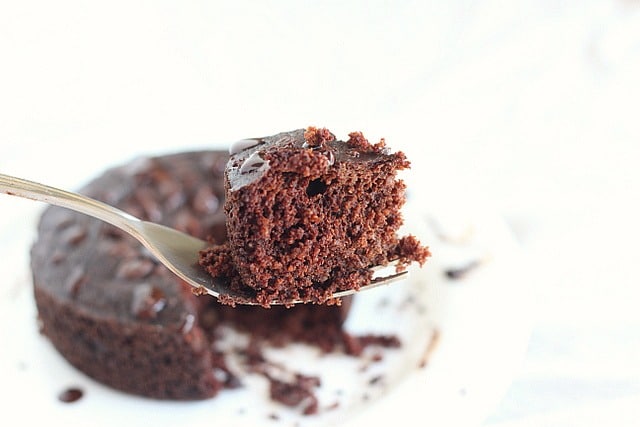 This is one of her favorite treats (the other is this gluten-free cookie).
Her favorite part, of course, is topping it with chocolate pieces, which she correspondingly eats while we chat in the kitchen. The girls started back at school last week, and I really enjoy listening to all the elementary drama. 🙂
Sammy and I love this cake too! It's soft and moist, and the ingredients list is a simple one.
While you can buy ready-ground buckwheat flour in the store, I like to grind the raw buckwheat groats myself. I find the flavor much more palatable, and the flour is always fresh!
For the sugar, I stay at two teaspoons for myself and three teaspoons for Jade. I've also had success with a combination of one teaspoon and a bit of stevia, it just depends on your personal preference.
Remember, the chocolate chips and applesauce add some sweetness as well!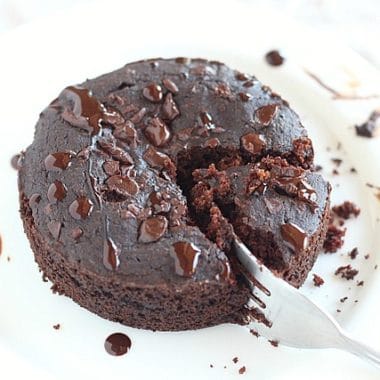 Print Recipe
Buckwheat Flour Chocolate Cake for One
A satisfying oil-free and gluten-free chocolate cake for one made with buckwheat flour!

Ingredients
2

Tbsp

buckwheat flour

see Notes

1

Tbsp

cocoa powder

¼

tsp

baking soda

dash

sea salt

2-3

tsp

coconut sugar

1

Tbsp

applesauce

3

Tbsp

milk of your choice

see Notes

¼

tsp

vanilla extract

1

Tbsp

chopped chocolate or chocolate chips
Instructions
Preheat the oven to 350 degrees.


Mix the dry ingredients in a small bowl (flour, cocoa, baking soda, salt, sugar).


Stir in the wet ingredients (applesauce, milk, vanilla) until smooth and well combined.


Pour the batter into a small well-oiled ramekin.


Top with chocolate.


Bake 15-18 minutes, until the top feels springy to the touch.

Notes
Nutrition facts are based on using two teaspoons of coconut sugar and unsweetened almond milk. WW SmartPoints: 7
Nutrition
Calories:
166
kcal
|
Carbohydrates:
30
g
|
Protein:
3.9
g
|
Fat:
5
g
|
Sugar:
15.6
g
Notes:
These are the raw buckwheat groats I use to grind my flour.
Because there is no added oil or fat in this recipe, I like to add in a rich milk, like my Homemade Coconut Milk.
These are some of the items I use to make this recipe:
Recipe Steps:
Mixing the dry ingredients...
Mixing the batter...
Oil the ramekin...
Pour the batter in!
Top with chocolate...