Vegan Cheese Sauce - A vegetable-based vegan cheese sauce made without nutritional yeast or nuts.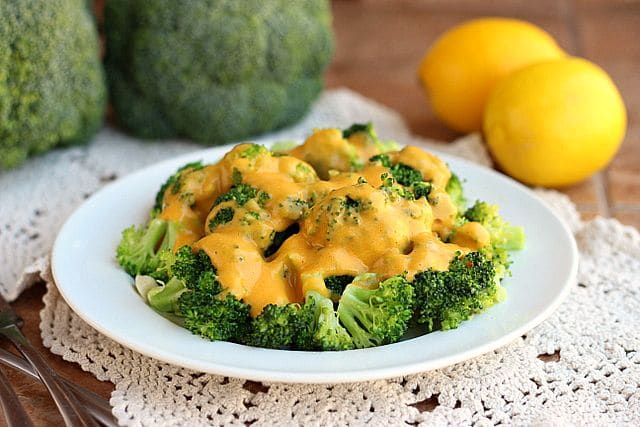 I'm not typically one for fake cheese in any form.
I'm not vegan, and I generally tolerate cheese well, so I've never had an occasion to delve into the cashew and nooch- (aka, nutritional yeast) based cheese recipes of the dairy-free world.
What I do love is variety, and this faux cheese sauce is a great way to incorporate more veggies into my and my children's diets.
What is nutritional yeast?
Nutritional yeast is a specific form of dried and deactivated yeast that is often used as a health food. It is created using a species of yeast called Saccharomyces cerevisiae. (While brewer's yeast is created from this same yeast, it is a totally different species and has a bitter taste.)
This yeast offers high levels of protein and B vitamins and has a distinct nutty, 'cheesy' flavor that is difficult to otherwise obtain as a vegan dieter.
It's look is that of golden-yellow fish food, and my favorite way to eat it is atop popcorn.
Facts about nutritional yeast
Commercial nutritional yeast cultures are grown in large quantities and are handled in tightly controlled lab-like environments.
It's common for manufacturers to add in the B vitamins, particularly folic acid and B12.
Nutritional yeast is often grown on beet molasses or sugarcane (remember, yeast loves sugar!).
Yeast-based products are naturally high in glutamic acid.
Possible problems with nutritional yeast
Because of how nutritional yeast is grown, it could be considered more of a processed food and less of a health food.
The source of added B vitamins is typically unknown, posing a danger to those with allergies. Some companies use synthetic vitamins, while others use what they claim to be 'naturally derived' B vitamins. Unfortunately, the word 'natural' doesn't have a very clear meaning.
Sugar beets are at high risk for genetic modification.
Glutamic acid may affect individuals who are sensitive to glutamate. Personally, this is the main issue I have with nutritional yeast. I find it acts similarly to MSG when I ingest it.
Nut-free vegan cheese
Another thing I don't tolerate well is cashews. Since that is the base for most vegan cheeses and cheesecakes, the whole concept of alternative cheese has pretty much been out of the question until now.
While this doesn't taste exactly like cheese, it is close enough in texture and color to be mistaken for the real thing. I enjoy the subtle, tangy flavor along with the smooth mouth-feel.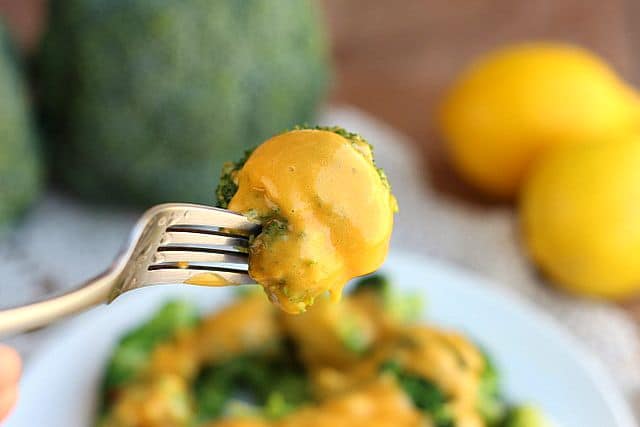 I'm not a frequent pasta eater, so I haven't tried this atop noodles, but it is delicious paired with broccoli and baked potatoes!
When my girls first saw this, they both turned their noses up at it.
However, after I poured it over some steamed broccoli and proceeded to stuff my own face with it, they both wanted to try it and ended up enjoying it!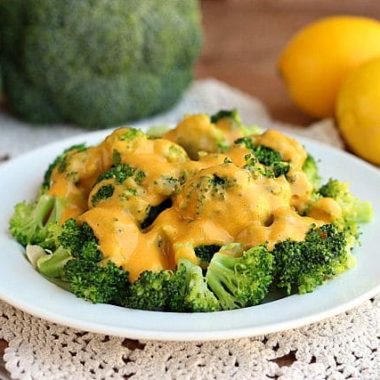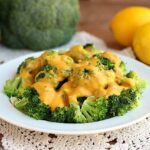 Print Recipe
Vegan Cheese Sauce (Nut-Free, Yeast-Free)
Vegetable-based vegan cheese sauce made without nutritional yeast or nuts.
Ingredients
1

cup

potato

peeled and cubed (I use red potatoes)

½

cup

carrot

chopped

2

Tbsp

olive oil

¼

cup

water

1 ½

tsp

lemon juice

¼

tsp

garlic powder

¼

tsp

onion powder

½

tsp

sea salt

¼

tsp

paprika

2

tsp

Dijon mustard

½

tsp

tamari
Instructions
Put the potato and carrot chunks into a pot of water.

Bring them to a boil and simmer for 20-25 minutes, until they are soft and easily pierced with a fork.

Drain the vegetables and add them to a food processor or high-powered blender.

Add the remaining ingredients and process for 1-2 minutes until silky smooth.

Pour atop veggies and enjoy!
Notes
Nutrition facts based on using red potato. WW points: 2
Nutrition
Calories:
64
kcal
|
Carbohydrates:
5.3
g
|
Protein:
0.7
g
|
Fat:
4.8
g
|
Sodium:
208
mg
|
Fiber:
0.8
g
|
Sugar:
0.8
g
Some of the items I use to make this recipe include: