Cheesy Cauliflower Mushroom Gratin - a healthy, vegetarian dinner that is easy to prepare and packed full of nutrition and protein!
I haven't posted nearly enough savory recipes lately.
One would think all I do is eat single serve chocolate cakes!
I admit, I do like my cake, but I also make and eat my fair share of veggie-based dinners.
My favorite nightly meals revolve around vegetables and a grain of some sort, usually rice. Sometimes chicken is the protein, sometimes eggs, and more often than not, cheese is involved!
Back at my most allergic, brown rice was a huge staple in my diet and still is. I love the chewy grain and am a pro at making it fluffy.
I've often joked that this blog should have been named 'Fire and Rice' for my eternal love of the stuff.
Rice is also something that agrees with everyone's allergies, so it's a must have for our family.
This meal combines my adored food with cauliflower, mushrooms, green peas, eggs, and cheese for a filling and delicious meatless meal.
This meal pleases everyone around here, I'm happy to report. That doesn't happen often, let me tell you.
My mushroom-hating daughters will even overlook them (a bit) when I serve this dish. What kid can resist anything that's cheesy, I ask?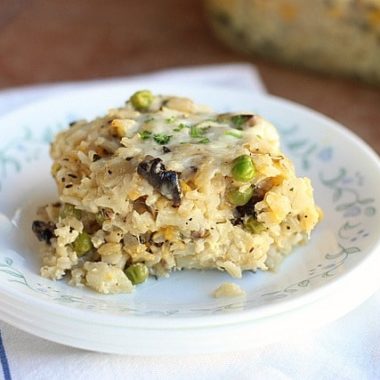 Print Recipe
Cheesy Cauliflower Mushroom Gratin
A healthy, vegetarian dinner that is easy to prepare and packed full of nutrition and protein!
Ingredients
2

T

. olive oil

, divided

1

small yellow onion

, chopped

3

garlic cloves

, minced

8

ounces

crimini mushrooms

, chopped

1

small head cauliflower

, chopped into small florets

1

t

. dried basil

¾

c

. green peas

, rinsed

juice 1 lemon

3

c

. cooked long-grain brown rice

3

T

. fresh parsley

, chopped

2

eggs

2 ½

c

. cheddar cheese

, grated
Instructions
Preheat the oven to 350 degrees.

Heat one tablespoon of oil in a skillet.

Add in onion along with a bit of salt and pepper.

Saute 2-3 minutes.

Add in mushrooms and basil.

Cook until mushrooms have softened and released some of their liquid (3-5 minutes).

Remove the mushroom mixture and deposit it onto a plate.

Set aside.

Heat the other tablespoon of oil in the same pan.

Add in the garlic and cauliflower.

Cook until cauliflower has softened (8-10 minutes).

Add back the mushroom mixture along with the green peas, lemon juice, cooked rice, and parsley.

Mix and heat just until everything is warmed.

Oil or butter an 8 x 8 inch baking dish.

Lightly beat the eggs in a large bowl.

Temper them by adding in a small spoonful of the cooked veggie/rice mix, beating continuously as you do so.

This is to prevent the eggs from scrambling upon coming in contact with heat.

Once tempered, add in the rice/veggie mix and two cups of cheese.

Stir until cheese is evenly distributed.

Pour the contents into the oiled baking dish.

Top with the remaining 1/2 cup of cheese.

Cover the gratin with aluminum foil.

Bake 30 minutes.

Uncover and bake another five minutes.

Cool, slice, and serve!
Notes
Fat: 16.3 g Carbs: 54.7 g Sugar: 2.7 g Protein: 15.9 g; WW SmartPoints: 14; Nutrition facts based on using two tablespoons lemon juice.
Nutrition
Notes:
Adapted from The Moosewood Cookbook
If you give this or any other recipe of mine a try, please let me know what you think!