These soft pumpkin cookies are a healthy way to enjoy the flavors of Fall. They are totally gluten-free, as they are made with buckwheat flour. They're also lower in sugar, making them suitable as a nutritious midday snack!
These soft, little cookies might be our new favorite pumpkin treat!
They're made with 100% buckwheat flour, and they're also egg-free, making them a very allergy-friendly cookie. The chocolate chips give them a touch of decadence, but the cookie recipe itself is actually quite low in sugar.
I originally posted these over six years ago and knew they needed an update this Fall.
The kids gobbled these up, and the hubs approved of them too! (They make great snacks to send to school, by the way.)
I love the texture the buckwheat flour lends to these. They have a chewy, addictive bite that makes (me) want to eat more and more.
For reference, though 'wheat' is in its name, there is zero gluten in buckwheat.
Ingredients needed
Pumpkin puree - This provides flavor and helps hold the cookies together.
Applesauce - Using applesauce adds sweetness, a soft texture, and helps to lower the fat a bit.
Maple syrup and molasses - There is a modest amount of both of these natural sweeteners added. Both flavors work well with pumpkin.
Vanilla, cinnamon, pie spice - All of these spices help to give the cookies their pumpkin spice flavor!
Coconut oil - This adds richness and texure; see Recipe Notes below for substitution ideas.
Baking powder, baking soda, sea salt - Baking agents help with just that...baking. The amounts used here give the cookies a little rise and expansion as well. Salt brings out all the flavors, don't forget it!
Chocolate chips - You can also use chopped dark chocolate, which disperses easier. The kids love biting into a soft cookie with a sweet morsel of chocolate!
How to make healthy soft pumpkin cookies
Mix the dry ingredients and the wet ingredients in separate bowls.
Add the wet ingredients to the dry mix and stir until it all comes together. Don't worry about over-mixing, as there is no gluten. Add in the chocolate, reserving a few chips for the tops of the cookies.
Cookie making tips and tricks
Use room temperature ingredients. Butter and coconut oil clump (coconut oil, more so) when cold, so bring all ingredients to room temperature to ensure your batter is smooth.
Using a small ice cream scooper helps make cookies that are the same size and therefore bake in the same amount of time.
Measure the flour carefully. Too much flour and the cookies with be dry and dense; too little and they will fall flat. A kitchen scale helps greatly with this! It's one of the best purchases I've made.
Use a parchment paper-lined baking sheet to make a softer, fluffier cookie with little to no clean-up.
Better to under-bake than to over-bake! Over-baked cookies are dry, while under-baked cookies retain moisture and a chewier texture. When cookies are out of the oven and cooling, they continue to bake from the warmth.
Recipe notes and substitutions
These do NOT spread when baking, so make the pre-baked shape as you want the final cookie to be.
Use light buckwheat flour for this recipe, not the dark-colored. The lighter buckwheat flour has a much milder, pleasant taste.
Applesauce can be substituted for pear puree, though it will have a slightly different taste.
Melted butter or grapeseed oil are good replacements for coconut oil.
If you don't like molasses, you can substitute honey or more maple syrup.
More healthy cookie recipes
Healthy Oatmeal Raisin Cookies (NO Butter!)
Barley Flour Chocolate Chip Cookies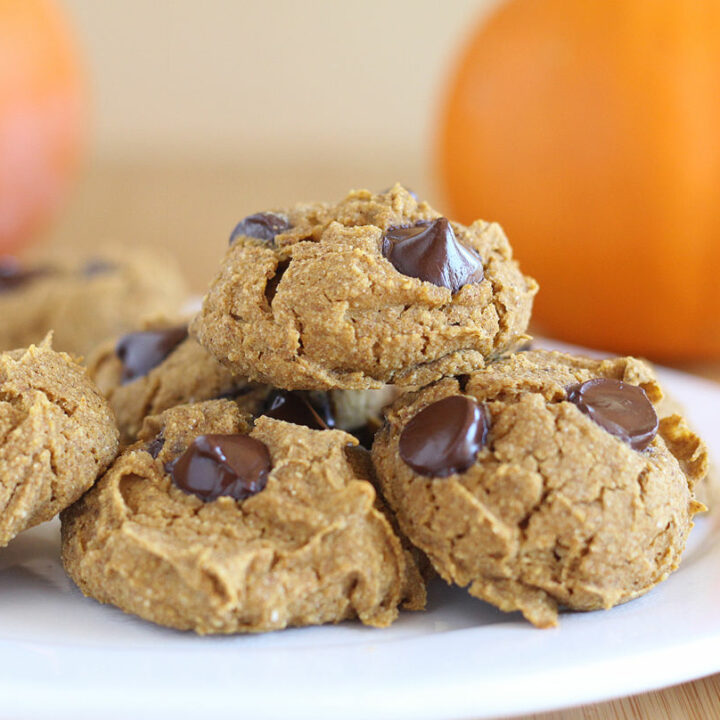 Print Recipe
Soft Pumpkin Cookies (Egg-Free)
Bite-sized chewy pumpkin-flavored cookies that are low in sugar and made with gluten-free buckwheat flour.

Servings:
24
small cookies
Ingredients
1

cup

pumpkin puree

⅓

cup

applesauce

2

Tablespoons

maple syrup

2

teaspoons

vanilla

¼

cup

coconut oil

melted

1

teaspoon

molasses

1 ¼

cup

light buckwheat flour (about 205 grams)

see Recipe Notes

½

teaspoon

baking powder

½

teaspoon

baking soda

¼

teaspoon

sea salt

1

teaspoon

cinnamon

½

teaspoon

pie spice

¼

cup

chocolate chips

or as desired
Instructions
Preheat oven to 350 degrees.

In a large bowl, whisk the dry ingredients (flour, baking powder, baking soda, salt, spices).

In a separate medium bowl, mix wet ingredients (pumpkin, applesauce, maple syrup, vanilla, oil, molasses).

Add the wet ingredients to the dry mixture, along with chocolate chips.

Use a mini ice cream scoop or a tablespoon and distribute the batter onto parchment paper-lined baking sheets.

Bake 14-17 minutes (I like mine a bit undercooked, as they can dry out if baked for too long).

Cool and enjoy!
Notes
Adapted from Dr. Mark Hyman
WW Points: 3
Nutrition
Calories:
61
kcal
|
Carbohydrates:
8.2
g
|
Protein:
1
g
|
Fat:
3
g
|
Fiber:
1.1
g
|
Sugar:
2.9
g
---
If you have a chance to try this recipe, please leave a star rating and a comment below letting me know how you liked it!
Shared with: Full Plate Thursday