Crazes and trends generally hit hard and fast.
Vegan meringue was a recent food example, while the Rubik's cube and Furby were 80s and 90s fads, respectively.
As the saying goes, 'the faster they rise, the harder they fall', and so goes Furby.
Some fads, however, are worth keeping around, as in the case of beans.
Beans, beans the versatile fruit...add them to treats, feel better about eats, lol. Ok, that stunk, but truly, beans are an awesome addition to desserts, and a trend worth giving a try!
I wish I could give proper credit to the innovator behind this amazing find, but I'm not sure who it was. I want to say maybe Rocco Dispirito?
My brother (a man who tsks at just about any 'health' food) actually bought his book 'Now Eat This' back in the day and ended up making and raving about Rocco's black bean brownie recipe.
I wasn't quite sure what to make of it at the time, but once I tried a cleaned up recipe for myself, I became hooked on the idea! Beans in place of flour??! How awesome to not only use a more nutritious ingredient in a dessert, but to also have the added bonus of it being full of natural protein.
If you've never tried a bean-based dessert, you're in for a treat! Literally. 🙂
For me, the addition of beans makes the dessert more filling AND more tolerable because the protein keeps my blood sugar more stabilized, avoiding the immediate high and subsequent low usually associated with sweets.
I've been making this cookie slice for months now, subtly tweaking it here and there, and it is a house crowd-pleaser!...unlike quinoa.
In addition, this recipe has ZERO sweeteners added to it, allowing the additions of vanilla and cinnamon to really shine through.
I typically add a combination of 73% and unsweetened dark chocolate to this, but to keep it entirely sugar-free, just use all unsweetened chocolate.
Print Recipe
Chocolate Chip Cookie Slice (Sugar-Free, Grain-Free, Nut-Free)
Ingredients
1 15.5

ounce

can chickpeas or Great Northern white beans

rinsed and drained

2

T.

nut or seed butter of your choice

I've used sunflower, pumpkin, and hemp, all with good results!

2

T.

coconut or olive oil

¼

c.

unsweetened applesauce

1

T.

vanilla

1

T.

dairy-free milk

½

t.

baking powder

½

t.

baking soda

¼

t.

sea salt

½

t.

cinnamon

dash powdered stevia extract

to taste (I just use a few sprinkles)

½

c.

chopped dark or unsweetened chocolate
Instructions
Preheat the oven to 350 degrees.

Oil an 8-inch cake pan well.

Place a fitted circle sheet of parchment paper in the bottom of the cake pan (to make this, I place the pan on the parchment paper, draw a circle around it, cut it out, and then place it inside the oiled pan).

After rinsing, dry your beans VERY WELL with a tea towel.

Add the beans and the rest of the ingredients (except for the chopped chocolate) to a food processor.

Process everything until it is smooth and well combined.

Pulse in the chocolate, reserving a handful to sprinkle on top.

Pour the batter into the prepared pan, spreading it out to cover the bottom.

Top with a bit of chocolate.

Bake 35-40 minutes.

Cool, slice, and enjoy!
Notes
Nutrition facts based on using chickpeas, Sunbutter, olive oil, unsweetened almond milk, and regular chocolate chips. WW points (new system): 6
Nutrition
Serving:
1
|
Calories:
247
kcal
|
Carbohydrates:
27.8
g
|
Protein:
5.9
g
|
Fat:
12.4
g
|
Saturated Fat:
4
g
|
Polyunsaturated Fat:
8.4
g
|
Cholesterol:
3
mg
|
Sodium:
435
mg
|
Fiber:
4.6
g
|
Sugar:
9
g
Adapted from Chocolate-Covered Katie
Notes:
Though I've used cannellini beans in the past for bean-based recipes, I have grown to dislike their smell and taste, as it is a bit strong. I highly recommend the Great Northern white beans for this if you're not using chickpeas.
After this comes out of the oven, I typically let it cool for 10-15 minutes so that it can solidify a bit, but the cookie never holds entirely together, just so you know.
The texture is soft and a bit gooey, and it breaks apart easily, but not so much that you need a fork with it. We all use our hands. 🙂
Don't get me wrong, if you don't like beans or it's just a creepy idea (savory oats, eww!), this may not be the recipe for you, especially given the fact that this has no sweetener. Just some food for thought.
Some of my other bean-based desserts include:
Fudgy Double Dark Chocolate Black Bean Cookies
Chickpea Flour Chocolate Chip Cookies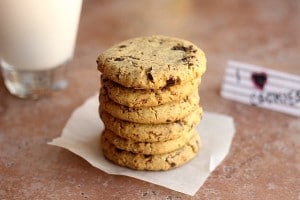 What food trend do you most enjoy?