Sugar-free, oil-free Chocolate Chip Sweet Potato Cakes for Two - A delicious, healthy treat that you can share with a friend!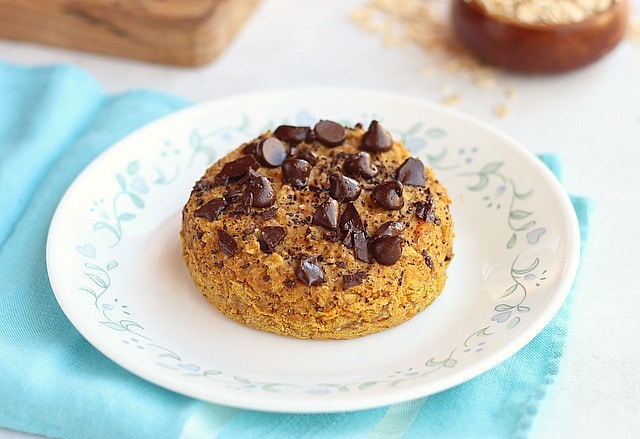 It took me two irritating attempts to make these pictures look presentable.
While I'm not a skilled photographer, I do like my pictures to depict the food in the best light possible. Light is key! My original photos were taken on a sunny day at around two o'clock, while the retake was done the next morning at about 10am.
Such a difference four hours makes!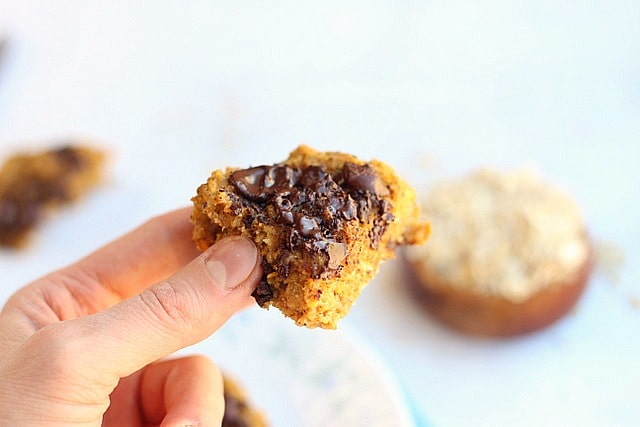 I've seen many people question the whole small batch and single serving recipes. Why put in all the effort to just make one or two portions?
For me, there are multiple reasons a single serving satisfies.
One, I like my baked goods fresh! After something sits in the fridge for a day or two, it somehow becomes much less appealing to me. Not a huge fan of leftovers over here!
Two, I like to bake. I love to measure and stir and pour, tasting along the way, of course. 🙂 It's such a relaxing activity, and I want to partake often.
Third, I have a different craving with each day. Some days, it's a cookie kind of day, other times I want something gooey and fudgy, either in the form of Buckwheat Brownies or this cake.
This cake has been one of my favorite indulgences lately. I was originally going to call it a muffin, but the texture is actually reminiscent of brownies. I don't use a lot of baking powder, so it's rather dense in consistency, which I quite love!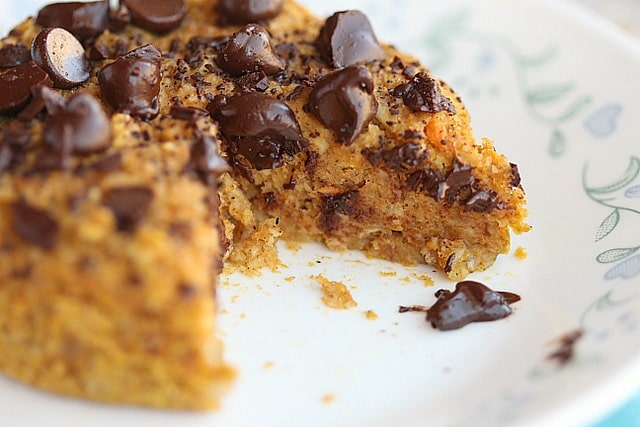 The cake relies on the sweetness of the potato and chocolate chips instead of added sugar, while the wheat germ lends fat without having to add oil.
I started recently buying and using wheat germ as a replacement for almond meal/flour. It has worked great, and I love the extra nutrition I get from eating it!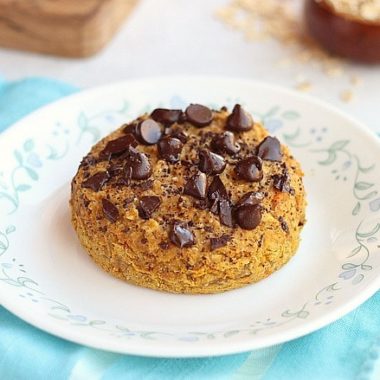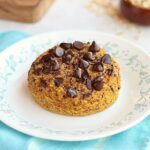 Print Recipe
Chocolate Chip Sweet Potato Cakes for Two
Almost fudgy in consistency, these nut-free, vegan cakes are free from added sugar and oil!

Ingredients
6

T

oat flour

¼

c

oats

2

T

wheat germ

¼

t

baking powder

⅛

t

sea salt

6

T

sweet potato puree

cooked, peeled, mashed

6-8

T

milk of your choice

1

t

vanilla

¼

c

chocolate chips
Instructions
Preheat the oven to 350 degrees.


Mix the flour, oats, wheat germ, baking powder, and sea salt together.


Stir in the sweet potato, vanilla, and milk, starting with six tablespoons of milk.


Add 1-2 more tablespoons of milk, as needed to moisten all dry ingredients.


Fold in two tablespoons of chocolate chips.


Pour the batter between two small ramekins (mine each hold about one cup).


Top each cake with one tablespoon of chocolate chips.


Bake the cakes for 17-20 minutes.


Cool a bit and enjoy!

Notes
Fat: 9.6 g  Carbs: 43.5 g  Sugar: 14.2 g  Protein: 8.2 g; WW SmartPoints: 11;
Nutrition facts are per cake, and are based on using seven tablespoons of unsweetened almond milk.
Nutrition
Notes:
For the sweet potato, I use the freshly baked flesh, no skin. Here is a great recipe for baking perfect sweet potatoes.
I like using my Homemade Coconut Milk in this recipe.
This can easily be cut in half for a cake to serve one.
For a more decadent treat, try adding vanilla powder instead of vanilla extract. The powder adds such depth of flavor. I enjoy this brand.
If you're looking for good small-sized ramekins, these dishes from Rachael Ray are my favorite.