Healthy Chocolate Meringue Pie - A delicious and healthy dessert that is modestly sweet and dairy-free!
I've been working on this recipe for years now, and I do mean YEARS!
After my dad passed, my mom and I would have Thanksgiving together, where she would make us a virtually sugar-free chocolate meringue pie.
I grew to LOVE it and really look forward to it each year.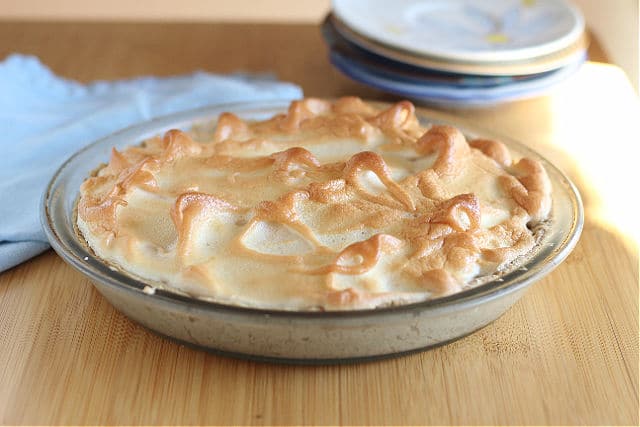 About this chocolate meringue pie, PLEASE READ!
So, I know these next couple of months are a time of indulgence and splendor, BUT!...there are some of us who just can't eat that way. This recipe is for those people.
For those that get sick from certain foods or have blood sugar issues, this pie is for you.
For the folks with chronic illnesses and myriad food allergies...this pie is for you!
And for the crazies who just vigilantly watch what they eat no matter what time of year it is (me!), this pie is also for you.
I've tried my hardest, my damnedest, to make an allergy-friendly, low sugar version of the chocolate meringue pie that Betty C made, and this is my best effort!
My biggest hurdle with this was the filling. Runny, always runny!
Finally, though, after much research and many attempts, I figured it out.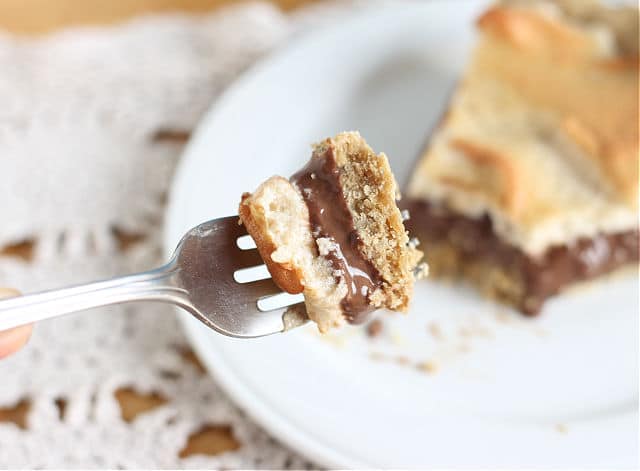 Sweetener options
You'll notice that the sugar for both the filling and the meringue has a range of one to five tablespoons.
That means that this recipe will work with any amount between one and five tablespoons.
My personal way of making this is with one tablespoon in the filling, plus about 20ish drops of stevia, and one tablespoon in the meringue.
Now, if you've ever made a meringue, you'll know that it generally relies on sugar for its shape and 'girth'.
If you use only one tablespoon, the meringue will fall a bit during the chilling process. The photos of the pie slice reflect what that will look like, while the photo of the whole pie is about 30 minutes, post-bake. The meringue is still pretty fluffy in those pictures.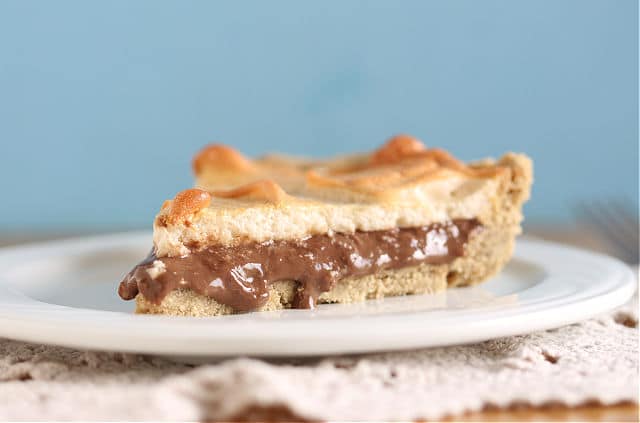 What to expect when making a low sugar pie
I don't want anyone to waste time or money trying this recipe and expecting grandma's pie. Even if you go the upper limit of sugar, this is still much more modest than our mothers' mothers.
On the flip side, I will tell you that this is my favorite pie!
Between this one and my Low Sugar Pumpkin Pie, our family is in dessert heaven.
If this looks up your alley and you give it a try, I truly hope you enjoy it. Please let me know!
Recipe notes
You can see a video of me making the pie crust here.
For milk, I've used whole milk, my Homemade Coconut Milk, and this canned coconut milk with success. I imagine most homemade nut milks would work, but rice milk may be a little too thin.
As I said above, I use a combination of one tablespoon coconut sugar and stevia in the filling and one tablespoon of coconut sugar in the meringue. Upping these amounts will only make this more rich and luxurious (and sweet!).
Print Recipe
Healthy Chocolate Meringue Pie
A delicious and healthy dessert that is modestly sweet and dairy-free!
Ingredients
PIE CRUST:
1 ½

cups

oat flour

2

tsp

coconut sugar

½

tsp

sea salt

¼

cup

olive oil

4-6

Tbsp

cold water
CHOCOLATE FILLING:
1 ½

cups

milk of your choice, divided

see Notes

1-5

Tbsp

coconut sugar

⅛

tsp

sea salt

¼

cup

cocoa powder

3

large

egg yolks

2 Tbsp

+ 2 tsp

tapioca starch

2

tsp

vanilla extract

20-30

drops

liquid stevia

as desired; see Notes
MERINGUE:
3

large

egg whites

½

tsp

lemon juice

dash

sea salt

1-5

Tbsp

coconut sugar
Instructions
PIE CRUST:
Mix together the flour, sugar, and salt in a large bowl.

With a fork, mix in the olive oil until the mixture is 'pebbly'.

Add in the water one tablespoon at a time. You want the dough to be moist, but not sticking to your hands.

Press the dough into a regular pie plate.

Bake the crust for 12-15 minutes, or until lightly golden.

Remove from oven and cool while you make the filling.
CHOCOLATE FILLING:
In a medium saucepan, whisk together one cup of milk, sugar (adding what you like for your sweetness level), salt, and cocoa powder.

Bring the mixture to a simmer over medium-high heat.

Meanwhile, whisk the remaining 1/2 cup of milk, egg yolks, tapioca starch, and vanilla in a bowl.

Gradually whisk the hot milk into the egg mixture.

Return mixture to the saucepan and cook over medium-high heat, whisking constantly, until the pudding comes to a boil.

Reduce the heat a bit, but maintain a simmer, and continue whisking until thick, about two more minutes.

Remove from heat and pour into cooled pie crust.
MERINGUE:
For meringue, immediately beat egg whites with lemon juice and salt until soft peaks form.

Gradually add sugar (again, to your liking) and continue to beat until stiff and glossy.

Spread evenly over hot filling, sealing the meringue to the crust.

Bake until meringue is golden brown, 10-12 minutes.

Cool for one hour, then refrigerate at least four hours before serving.
Notes
Nutrition facts based on using 1/4 cup coconut sugar TOTAL (in all layers). I chose a number that was modest, but not as low as do it. For my level of sugar (2 teaspoons in the crust, 1 tablespoon in the filling and meringue, respectively, the sugar grams are 5.8.
WW Points: 12
Nutrition
Calories:
285
kcal
|
Carbohydrates:
22.4
g
|
Protein:
6.1
g
|
Fat:
20.4
g
|
Fiber:
3.5
g
|
Sugar:
7.8
g
---
If you have a chance to try this recipe, please leave a star rating and a comment below letting me know how you liked it!