'Twas the week before Christmas, and all through the kitchen, not a recipe was cooking, not even a…pigeon? Not many words (if any) rhyme with kitchen. Booooooooo.
With Christmas and New Year's on the horizon, I thought I'd remind you of some of the delicious recipes of yore that may fit right in with your upcoming meal-planning!
Breakfasts
This is a great make-ahead meal, as you just throw everything into the slow cooker the night before and give it a stir in the morning! It's a great way to feed a small crowd.
Dinners
If you have men in your house, then you're going to need protein…
…throw a couple of these babies in the oven, and those boys are set!….then, ladies, you can enjoy your salads without a little voice in your ear complaining about how 'incomplete' this meal is and 'where is my protein?' and 'my muscles are shrinking'….not that I know anything about that sort of thing.
This delicious vegetarian dish is flavorful, hearty, and filling! It's my go-to dish whenever we have company for dinner.
Drinks
Thick, rich, chocolat-y, and under 100 calories….what more could you want??! We make this at least once a week and top it with my homemade marshmallows (see below).
My vegan twist on the classic drink. This drink derives some of its sweetness from the carrot juice, and is truly delicious!
A delicious, thick and creamy alternative to hot chocolate, this dairy-free treat is great for kids and others who struggle with tannins, oxalates, caffeine, or allergies to cocoa.
I am in love with this recipe! It's delicious, easy, and with only 128 calories per glass, there's NO excuse not to make this!
Desserts
Healthier Honey/Stevia Marshmallows
Who can have hot chocolate without marshmallow? This version is sugar, egg, and corn-free, and it uses a combination of honey and stevia, thus lowering the calorie and sugar content exponentially!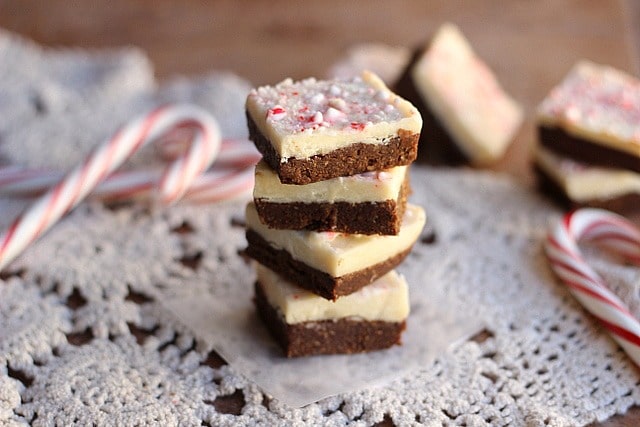 One of my favorite (and most popular) recipes to date, this treat combines the soft, chocolat-y flavor of a brownie with a crisp coating of peppermint bark. It's a dessert you can make beforehand and enjoy throughout the remaining holiday season (and beyond).
No Christmas would be complete without frosted sugar cookies. This low sugar variety combines coconut sugar and stevia for a lower calorie treat that doesn't skimp on flavor.
Sugar cookies wouldn't be complete without a thick, sweet frosting to smother them in. You'll be surprised to see NO sugar in this recipe and the surprise ingredient that lends viscosity.
I actually cranked out two pumpkin recipes this year, both of which are supremely delicious! These 55 calorie 'cupcakes' are really mini pies in disguise. They are the perfect way to have your pie and eat it too!
Made entirely from oats and only 82 calories per cookie…
…these easy, spiced treats will make any cinnamon lover swoon!
Re-create your own Christmas bark the healthy way! You can never go wrong with mint and chocolate!
A sugar-free pumpkin treat with a creamy topping and a raw graham cracker crust, these are suitable for most diet types. A big thanks to Raw Food Magazine for featuring these delicious treats in their holiday issue!
I hope you all have a lovely Christmas and New Year's. I'll be taking some time off to be with my family and will resume posting recipes after the 1st. Until then….