These Coconut Flour Christmas cookies are a delicious and healthy way to have fun with your kids! Lower in sugar, nut-free, and gluten-free.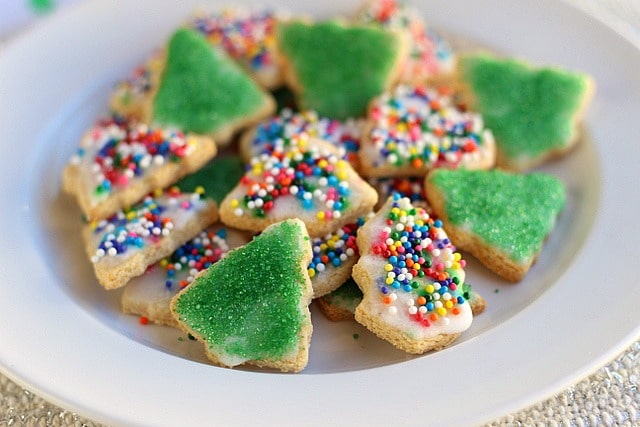 My oldest daughter recently turned ten.
Ten! Where has the time gone?! My youngest is set to turn eight in about ten days, and all I'm seeing is the time left before both are 18 years old and out on their own. The glass is always half empty around here, donchaknow? 🙂
The future weeping ball of goo in me is dreading their eventual adulthood. The cool, calm, and collected Lauren is grateful for their advancement, as it allows us all to do many more activities together.
What used to be a three-ring circus in the kitchen has slowly evolved into a semi-fun adventure, complete with two sweet girls learning to chop mushrooms, stir pots, and roll out cookie dough.
Cut-Out Christmas Cookie Time!
One of my most poignant (and cherished) memories as a child is helping my own mom make the annual batch of Christmas cookies!
My mom would make the dough and then haul it over to our dining room table. We would then sit for hours, rolling, cookie cutting, frosting, and sprinkling, with a few hundred taste tests in between.
It was such a blast and a tradition I wanted to share with my own kids.
This recipe has literally taken me a dozen tries, with various amounts of coconut flour. I think the method I've outlined below is a solid one though!
The recipe is great if you or your children have allergies to gluten, grains, or nuts.
I've only added a minute amount of sugar to the cookie, as it will typically be topped with some type of sweet glaze and copious amounts of sprinkles. 🙂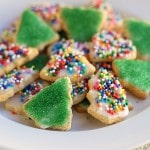 Print Recipe
Coconut Flour Christmas Cookies (Nut-Free)
These Coconut Flour Christmas cookies are a delicious and healthy way to have fun with your kids! Lower in sugar, nut-free, and gluten-free.
Servings:
20
small cookies
Ingredients
6-8

T.

coconut flour

see Notes

1

t.

arrowroot

1-4

T.

natural granulated sugar

see Notes

½

t.

baking powder

⅛

t.

sea salt

¼

c.

coconut oil

melted

1

egg

1

t.

vanilla
Instructions
Start with room temperature ingredients.

Preheat the oven to 350 degrees.

Mix the dry ingredients (flour, arrowroot, sugar, baking powder, salt), beginning with six tablespoons of coconut flour.

Mix the wet ingredients in a separate bowl (oil, egg, vanilla).

Mix all.

If your dough is still sticky to the touch, add in more coconut flour, a tiny bit at a time, until the dough is moist, but not sticky.

Place your ball of dough onto a piece of parchment paper.

Top with a piece of wax paper and roll out to about 1/8 inch in thickness.

You may need to work with the dough a bit if holes form (see below collage)!

Use cookie cutters to make your desired shapes.

Slide the parchment paper onto a baking sheet and bake 8-10 minutes until golden.

Ball up remaining scrap dough and repeat process until dough is gone.

Cool cookies and frost!
Notes
Nutrition facts are based on using six tablespoons of coconut flour and one tablespoon of sugar. WW points (new system): 1
Nutrition
Serving:
1
|
Calories:
40
kcal
|
Carbohydrates:
2.1
g
|
Protein:
0.7
g
|
Fat:
3.3
g
|
Saturated Fat:
2.7
g
|
Polyunsaturated Fat:
0.6
g
|
Cholesterol:
8
mg
|
Sodium:
19
mg
|
Fiber:
0.9
g
|
Sugar:
0.8
g
Notes:
Coconut flours vary in absorbancy, so for your reference, this is the brand I use most. I only need six tablespoons of flour using this brand.
I created this recipe last year when my 'sweet teeth' weren't quite as trained as they are now, and I originally used 1/4 cup of natural granulated sugar to create these. This year, I'm down to one tablespoon, so use your best judgment. Remember, if you frost them, that will add a lot of sweetness!
I typically use mini cookie cutters, which work well with this recipe, so I get about 20 small cookies, give or take.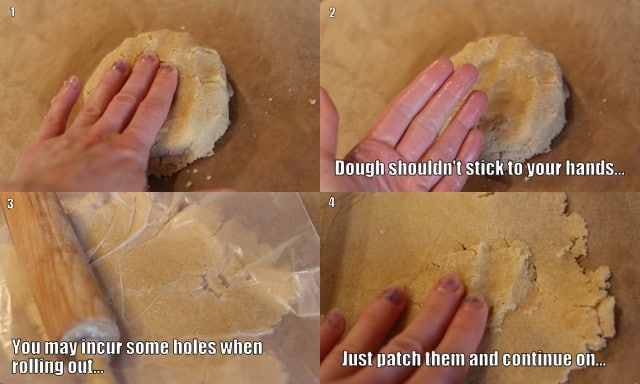 As you can see, the dough isn't like working with a gluten-based variety, but once baked, the cookies hold together very well!
My daughters had fun frosting and eating them...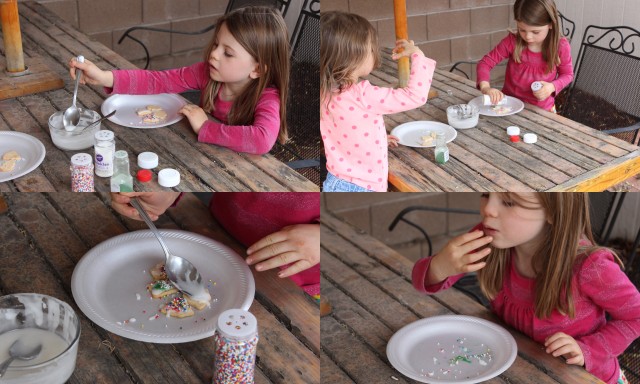 (This is an older picture of my girls at ages six and four, as this post was originally published in 2015.)
While I attempted to create a healthier frosting, in the end, I didn't like it well enough to post, so we just buzzed some xylitol in a coffee grinder, stirred in a bit of vanilla and rice milk, and it worked great!