Alternative milks are quite popular these days.
You can make a milk out of just about anything! Rice, nuts, seeds....how about beans?
Soy milk starts with soy beans, so I wondered if I could make milk from other kinds of beans.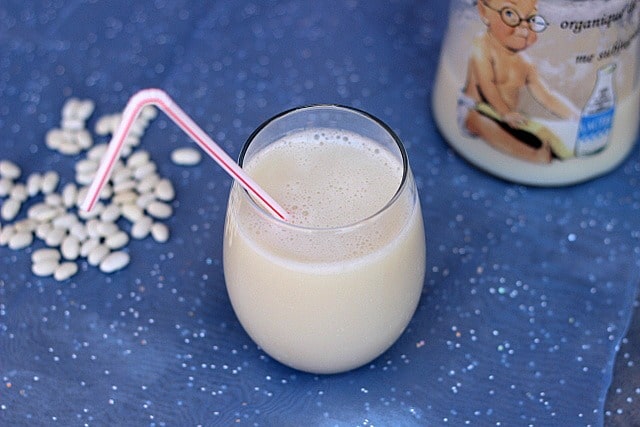 Turns out, you can!... AND it's easier on your pocketbook. Check it out:
(These figures relate to Tucson, Arizona, where I reside, and what I personally purchase, so check your own health food stores to be sure!)
I figured out that there are about two cups (1,376) of beans in one pound, and three cups (432) of almonds in one pound. In short, you get about two cups of beans for $1.69, and three cups of almond for $4.99.
PRICE PER POUND AMT. TO MAKE ONE MILK RECIPE PRICE/RECIPE
Beans $1.69 (organic) 1/2 cup $0.42
Almonds $4.99 (non-organic) 1 cup $1.66
Most recipes use one cup of almonds to four cups of water, equaling about five cups of milk. My bean milk, however, only requires 1/2 cup of beans to the same amount of water.
As you can see, making this bean milk results in huge monetary savings! It costs about four times as much to make almond milk as it does to make organic bean milk, and this doesn't even reflect if you buy ORGANIC almonds, which I don't.
Now, let's take a peek at the nutritional stats of each:
BEANS ALMONDS
CALORIES 350 546
FAT 1.6 g 47 g
CARBS 63.2 g 20.6 g
FIBER 25.4 g 11.6 g
PROTEIN 23.2 g 20.2 g
SUGAR 4 g 3.7 g
**Based on 1/2 cup of Navy beans and one cup of almonds.
There are significant differences in both fat and carbs, but in defense of the beans carb amount, they are slow absorbing (complex) carbs, and beans are a low glycemic food, which basically means they aren't going to spike your blood sugar, they boast a decent amount of fiber, and they keep you fuller longer.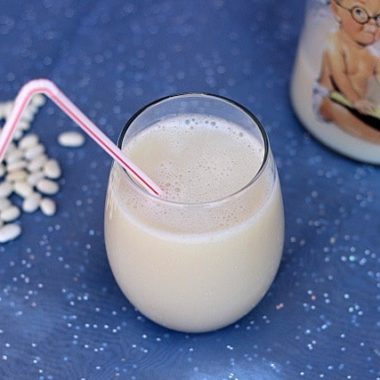 Print Recipe
Dairy-Free, Nut-Free Vanilla 'Bean' Milk
Ingredients
½

c.

dried mild-tasting beans

Navy, Great Northern, and black are all delicious!

½

T.

lemon juice

4

c.

purified water

divided, plus more for soaking the beans

2

t.

vanilla

½

t.

salt

1

T.

maple syrup

12

drops liquid stevia
Instructions
Place the beans and lemon juice in a bowl.

Cover the beans with water, and let them soak for 12-24 hours.

Drain and rinse the beans.

Add the beans and three cups of water to a blender, and blend for about 2 minutes until it appears smooth.

Strain the mixture through a fine sieve or nut milk bag, removing the bean pulp.

Heat a pot over medium heat, and add the bean milk.

Stirring constantly, warm the bean milk for 10 minutes. BE CAREFUL to not let the mixture come to a rolling boil, only a low simmer. Otherwise, the milk will scald, and it will have a burnt taste.

Stir in the final cup of water, vanilla, salt, maple syrup, and stevia.

Cool.

Pour into a storage container, and store in the fridge.

Use as you would regular milk!
This stuff is delicious!
My husband loves how thick it is, and claims he likes it better than any milk he's ever tried! Husband approved! 😀 Stored in my cute milk jug ($3.50 at TJMaxx!)...
I hope if you have dairy, soy, or nut allergies, you will give this wonderful alternative a try! It is my new go-to milk!
Have you tried making milk out of anything other than almonds?
I've personally made it out of sunflower seeds, hazelnuts, brazil nuts, and hemp seeds...next on my list is quinoa!