If there's anything I like more than cooking, it's a bargain.
While my family is not destitute by any means, we do budget our money carefully, especially because I don't have a typical, salaried job.
Nearly all of our purchases are discussed and thought about beforehand.
Our biggest expenditure, aside from our mortgage, is food.
We don't really travel, we're not into the latest electronic gadgets, we don't go to movies or throw parties or really have any other recreational activity expenses. Truth be told, most people would probably find us pretty boring, but that's just honestly us!
Frankly, I'm lucky to have found someone so much like myself in this regard.
Before meeting my husband, I would falsely proclaim to boyfriends my 'deep desires' to backpack through Europe or skydive, all while wondering what was wrong with me.
Everyone around me seemed so adventurous and full of wonderment, and all I wanted to do was sit in my house, work a little job, go to the gym, watch good movies, and eat my favorite food.
In addition to myself, my husband and two little girls love to eat, so our grocery bills can get quite expensive.
While perusing new recipes to try, I often gauge how likely I am to make it by the ingredients list. Too many expensive ingredients, and I'm likely to pass right over it, especially if I'm making a lot of something.
That's why I love this recipe so much (and hope some of you will too).
Not only does it employ some of the cheapest vegetables and meat you can buy, it's easy, it doesn't dirty a lot of dishes, it easily feeds a family of four (and then some), and it's all ready in about one hour!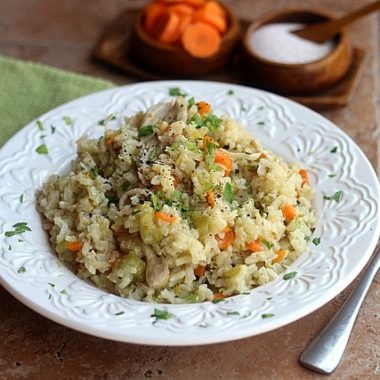 Print Recipe
Easy and Economical One-Pot Chicken and Rice
An inexpensive, easy, and healthy meal for four!

Ingredients
2

T.

olive oil

1

cup

yellow onion

chopped

1

cup

celery

chopped

1

cup

carrots

chopped

½

teaspoon

sea salt

plus more to taste

½

teaspoon

black pepper

plus more to taste

1 ½

teaspoon

dried oregano

2

dried bay leaves

1

pound

organic chicken thighs

1 ¼

cup

long-grain brown rice

3

cup

water

fresh parsley

for serving
Instructions
Heat the olive oil in a large pot.

Add in the onion and saute for five minutes until very soft.

Add in the celery, carrots, 1/2 teaspoon sea salt, 1/2 teaspoon pepper, and oregano.

Cook 2-3 minutes.

Add in the chicken thighs (no need to chop them), and cook for another 2-3 minutes.

Add in the rice and bay leaves.

Cook 1-2 minutes.

Add in the water.

Bring the pot to a boil.

Lower the heat to a simmer.

Cover the pot, and let the meal cook for 50-60 minutes, until the water has (mostly) evaporated, the chicken is tender and falling apart, and the rice is cooked through.

Use the spoon to break up the chicken thighs into smaller pieces.

Taste for seasoning, top with fresh parsley, and serve!
Notes
WW points (new system): 9
Nutrition
Calories:
348
kcal
|
Carbohydrates:
34.9
g
|
Protein:
25.4
g
|
Fat:
11.5
g
|
Saturated Fat:
2.5
g
|
Cholesterol:
67
mg
|
Sodium:
255
mg
|
Fiber:
2.8
g
|
Sugar:
2.1
g
This has become one of our favorite, go-to meals, not only for its ease and affordability, but because of how absolutely delicious it is!
The vegetables, the flavorful chicken thighs, and the subtle spices all come together to make a truly comforting and completely healthy meal that pleases kids and adults alike!
What's your favorite low-cost meal?