This delicious, egg-free, oil-free chocolate chip mug cake is a low sugar treat that contains Greek yogurt for a nice protein boost.
Treats can fuel workouts!
This may be the best chocolate chip mug cake I've ever made!
Granted, my tastes change frequently, but for right now, I am enjoying this little cake immensely. 🙂
I typically eat my treats after lunch, as I find eating pretty much anything after dinner sits heavy in my stomach and can negatively affect my sleep. It also works out better to head to the gym shortly after said treat!
The chocolate and carbs work to give me a nice boost of energy, fueling my workout.
32 weeks and counting...
I have to admit, though, my workouts lately have nearly non-existent, thanks to my inflated belly.
I've been having some rather severe Braxton Hicks this time around and am resting a bit more, which is really, REALLY tough for me. I greatly dislike being sedentary, as it reminds me of when my health was at an all-time low.
Back then, I wasn't working, didn't have a social life, and basically sat around my house all day, sleeping and watching TV.
The here and now, though, is that I'm officially 32 weeks, with only five weeks to go until full-term. I'm hoping to just get through this time quickly and without any scares!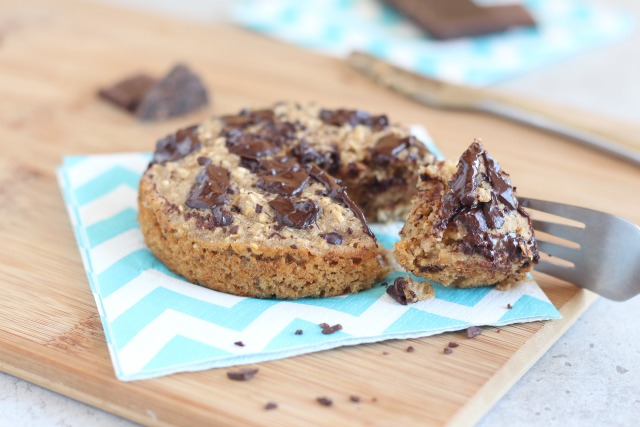 Healthy chocolate chip mug cake
As I wrote above, this cake is one of the best things to come out of my kitchen recently.
I love the combination of buckwheat flour and oats, and I'm also a big fan of the way the rest of the ingredients combine, flavor-wise. The Greek yogurt adds a nice amount of protein, but not an off-putting tang.
The batter reminds me a bit of overnight oats!
I like to use coconut syrup in this, as it is a lower glycemic sweetener. I recently found some at TJMaxx, of all places, for around four bucks! That's pretty good, considering my local health food store sells it for 5-7 dollars. You never know what you're going to find there!
Print Recipe
Egg-Free, Oil-Free Chocolate Chip Mug Cake
This delicious, low sugar chocolate chip mug cake is made without eggs or oil - Greek yogurt adds a nice protein boost.
Ingredients
3

Tbsp

quick oats

2

Tbsp

buckwheat flour

see Notes

⅛

tsp

baking soda

dash

sea salt

dash

cinnamon

2

Tbsp

Greek yogurt

1 ½

Tbsp

applesauce

1

Tbsp

milk of your choice

1

tsp

coconut syrup

½

tsp

vanilla extract

stevia

to taste (I use one drop)

2

Tbsp

chopped chocolate or chocolate chips
Instructions
Preheat the oven to 350 degrees.

In a small bowl, mix the dry ingredients (oats, flour, baking soda, salt, cinnamon).

Stir in the remaining until all is well combined.

Pour the batter into a well-oiled mug or ramekin (it should hold about 8-10 ounces)

Top with the chocolate (mix some into the batter as well, if you like).

Bake 14-16 minutes, or until top is springy to the touch.
Notes
Nutrition facts based on using unsweetened almond milk and one ounce (which is about two tablespoons) 2% Greek yogurt and no added chocolate. WW SmartPoints: 6
Nutrition
Sugar:
7.4
g
|
Fiber:
3.5
g
|
Calories:
171
kcal
|
Fat:
2.9
g
|
Protein:
7
g
|
Carbohydrates:
29.6
g
Notes:
I like to grind my buckwheat flour fresh from raw buckwheat groats; I find the taste to be superior to that of the pre-ground variety.
Some of the items I use to make this recipe include:
Recipe steps:
Mixing the dry ingredients...
...stir in the wet ingredients and some chocolate...
Into the ramekin...
Top with chocolate...
Topped with vanilla cashew frosting (cashew butter + vanilla powder + Homemade Coconut Milk)...
Shared with: Full Plate Thursday