This delicious gluten-free cookie recipe employs a combination of oats, buckwheat flour, and sunflower seed butter for a chewy, lower sugar treat!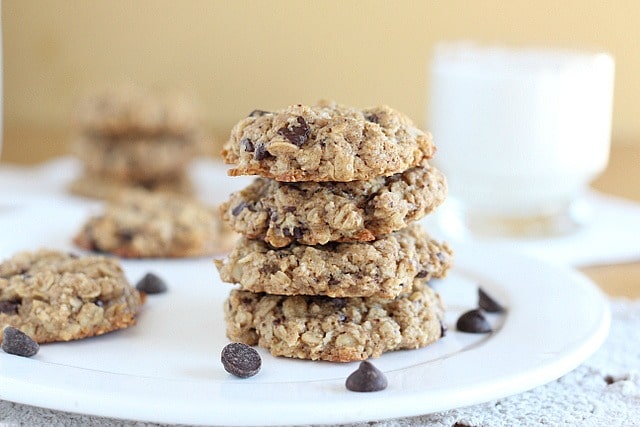 I used to do a segment around here called 'Firefighter Friday' in honor of my hubby's favorite recipes.
Though I ceased the formality of it long ago, I decided to (semi) bring it back today!
Father's day is coming on Sunday, so as a partial ode to the holiday, I wanted to post something 'man-approved' in contrast to my typical skinny bitch treats. 🙂
I've been making these cookies for the head of our household for 1-2 months now, and he loves them! They are his (current) favorite treat. I say 'current' because favorites are constantly changing around here, depending on tastes, allergies, and what's being created at that particular moment. So, if I come at you in another few months with his new favorite, don't furrow your brow in confusion.
Prior to this recipe, his favorite cookies were these chocolate chippers, BUT!...because of a suspected gluten sensitivity, I've concocted something new, tailored just for him!
After playing with the sugar content on this, I reached a very precise amount that pleases his sweet tooth, but is still healthier than most recipes out there.
We have different outlooks on sweets, my husband and I.
I like to have a treat most days a week, and I rationalize this by keeping my sugar intake low, low, LOW. My other half likes his treats sweet and occasional, which I reckon is how most people operate.
'If I'm going to have a dessert, it better be worth it!'...I can't tell you how many times I've heard/read that one. People don't want their treats to taste like 'sawdust' or 'cardboard', etcetera.
Ergo, I figure some of you in that mindset might like this cleaned up (but not bitter, like my favorite cake) recipe! *winksies*
Print Recipe
My Husband's Favorite Gluten-Free Cookie Recipe
This delicious gluten-free cookie recipe employs a combination of oats, buckwheat flour, and sunflower seed butter for a chewy, lower sugar treat!
Ingredients
1 ½

cups

rolled oats

4 ½

Tbsp

buckwheat flour

1

tsp

baking powder

¼

tsp

sea salt

1

tsp

cinnamon

4

Tbsp

+ 1 tsp unrefined cane sugar

¼

cup

sunflower seed butter

(with salt)

¼

cup

coconut oil

, semi-solid

2

Tbsp

applesauce

1

tsp

vanilla extract

¼

cup

water

⅓

cup

chocolate chips or a chopped chocolate bar
Instructions
Begin with room temperature ingredients.


Preheat your oven to 350 degrees.


In a large bowl, mix the following dry ingredients: oats, flour, baking powder, salt, cinnamon.


In another smaller bowl, briskly whisk the sugar with the sunflower seed butter, coconut oil, applesauce, vanilla, and water.


Add the wet ingredients and chocolate to the dry oat/flour mix, and stir until the dry ingredients are all well moistened.


Dollop the batter onto two parchment paper-lined baking sheets (I generally get 18-20 cookies).


Form the cookies a bit by pressing down and shaping the perimeter, as they don't spread much.


Bake the cookies for 11-13 minutes, until set and lightly golden.


Let the cookies cool to room temperature OR do as I do and transfer them to a plate and stick them in the freezer. They taste delicious cold!

Nutrition
Serving:
1
|
Calories:
108
kcal
|
Carbohydrates:
12.1
g
|
Protein:
2.1
g
|
Fat:
6.2
g
|
Fiber:
1.1
g
|
Sugar:
4.8
g
Notes:
It is important to have room temperature ingredients, as coconut oil can get clumpy when mixed with anything cold.
I use a salted sunflower seed butter from Trader Joe's for this recipe, so if you use unsalted, you will probably have to up the added salt.
I've also successfully used almond butter in these, but my husband loves the sunflower seed butter version best!
I use buckwheat flour ground from the raw groats (please see below for the link to the particular item).
Some of the items I use in this recipe include:
Recipe Steps:
Mixing the dry ingredients...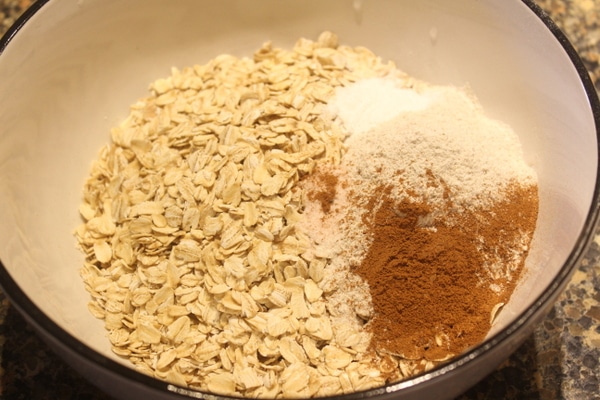 This is what semi-solid coconut oil looks like...
Mix the oil with the sugar and the other wet ingredients...
Whisked rapidly (you could use a hand mixer, but I is lazy)...
Dry + wet = batter...
Add in that there chocolate...
Divvy out the dough...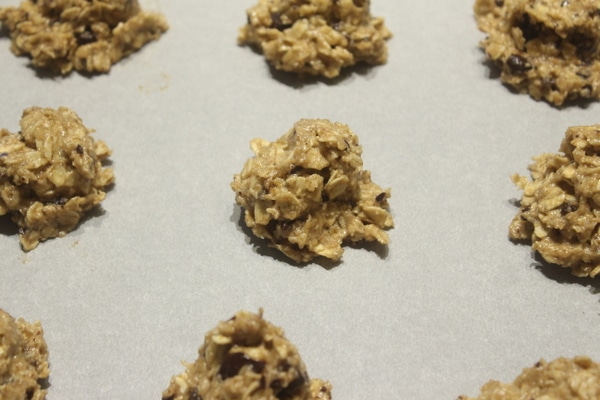 Form those bad boys to look how you want!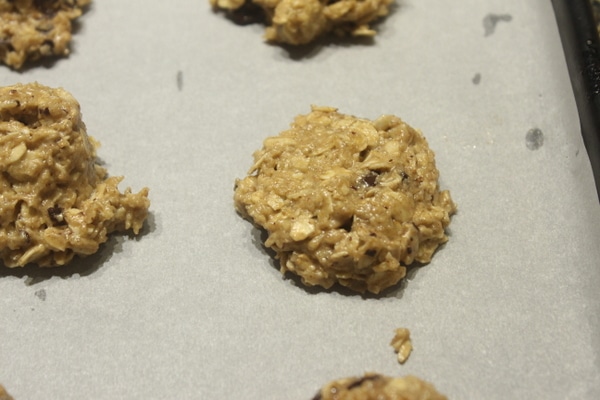 Bake 'em up!