My husband and I had an interesting conversation recently.
With our respective loves for fitness and food, you can imagine what our chatter revolves around.
On this particular day, we were discussing said topics as well as T-shirts...I know...how deep and meaningful, but hey.
I had jokingly made a comment about wanting a tank top that reads 'I only workout so I can eat more', which is true down to my bones.
Speaking bluntly, I like working out to see results in my figure, to clear the cobwebs out of my head, and to rationalize all the food I want to eat.
My bridegroom, on the other hand, eats in order to be able to function at the gym. He actually hates eating and wishes he didn't have to.
Is this a guy thing?! I'm not certain about any of you ladies out there, but this concept is completely foreign to me.
Even in the most allergic times of my life, I still loved food and eating, and cannot imagine feeling any other way.
Along with my other half's disdain for noshing, he has always seemed to have a thing against spaghetti squash, another personal love of mine.
My mom introduced me to spaghetti squash long ago, and I can still remember how amazed I was that this vegetable turned into noodles!
I have loved it since and make it at least once a week.
After recently seeing another recipe, I decided to try my hand at some spaghetti squash 'hash browns' of my own.
After a few charred failures, I created this food ditty that (da-dada-dah!) actually got my husband to eat the yellow gourd with glee, if you can believe it.
We both loved the browned edges and added heat from the cayenne so much that we were (playfully) fighting over who got to eat them!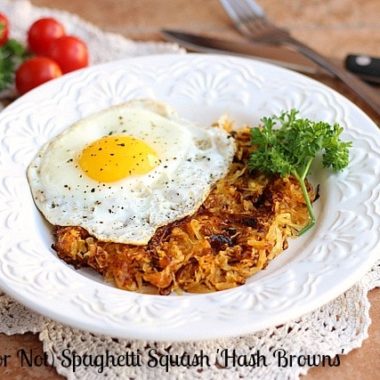 Print Recipe
Fireball (or Not) Spaghetti Squash 'Hash Browns'
Ingredients
1

c.

cooked spaghetti squash strands

about 1/2 of a small squash

garlic powder

paprika

salt

cayenne

1-2

T.

oil

see Notes
Instructions
Heat a non-stick pan over medium heat.

Dab any excess water off your squash with a paper towel.

Mix your cooked spaghetti squash with spices you like (I use 1/4 teaspoon garlic powder, 1/4 teaspoon paprika, 1/4 teaspoon sea salt, and 1/8 teaspoon cayenne) until well mixed.

Add some oil to your pan (enough to coat the area where the squash will lay).

Add the spaghetti squash to the pan, and spread it out thinly (it should immediately begin to fry).

Cook 3-4 minutes or until lightly browned.

Flip the squash over (I do this in sections).

Cook another 2-3 minutes or until lightly browned.

Serve!
Notes
Nutrition facts based on using just the one cup of squash and 1 1/2 tablespoons of avocado oil. WW SmartPoints: 2
Nutrition
Serving:
1
|
Calories:
59
kcal
|
Carbohydrates:
8.2
g
|
Protein:
0.9
g
|
Fat:
3.2
g
|
Saturated Fat:
0.7
g
|
Polyunsaturated Fat:
2.5
g
|
Sodium:
18
mg
|
Fiber:
0.9
g
Notes:
I really like using avocado oil here best. I tried coconut oil, but it imparts such a strong flavor that I didn't care for it in this recipe.
Feel free to play around with spices of your choice, eliminating the cayenne if you're sensitive to pepper.
I've tried this recipe using a steel pan, a cast iron skillet, and a non-stick pan, and the recipe works best with a non-stick skillet by far!
Do you love eating or is it a chore?