It has been in the mid-seventies here in Tucson, but that hasn't stopped us from indulging in my favorite hot chocolate recipe!
Thick, rich, and creamy WITHOUT the calories of the traditional version, this is a treat you'll want to enjoy year-round!
2. Illness Remedies

Though the weather change brings fun holidays and happy memories, it also brings cold and flu season, which has been making the rounds at our home.
Out of desperation, I recently tried a remedy my friend posted on Facebook, which entailed placing sliced onion (or garlic if you prefer) on the bottom of the feet. You then cover the foot with a sock and sleep overnight this way with the hope that the onion power will draw out the toxins from your body.
I didn't make it through the entire night this way, but I think it's definitely worth another shot!…and sharing here in case you're looking for an easy, alternative therapy to try. 🙂
3. Rough Feet?
As my luck would have it, I inherited the lovely chapped heels of my mother's side of the family.
Not only is this unsightly, but it can also be incredibly painful, especially during the cold, winter months when the air is even drier.
I discovered this amazing tool one day when I was looking into a similar, more pricey alternative as a Christmas gift for my mother.
At about one-fourth of the cost and no need to replace batteries or any other mechanism, I bought us each one!
It's kind of like a microplane grater for your heels, but it doesn't hurt. My husband gets a bit weirded out when I use it, but I LOVE it!…AND it makes my heels so soft.
4. Initial Bracelets
If you're looking for a unique gift for you and your significant other, may I suggest these personalized initial bracelets from Etsy?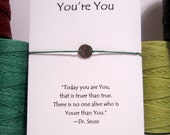 I bought these for my husband and I about four years ago, and they are STILL holding up well on both of our wrists (though my husband's is on the verge of snapping).
They have a look that's macho enough to be worn by the manliest men, but still dainty enough for women.
Just a fun little way to show your love! 🙂
Perhaps you've seen the mad veggie noodle craze all over the blog world?
This little handheld gadget would be an awesome gift for anyone on a raw food, gluten-free, paleo or low-carb diet, as it turns vegetables like zucchini and carrots into instant noodles!
I love the size and easy clean-up of this little wonder, and it's about half the cost of this popular counterpart. A great gift for any health food enthusiast!
What new thing have you discovered recently?