1. Avocado Friendship Necklaces
If you're an avocado lover, like myself, you might get as googly-eyed over these cute charm necklaces as I did!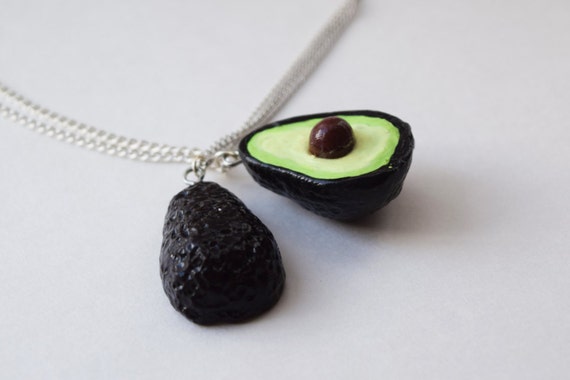 If I had a female BFF, I would totally buy these for us! Too adorable not to share. 🙂
2. Frozen Berries, Anyone?
Lately, I've been enjoying various frozen fruits straight from the bag…
It's a great low-calorie, sugar-free way to get a sweet fix.
Blueberries are my favorite, and sometimes I mash them in with my Homemade Coconut Milk and some stevia for a kind of slushy treat!
3. Tea Tree Oil
After a recent salon visit, my hair stylist used an invigorating shampoo and conditioner on my scalp that I really enjoyed! She told me it was something new that contained tea tree oil…
Though I am familiar with the oil for skin uses, I did a bit of research on its effect on hair and found it to be helpful for hair and scalp issues including dandruff, slow growth, and lice, so I've started adding a few drops to my normal shampoo to achieve that same delightful 'tingle'. 🙂
My daughters have been asking me to buy them the trendy detangling brush seen on such TV stations as Nickelodeon and Disney, but after viewing the $15 price tag, I did a bit of research on other, lower priced substitutes and found this much cheaper alternative for about $4.
We bought it, and it's been working great for us, granted I haven't tried its more expensive counterpart. I just wanted to let those looking for such a brush know that you don't need to spend that much. 🙂
5. Face Mask
My latest face mask is a kind of abbreviated version of this Detox Face Mask, in that it contains both turmeric and honey (two of my favorite skin care ingredients!).
I just mix a spoonful of each turmeric and raw honey with enough fresh lemon juice (vitamin C!) to get everything smooth and leave it on my face for about 30-45 minutes while I clean or cook.
I've been enjoying this one after laying in the sun, and it helps with any redness or dryness I may incur.
What new thing have you discovered lately?
More recipes you might enjoy