In the past, I've added charcoal to a homemade mask recipe and found it to be quite effective at helping cleanse the skin. Recently, I saw it in another highly rated product on Amazon…
While I haven't tried this myself, I figured I'd add this to today's list and ask if any of you have? It's touted to be helpful for deep cleaning and exfoliation, so I'd love to hear from you on it!
2. Beets
Ah, beets, how do I hate thee…
If you're in the same boat as me, but would like to add them to your diet (they have amazing benefits for the liver!), just grate them raw into your salad…
I truly can't even tell they're in there!
3. Sprouted Flour
My local health food store had this sprouted spelt flour on sale, so I decided to give it a shot. Wow, is this stuff good!
I used it to make my Spelt Tortillas, and I definitely noticed a difference in taste, texture, and pliability with the sprouted variety. It's a bit pricier than regular spelt, but as of now, it is worth it!
4. Zaycon Fresh
One of my favorite readers passed this information down to me, so for those of you that still eat meat, you may want to look into Zaycon Fresh.
Sold directly from the farm to the consumer (you!), this is an unbelievable deal. Basically, they eliminate the middlemen involved, cutting costs and hassle. They have over 1,200 locations nationwide, making it convenient as well.
My husband and I literally made a 30-minute trip to their drop-off site, where we pulled up in our vehicle, and two nice men loaded our trunk with a 40-pound box of clean, hormone-free chicken, and, so far, the taste is so much better than the stuff we've been buying in the store for twice the price!
5. Silly Whole Foods
Just something this week that had me giggling…a California location of Whole Foods attempted to try to make even more money by selling, um, asparagus water?…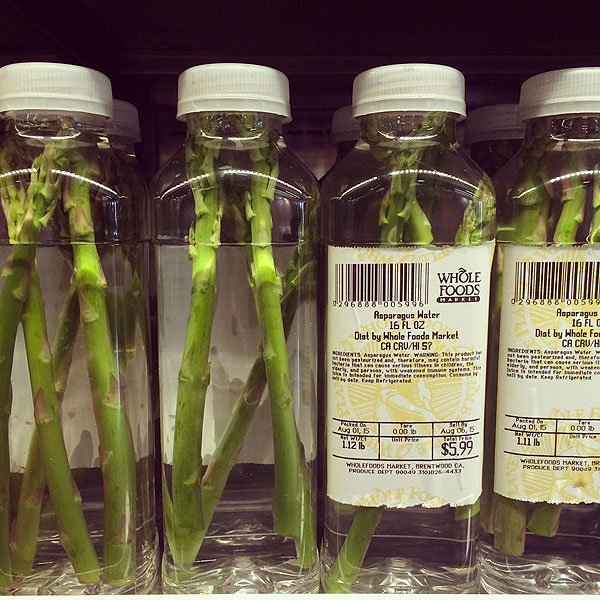 Hah! A picture of three asparagus stalks in a bottle of water was snapped by a customer, and it went viral after being posted on Instagram (some of the tweets/comments are hil-are). The company quickly pulled the 'product', claiming that it was a mistake.
Tsk, tsk WF, you already take too much of my money…but nice try.
How about we end with a little weekend motivation?…