1. Turmeric Face Mask
Ok, so let me start by thanking reader Dawn for directing me to this. It is amazing! I'm huge into natural beauty products and skin care, and I've never seen the results of anything like I get with this.
It makes my skin look clearer, brighter, tighter, and more even-toned.
I talked my husband into trying it out with me one time, and even he is hooked! He really notices a difference in the overall tone of his skin.
The video states to mix turmeric, raw honey, and milk, but I just use warm water in place of the milk. I figure milk doesn't do me well internally, so it might not be the best thing externally.
Check out the video for more deets:

Are you in the market for a stellar but budget-friendly peeler?
Then this little gadget may be just for you! I bought one of these a while back after making my way through a few other disappointing brands, and I just love it!
It light-weight, easy to use, and (best of all) affordable!
I've made no secret about my love for the original Nutribullet, so when I learned that they had a new and improved (and more powerful) brother on the market, I pretty much had to have it.
I love this guy right now! If you make smoothies often, you might consider this. It comes with a larger 32 ounce cup, and it also has 900 watts of blending power (the original model had 600).
It is blending greens, frozen fruit, whole dates, and whole nuts with ease, precision, and brevity. I just love it! My husband became the lucky recipient of my older model since he's a doll. 🙂
4. Frozen Whipped Cream Dollops

One of the coolest tricks I've seen…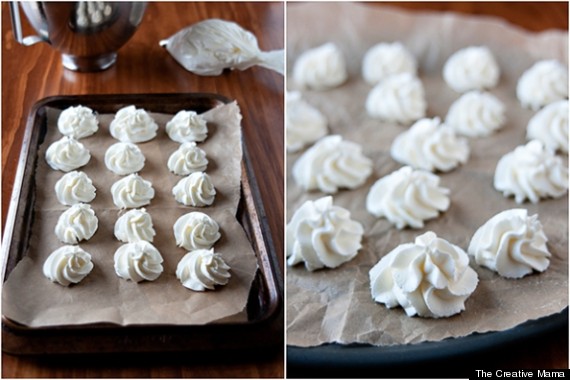 (Photo from The Creative Mama)
Whip your cream as you ordinarily would and freeze little clouds for future use.
This would be awesome with coconut whipped cream too!
5. A Good Weekend Movie
If you're lazing around this weekend, check out one of my all-time favorite old movies…
I'm a huge fan of old movies and an even bigger fan of Miss Doris Day, so I highly recommend you give Pillow Talk a watch! It's a cute, innocent love story with two of the most attractive actors of their time.
Have you discovered anything new and exciting recently? Are you a fan of old movies?
More recipes you might enjoy