Season's greetings, friends!
Friday finds is all about things I've been enjoying lately. Anything from food to fashion to beauty is game!
It's my way of sharing something that I hope you might benefit from or find interesting, so I hope you enjoy!
Growing up, my mom was really big on buying cotton clothes. I didn't appreciate it at the time, but now I understand and try to follow suit. Given our family's allergies and health issues, I find it to be the best material available.
I've had a HECK of a time finding a cute, cotton nightie that didn't break the bank or disappoint me in some way. I had bought a few from Victoria's Secret, but they quickly stretched out and didn't hold up well.
Recently, however, I bought this little number off of Amazon, not expecting much, but it has far exceeded my expectations!
The material is breathable, the look is cute, and it has held its shape through many wearings and washings.
The only thing I'd advise is to buy a size down, as they run a little big!
2. Rice Flour's Unexpected Benefit
Exfoliation. I'm aaaaaallllll about it!
It brightens, it tightens, it's the thing to do for healthy, glow-y skin, for sure.
Well, while most exfoliating products are either too harsh, not harsh enough, or too expensive, rice flour is actually pretty perfect for the job, AND it's cheap!
I like to mix it with yogurt or honey for extra benefits (yogurt is my fave).
I either use it as a scrub or leave it on for 10-15 minutes to dry, THEN (using circular motions and water) take it off. Who knew!
3. A Cheap Meal When You Need It

With all the money going out right now for presents, food, and whatnot, I've got a great, economical meal for you to try!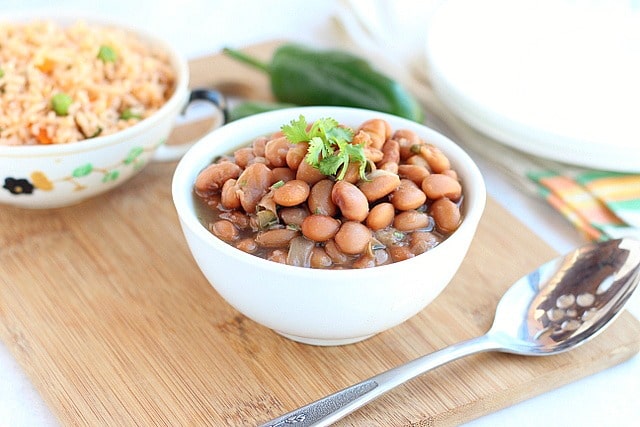 This rice paired with these beans is just about the most amazing combination for us right now. My girls vibrantly proclaimed this to be their 'favorite meal'.
We have it anywhere from 5-6 times a month, and it makes such a great dinner that I thought I'd remind you of it. 🙂
For years, I've read about the benefits of this particular product. In addition, I used to work in a health food store where women would tell me how much they love it.
It's a wonder to me how I never got around to trying it until now…? Probably because I try so many face creams and DIY treatments. (I'm actually considering aesthetician school once Sammy gets bigger!)
Anywho, after buying a jar and trying it for myself, I see that it is a very effective product. I noticed a difference after using it just one time, if that tells you anything!
I like to use this 2-3 times a week, otherwise, I find it a bit too harsh. I apply it at night and typically notice a difference the very next morning.
I've not been using it long enough to proclaim that it helps with fine lines, but it does help with exfoliating the skin!
I'm using the 10%, but if you've never tried a glycolic product, you may want to start with the 5% formula.
5. A Fun Kid Craft

Last week, Jade asked me to make her class some cupcakes for her birthday.
While I love the idea, I told Jade that I was worried the kids' tastebuds wouldn't be accustomed to my lower sugar treats.
We then decided to make these fun candy cane reindeer instead!
They seem like such an easy and cute way to give classmates a Christmas treat, so both my girls are going to be making them this weekend.
I thought I'd pass along the idea in case anyone needs it!
What new thing have you been enjoying lately?