Hello all! First off today, I want to apologize if anyone received a slew of email messages from this blog on Monday. A bunch of the nutritional posts were released at once, and they were marked as new posts. I know how annoyed I would be and just wanted to acknowledge the mistake! 🙂
Today's recipe is one that I've been working on for a long time….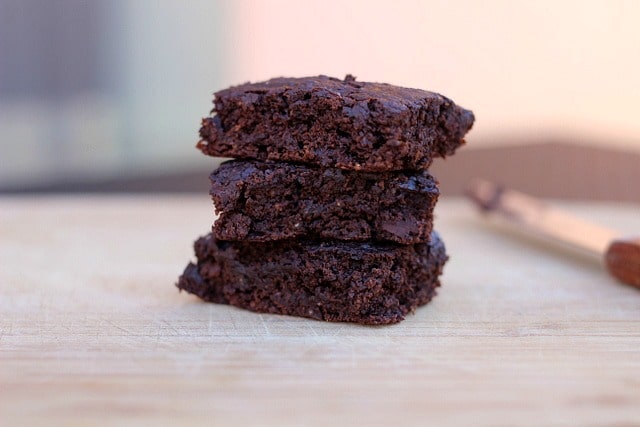 ….brownies!!!
I love brownies (who doesn't?), but the majority of recipes call for so much sugar and fat that I can't rationalize making them! These bad boys are another story…..
….and there's no banana in here to taint the chocolaty goodness….
…what is in here may surprise you, may repel you, or it may just have you saying 'that girl's a culinary wonder!'….I hope for the latter…
LAUREN'S BEST FUDGY (GUILT-FREE) BROWNIES
Click here for nutritional information
3/4 c. oats, measured then ground into flour
5 T. cocoa powder
1 T. carob powder (you can use more cocoa as well, but I find the addition of a bit of carob reduces the sweetener needed and lends a slight caramel flavor)
1/4 c. coconut sugar or sucanat
1/2 t. baking soda
1/2 t. salt
1/2 c. pureed prunes (SECRET INGREDIENT ALERT!) (I just use baby food prunes)
2-3 T. liquid sweetener, such as honey, maple syrup, or brown rice syrup (I really like barley malt, but if you're gluten-sensitive, try one of the others) (I also like 2 tablespoons, but if you like things sweeter, go for 3)
1 t. vanilla extract
1 T. chia seeds, ground
1 T. oil (I like using either coconut or grapeseed)
2 T. water or milk
1/4 c. dark chocolate, chopped (DO NOT use chocolate chips here! If you must, chop them into a few pieces. The chopped chocolate works the best though.)
Preheat your oven to 350 degrees.
Mix the wet ingredients in a separate bowl (liquid sweetener, vanilla, prunes, optional oil/butter, and milk or water). Stir in the ground chia seeds, and let the batter thicken for 10 minutes.
Mix the dry ingredients…(oat flour, cocoa, carob (if using), salt, baking soda, and sugar).
Mix all of the ingredients together until thoroughly combined, and there are no lumps. Stir in the chopped chocolate last.
Oil an 8 x 8 baking dish, and pour the batter into the dish. Bake the brownies for 20-23 minutes. They should feel fairly firm if you press lightly on the top of them. Allow them to cool (they will firm up more during this time as well).
The prunes are undetectable, the texture is fudgy, the bite is soft and chewy, and the taste is phenomenal!….
I thought of calling these 'High Fiber Brownies' but who the H-E-double hockey stick would be salivating for that?!
Whatever you call them, you can't deny that they are probably one of the healthiest recipes you've laid your eyes on, and they are deliciously, sinlessly (not a word, I know), to die for…or to live for, however you want to look at it.
What's the best 'healthy' treat you've tried?
Flourless peanut butter cookies are my weakness….so simple, yet so delicious! 🙂
Shared with: Keep It Real Thursday, Gluten-Free Friday, Healthy Vegan Friday