Merry (almost) Christmas everyone!
I, for one, am happy to ring out 2017 and am looking forward to 2018.
Come January, I will have a new crop of delicious, low sugar recipes to share! Hopefully, you all will be ready to tame your sweet teeth with me and be game for trying things like fudgy, sugar-free brownies, sardine cracker spread, buckwheat biscuits, and easy butternut squash soup, among others.
Today, I'm rounding up some of my favorite Christmas-y treats (and a salad) for your enjoyment!
Christmas morning equals squealing kids, torn wrapping paper, and warm cinnamon rolls, and this recipe is pretty guilt-free! If you'd like a pumpkin version, check these out.
2. Healthy Mint Chocolate Bon-Bons
Chocolate and mint abound right now, and these creamy treats fit right in with the trend. No nuts or dairy needed!
With colors of red and green, this delicious salad brings a nice balance to all the sugar madness.
4. Healthy Homemade Peppermint Bark
This is probably my favorite Christmas recipe. I love the crisp bite of chocolate and mint, as well as the crunch of the candy cane topping. Heaven!
The addition of pumpkin gives this creamy cup of cocoa thickness, as well as nutrition. This is my girls favorite recipe.
6. Coconut Flour Cut-Out Cookies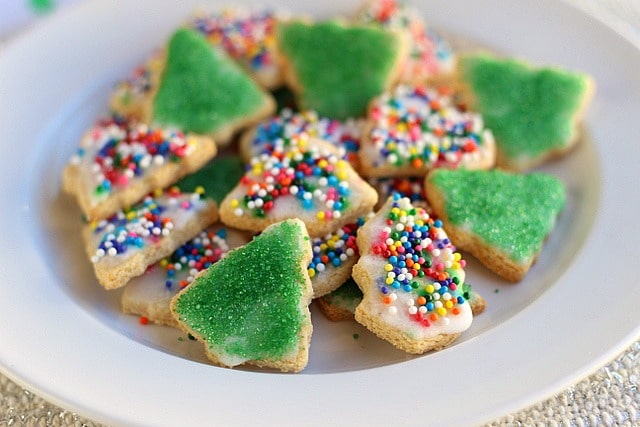 I made these mostly for my sweet Jade, who has a plethora of allergies. It's a way to give her a fun Christmas cookie experience, as well as a sweet treat!
This healthier cobbler pairs apples with an oat flour topping and lots of warming cinnamon for a delicious dessert!
These low carb treats are a great, no-bake way to get a chocolate mint fix! NO dates!
These snickerdoodles are made entirely with oats and a very modest amount of sugar. Perfect with a cup of warm tea!
10. Flourless Chocolate Mint Cookies
These are a bit more indulgent, on the sugar front, but if you're avoiding gluten and grains, they're a fantastic option!
I hope you all have a very merry Christmas and eat lots of delicious food! See you soon! xo