Delicious, yeast-free cinnamon rolls that are made with whole grain spelt flour. Low in sugar, vegan-friendly, and healthier than the classic!
Oh man, I'm excited today.
Excited to share my latest, awesome, low sugar creation with you, that is. Cinnamon rolls!!!!
I have probably made this recipe a dozen times in the last week, trying to make sure it's perfect and never tiring of the taste-testing. My husband is gaga over these, and I too am thrilled with the results.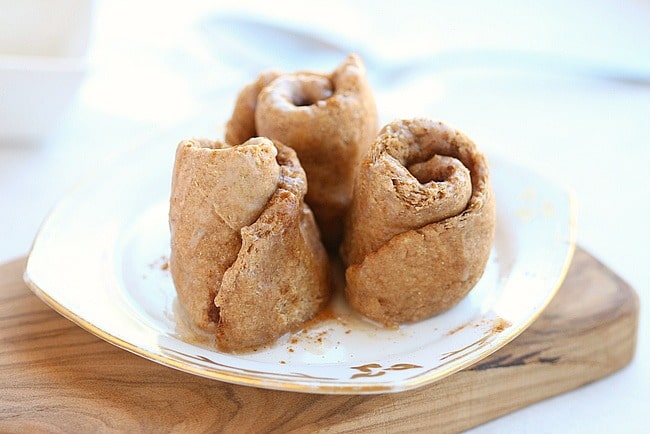 Most cinnamon roll recipes are full of sugar and/or yeast, neither of which I handle well.
As usual, my indomitable craving turned into a full-blown, tunnel-visioned objective, which ultimately led to today's deliciousness.
There is NO added sweetener in the dough portion of this recipe and only a modest amount of coconut sugar in the filling. This is also a small batch, suitable for about two people. Like I've mentioned before, small batch and single serve treats work better for us!
For my husband, I make a little glaze with organic powdered sugar and coconut milk, but the kids and I generally eat these naked.
I have also found, however, that I love them dunked in my Homemade Coconut Milk! (Dunkin' Cinnamon Rolls, anyone?)
The bread puffs up nicely, and the bake time is particular, so watch it if you make these.
At 12 minutes, the bread is puffed, and the insides are doughy to the point of almost being undercooked, which is not necessarily a bad thing. As they sit for a minute or two, this improves.
At 13 minutes, they are 98% fully cooked, but still doughy. I like mine at about 12.5 minutes. 🙂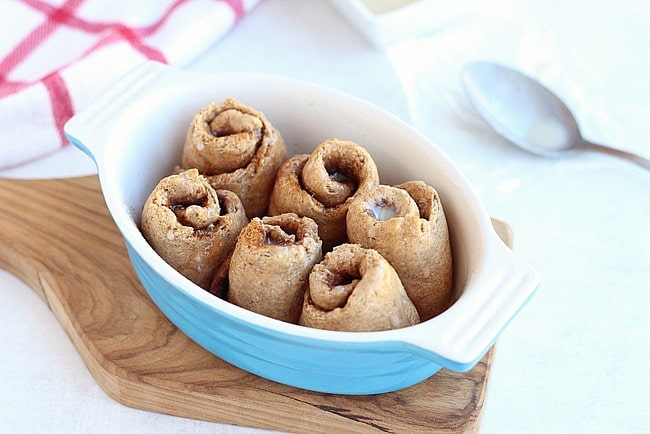 However you make them, I hope you enjoy this small batch of healthy cinnamon rolls!
Print Recipe
Healthy Yeast-Free Cinnamon Rolls
A small batch of cinnamon rolls made with spelt flour! Low in sugar and yeast-free.

Ingredients
FOR THE ROLL:
1/2

cup

whole spelt flour

1

tsp

baking powder

1/16

tsp

sea salt

2

Tbsp

applesauce

1/2

tsp

vanilla extract

2-3

Tbsp

milk of your choice

1/4

tsp

apple cider vinegar
FOR THE CINNAMON SUGAR FILLING:
1

tsp

softened butter or coconut oil

optional

1

Tbsp

coconut sugar

1

tsp

cinnamon
Instructions
FOR THE ROLL:
Preheat the oven to 350 degrees.


In a bowl, mix the flour, baking powder, and salt.


Cut in the applesauce so that the mixture looks 'pebbly'.


Stir in two tablespoons of milk, vanilla, and vinegar, adding extra milk if needed. The ingredients should all be moistened, but NOT sticky. If it happens to get too sticky, just add a bit more flour.


Knead the dough a bit until it is smooth.


Form a ball and cover the dough with a bowl for five minutes.


In the meantime, stir together the sugar and cinnamon in a small bowl.


After the dough has rested, divide it into two.


Roll out each piece into an oval shape. It should be about 1/8-1/4 inch thick.


Spread each piece with 1/2 teaspoon of butter or coconut oil (if using).


Sprinkle the cinnamon sugar mixture equally onto each piece (you can save a bit for the tops).


Carefully roll the dough.


Cut each roll in half.


Place the rolls into a small oiled baking dish (sprinkle with any remaining cinnamon sugar).


Bake for 12-13 minutes.

Notes
Fat: 1.4 g  Carbs: 15.7 g  Sugar: 3.9 g  Protein: 2.1 g; Nutrition facts are based on using unsweetened almond milk and butter. WW SmartPoints: 3
Nutrition
Notes:
Inspired by Dessert for Two
If you're watching your fat intake, I have made these without the butter/coconut oil spread and they still turn out delicious. The spread gives them a little more sumpin' sumpin' though!
Ideas for frosting:
-Go the old-fashioned route with a mixture of powdered sugar and milk. See this recipe for better details.
-Grind some coconut sugar to a fine powder and mix with milk for a healthier version of the above.
-Spread some coconut butter on top.
-Dunk your roll in your favorite tea or milk.