So Sunday is Valentine's Day, and while many of you may have reservations at an upscale restaurant, I will be at home with three little kid while my beloved is out saving tree-bound kittens.
I thought it would be fun, however, to post an ideal menu for the day according to yours truly and Mister Fork, in hopes that it may give you some ideas, or at least remind you of a few good recipes.
Breakfast (Him)
My husband loves hearty breakfasts, including foods like eggs, French toast, waffles, and pancakes, so his ideal breakfast for this day, would be my Sugar-Free Apple Dumpling Pancakes…
Breakfast (Her)
I do very well starting my day 0ff with a large smoothie, full of green stuff, avocado, and berries, so my ideal breakfast would be my Choco-Berry Smoothie Bowl…
Lunch (Him)
With his 200+ pound frame, my hubby eats a lot, so for lunch (alongside a steak), he'd like one (or two or three) of my Twice-Baked Potatoes…
Lunch (Her)
My favorite lunch is probably a giant salad, complete with any number of vegetables and topped with my Zu-Creamy Italian Dressing…
Snack (Him)
My husband's favorite snack to munch on throughout a day are these Sweet and Spicy Cashews…
Snack (Her)
Given my rather savory lunch, I often like to snack on something sweet in the afternoon, either in the form of fruit or (as of late) a cleaned up version of my Best Black Bean Brownies…
While these are still relatively healthy, I've been tweaking the recipe over the last couple of months, trying to come up with a version that's far lower in added sweeteners. I love bean-based desserts because they're much more satisfying, and the natural protein sustains me well in a day.
Dinner (Him)
After poring through the list of my entrees, my husband brightly declared that my Spaghetti and Meatballs would be his choice dinner…
Dinner (Her)
Generally, I have more of a meat-free mindset at night, opting instead for vegetable stir-fries and quinoa casseroles, and one of my favorite quinoa casseroles is this one…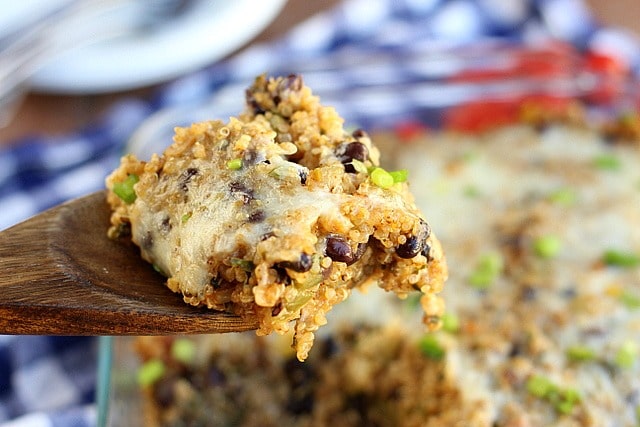 This Mexican Quinoa Lasagna Casserole is a quinoa lover's dream, layering Mexican flavored quinoa and vegetables with just enough cheese to make it taste indulgent.
Dessert (Him)

Always and forever, my Raw Andes Mint Pie will be my hubby's treat of choice!
Totally indulgent, but still healthy, this is truly a special occasion dessert!
Dessert (Her)
I would end my night on a chocolat-y note with my 5-Ingredient Homemade Chocolate…
So satisfying after a good meal, especially if you add a drop or two of peppermint oil. 🙂
And since my hubby will be at work this year…

Lol, I jest. Happy Valentine's Day everyone! ♥♥