If you have dry lips or just want to give your mouth a natural plump, try this quick and easy homemade lip scrub, made with just TWO ingredients!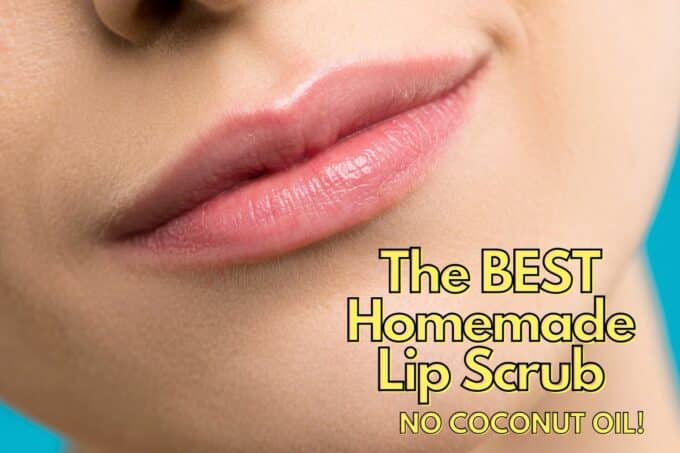 I love little homemade beauty tricks that I can do at home, and this has been one of my favorites lately.
As I age, I find my lips feeling and looking a bit dry and lackluster.
In a recent picture I took, I really noticed it, so I set out to find something (non-surgical) to help!
2-ingredient lip scrub
The only two ingredients you'll need for this are olive oil and a coarse sea salt.
Olive oil
Olive oil is good for nearly every skin type. It contains vitamins A and E, both of which are excellent for skin. I personally use it daily on my face and body, as I have a tendency to react to most packaged moisturizers.
It truly does a great job of softening and plumping my skin!
Olive oil also naturally contains polyphenols, which combat free radicals and thus, potentially, the effects of aging.
Sea salt
Sea salt is not only a source of minerals, but its structure allows it to be used effectively as an exfoliant!
I personally find the coarse salt works a bit better, though the fine sea salt will work too.
Before using this technique, be sure you DON'T have any type of sore or cut on your lips or around your mouth. The salt will sting like crazy if it gets into any type of wound!
Why I don't use coconut oil
While I don't have anything against using coconut oil in this recipe, I just find that olive oil is far more moisturizing to my lips.
Coconut oil acts more as a sealant for skin, trapping in water, and can actually clog pores and hair follicles.
I do think it has its place in natural beauty, but I prefer olive oil in this scrub.
How to add extra 'plump' to your lips
After you've given your pucker a good scrub, try mixing a small amount of olive oil and/or shea butter with a drop of cinnamon essential oil and applying it to your pout.
It will lend a mild stinging sensation, causing your lips to look fuller for a short period of time! It doesn't last, but it's fun to try.
Using a derma roller on a consistent basis can also help plump your lips. Take a peek at this video from Beauty by Anne Marie for a nice tutorial.
For more homemade beauty, take a peek at these posts
Homemade Effervescent Face Scrub
Print Recipe
2-Ingredient Lip Scrub
Olive oil and sea salt combine to make this quick scrub for dry lips! It effectively plumps and moisturizes in just minutes!
Ingredients
½

teaspoon

olive oil

¼

teaspoon

coarse sea salt
Instructions
Mix the two ingredients together in a small bowl.

Using your fingers, apply the scrub to slightly damp lips and gently rub in small circles for 30-60 seconds.

Wash with cool water and pat dry.
---
If you have a chance to try this recipe, please leave a star rating and a comment below letting me know how you liked it!